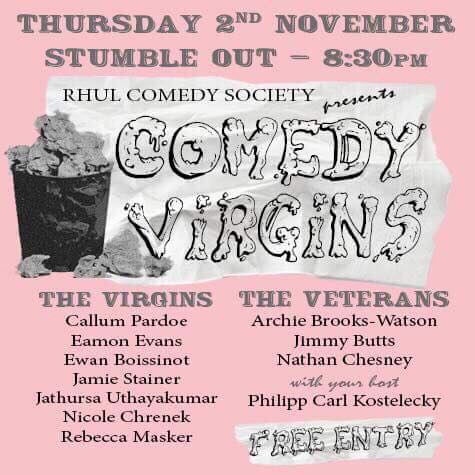 The performance featured a variety of acts, with comedians new to performing stand up gigs and veteran performers with experience from previous performances. The evening was expertly hosted by Philipp Carl Kostelecky, whose charisma and stand up comedy captivated the audience from the moment he stepped onto the stage. His material, focusing on topics such as pornography and relationships, was expertly delivered, and his interaction with members of the audience made the evening one filled with (occasionally embarrassed) laughter.
Two performers stood out as true comedic talents – one being an experienced comic, and the other being totally new to stand up performances. Veteran Ewan Boissinot's first-half performance dealt with the potentially controversial topics of recreational drug use and immigration but was delivered with confidence and class commonly found in performances at the Hammersmith Apollo. His natural performance abilities were clearly visible, and as a result, he captured the audience and kept their undivided attention throughout his act, often receiving deserved applause and laughter.
A second standout performance was found in the second half of the evening, delivered by 'comedy virgin' Rebecca Masker, whose act did not betray any nervousness commonly found in new performers. Her material focused on her experiences at university concerning sex, and her hilarious tales of misfortune in these areas had the audience in stitches throughout her act. For a first time performance, her act was remarkable, and I am certain that the audience members look forward to seeing her perform again in the near future.
However, it would be unfair to not give praise to all of the other performers at 'Comedy Virgins'. The overarching theme of the night was, of course, to give the opportunity to new members of the comedy society to break into the stand-up scene at Royal Holloway; to this extent, the show was a wild success. Other 'comedy virgins' such as Nicole Chrenek and Callum Pardoe delivered solid and very entertaining performances that are sure to improve even further with time; the fact that experience breeds ability and talent is particularly relevant here.
To this extent, I would whole-heartedly recommend attending the comedy society's next event, as the future looks very bright for stand-up at Royal Holloway; if the acts at 'Comedy Virgins' are present you are guaranteed a night of laughs and good quality entertainment!