We didn't get the first try but we sure got the last
by
12-5
RHUL vs King's College
Women's Rugby
On a chilly breezy day at 2:30pm, the RHUL Women's Rugby team set themselves up to receive the ball.
Cold yet determined, the first kick sends the ball to the left of the field where RHUL promptly jump on it and start to drive forward. Met with an opposition not to be toyed with, King's College were a strong team with strong players. Their determination and strength soon made way for their first try to the sighs and frustrations of the RHUL Women's Rugby team.  Luckily, they failed to convert their try.
0-5 to Kings and only 20 minutes into the match, RHUL needed to be strong in their defence and use their attacking play to push forward. After several scrums and several exchanges of the ball, RHUL gained possession. Finding a gap and dodging the opposing team, Harry sprinted half the pitch with a King's player hot on her trail and planted the ball firmly over the try line. The RHUL side extolled relieved cheers, especially after Captain Barney converted the try.
7-5 to RHUL. Feeling a little more confident, though not complacent, the side set off to receive and managed to keep the other team from scoring again until the end of the first half.
The second half was just as hard as the first with the opposition still driving forward and defending well. While tired and drained, RHUL matched King's performance and continued to play a relentless game.  With multiple exchanges of the ball and many near tries from Anais, Leti saw her opportunity and ran toward the RHUL try line. Though it looked as if she might get tackled, she soon scored RHUL's second try of the match. While RHUL weren't able convert, they were now in the lead by 7 points with a score of 12-5.
The team kept up its defence with a special note to the Captain who defended spectacularly the whole match. King's were a strong opposition and the match was fiercely contested; however, their efforts were not enough. The whistle finally blew and, with much relief and happiness RHUL Women's Rugby, had won the match maintaining their undefeated record.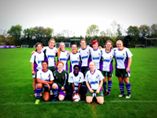 by
Currently undefeated and top of their BUCS league, Women's Football's first team faced Portsmouth in the first round of the South Eastern Conference Cup this Bears day, and were keen to maintain their winning streak! There was no question it would be a fast paced game, with right midfielder Alicia Lyne making some impressive runs […]