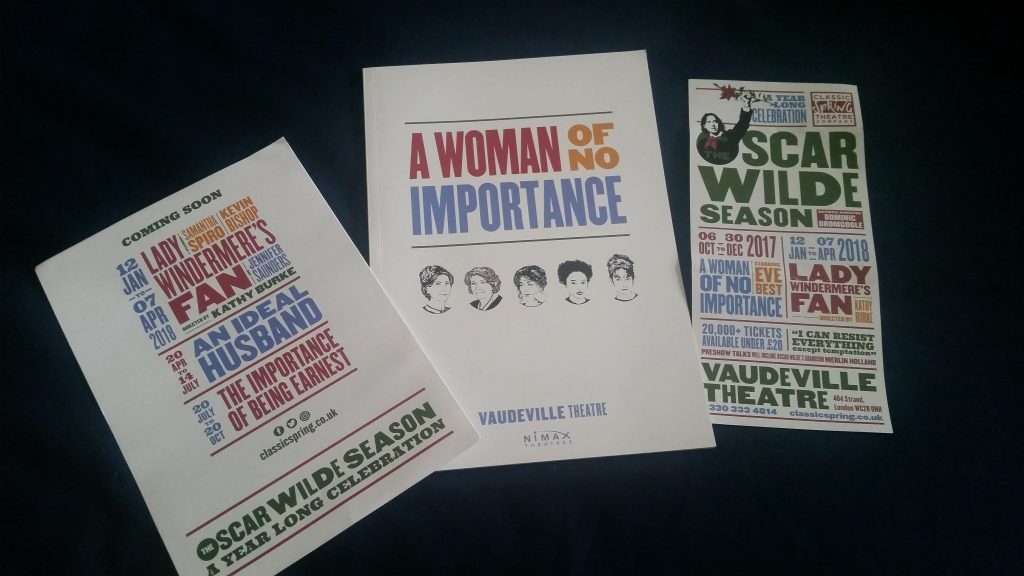 Dominic Dromgoole, having been artistic director of The Globe 2005 – 2008, founded his own company, Classic Spring Theatre Company, and decided for its inaugural season to pay respect and honour to the great playwright and public figure Oscar Wilde. For a whole year, the public is treated to performances of four of his plays, A Woman of No Importance, Lady Windemere's Fan, An Ideal Husband and The Importance of Being Earnest, several shorter runs of a dramatized versions of his children's fairy-tales, including The Selfish Giant, as well as several talks by, amongst others, Stephen Fry. Truly something for everyone, for all ages and all levels of knowing and loving Wilde.
Watching any performance as part of the season in the stunning and intimate Vaudeville Theatre feels like watching a Shakespeare play in the Globe. A feeling of being transported through time, which is aided by incredible Victorian costumes, overwhelms an audience member. The plays feel perfectly positioned within the staging of the proscenium arch, referred to as 'the gold arch' at the time of writing, as it was an emerging force in Victorian theatre, and, judging by the make-up of the shows and their staging in the last two centuries, it clearly retained its power and importance.  
If I were to summarise my experience, I'd say I felt seeped in context and was in awe of how glamorously the plays are staged. For example, the entertainment between the acts in A Woman of No Importance was a cast of four actors and musicians who stepped in front of the curtain and performed a song linked with the story and characters. This breaking of the fourth wall and honouring the traditions of panto and music hall made the audience delightfully giggly and cheerful.  
I felt seeped in context and was in awe of how glamorously the plays are staged
No flashy special effects, clever scene transitions or changes needed. The text is already full to the brim with wit, humour and wonderfully sassy stabs at the society of the time, which, not surprisingly, still ring true today. The well-made comedies speak to an individual within a society, allow for a catharsis and reflection delivered with side-splitting satire. Seeing a twist to a traditional and expected narrative, especially the feminist perspective he writes so well, are inspirational and remind us that change is not only possible, but accepted as necessary. One thing that won't change, though, is my love for Wilde. That will only grow in time, and I hope some of you now understand why I'm so wild about Wilde.
The show currently running is Lady Windemere's Fan, with a stellar cast including Jennifer Saunders, which is on at the Vaudeville Theatre on London's Strand until the 7th April.