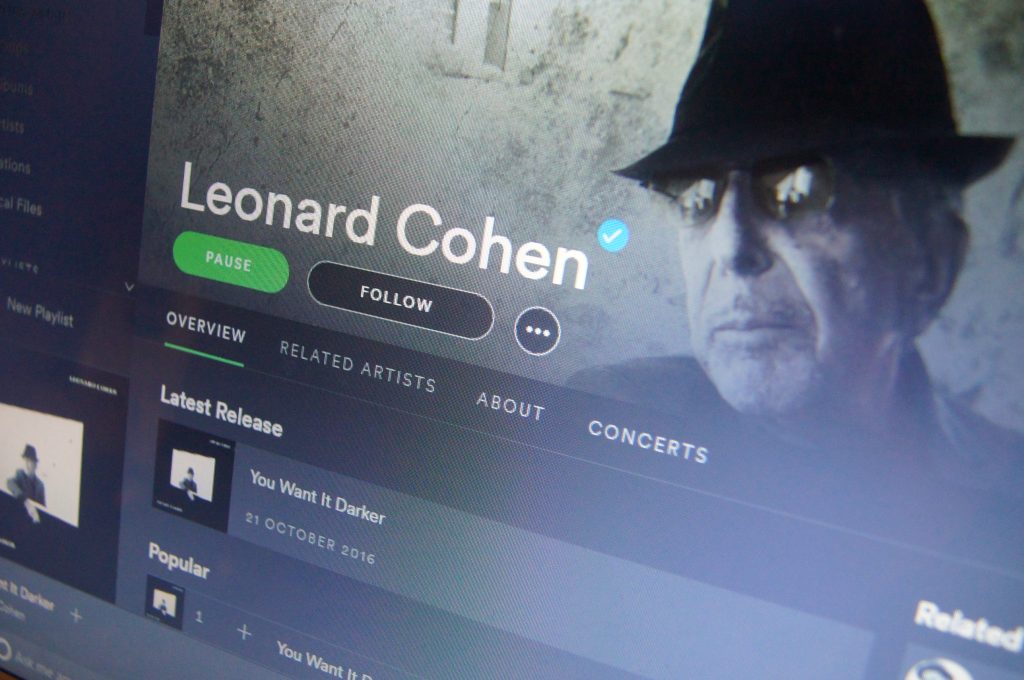 Sumi Bal reflects on the tragic loss of Leonard Cohen.
Another one bites the dust. What a crappy year for humanity. On the plus side, there's only about six weeks left of this BS we call 2016.
Leonard Cohen died on the 7th of November and, despite being 82 and having a good run at this life thing, it came as very unexpected. For those who are unaware, Leonard Cohen (1934-2016) was a Canadian poet, singer and songwriter, known for his song, 'Hallelujah'. Other notable songs are 'Suzanne', 'Famous Blue Raincoat' and 'Hey, That's No Way To Say Goodbye'. 'Chelsea Hotel No 2' is one of my favourites, which is supposedly about a love affair Cohen had with Janis Joplin.
I'll be the first to admit his baritone voice isn't for everyone, even if it is hauntingly beautiful. If it isn't for you, check those out purely for the genius lyrics. Cohen had also released a wide selection of poetry books, one of which I carried with me everywhere a few years back: The Book Of Longing. It explores pain, love and everything in between in a deep yet subtle way. Cohen isn't the kind of poet who dresses everything up with impressive or intimidating lengthy words, but instead keeps it real, and for this I am so grateful.
When you find an artist you can really connect to, and it feels like the lyrics were meant just for you? That's what Leonard Cohen feels like. He seems to feel everything so deeply, and not at all is he ashamed by his sensitivity but instead shares it with the world. In my humble opinion, I think 'Hallelujah' is the greatest song to have ever been written. Even if it has been covered on every talent show to ever exist, and every sad or romantic moment in a film, there is a reason for this.
Let me explain quickly why I think this. When you really listen to the lyrics, it encompasses a feeling of melancholy intertwined so deeply with love, passion and lust. That doesn't happen very often, at least not successfully. The slight chord changes between 'minor fall and major lift' are so obvious, but still so delicate. The biblical references make you want to read the Bible just for the fun of it. If the story of Samson and Delilah physically exhausts your heart, as it does mine, this is what this song does, and even references the story. It's always the lyrics, 'you know, I used to live alone before I knew you' that get me. The idea of being so accustomed to being alone, then someone disrupting this and making you fall in love just to leave you, is heartbreaking. Yes the song is quite a depressing one, but sad songs are the best songs. It offers a hopeless outlook on love and it's one I'm sure we've all felt at some point. If you've never heard this song before, or feel like listening again in light of recent events, you have about 100 covers to choose from. I would suggest Jeff Buckley's.
In desperate attempt to fill this Cohen-shaped void, I went on a Spotify search for Leonard Cohen's son, Adam Cohen. I rediscovered a song Magic FM played relentlessly in 2011. It's called 'Sweet Dominique', and there are moments in his voice where you can hear Leonard Cohen and that makes me smile to myself. And no, listening to this didn't help the grieving process, but if anything I now have a new album in my little collection. The album is called 'Like A Man', and has the kind of sound you crave on a Sunday morning when it's raining outside: pretty, delicate and able to transport you to another place.
Leonard Cohen released an album just months ago titled 'You Want It Darker', which couldn't be more apt right now. It's one I'm yet to listen to, but hope it will bring closure. Cohen's lyrics will continue to resonate through the generations as they have in the past. In a world full of mediocre lyricists, thank God for Leonard Cohen.