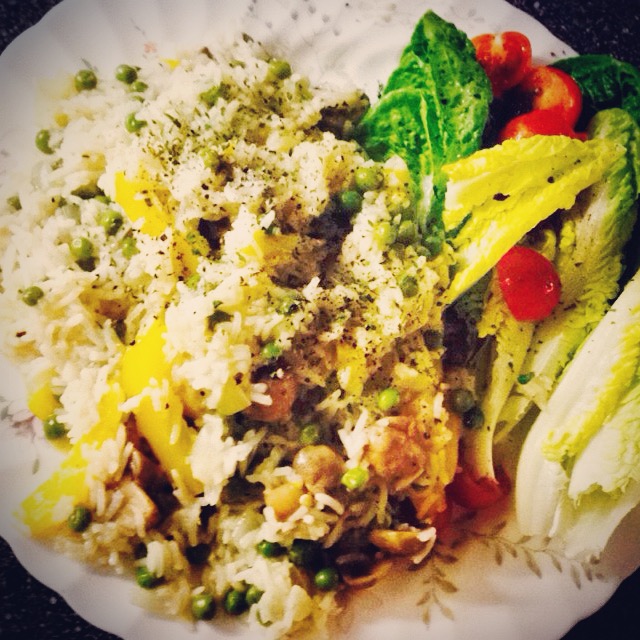 As I'm sure that many of you are now well aware, the dreaded exam period is now all that stands between us and the end of the year – not to mention the wonderful prospect of a gloriously long summer, of course!
With final exams now looming, it is more than likely that as a student, your stress levels are probably rising. So what better way to combat this than with a delicious, but also nutritious and super easy recipe!?
This vegetarian risotto makes an amazing evening meal – perfect for rewarding yourself and your friends with after a long hard day of studying!
Cooking this dish is also an excellent way to use up any left over veggies that you may have left over in your fridge towards the end of the week. Served with a side salad, this meal makes for one fabulously healthy and tasty option!
*Ingredients:
• Half an onion.
• Half a pepper (your choice of colour!)
• 3 or 4 large mushrooms.
• One handful of frozen peas and/or half a tin of sweetcorn.
• 3 ounces of rice
• A splash of olive oil (not too much – we're keeping this super healthy!)
• Half a teaspoon of vegetable stock (Vegetable Bouillon is ideal for this.)
• A pinch of chilli powder (depending on how flavoursome you want it!)
• Black pepper (again – to add flavour.)
• 200ml of boiling water.
*Serves one. If cooking for two, simply double up on these ingredients and viola!
(Easy!) Method:
1. Peel and dice your onion.
2. Wash and de-seed your pepper and cut into strips.
3. Peel, wash and chop-up your mushrooms.
4. In a medium-sized pan, gently fry your onions and peppers for 3-4 minutes.
5. Add mushrooms, rice and stir in well.
6. Add in your vegetable stock, chilli powder and black pepper for flavour (the best part!)
7. Add in boiling water and stir, ensuring that nothing is left stuck to the bottom of the pan (very important!)
8. Add in your peas and/or sweetcorn.
9. Bring your pan to the boil and then turn the temperature of the hob right down to simmer gently with the lid on for approximately 15 minutes.
10. Check often to ensure it does not boil dry – add a little more water if necessary!
11. After 15-20 minutes check to see if all of the water has been absorbed and if the rice is thoroughly cooked.
12. Optional: serve with grated cheese and your choice of side-salad and salad dressing!
13. Enjoy your delicious, tasty and exam stress-busting meal – you deserve a break, after all! PS: You're welcome.
Words by: Alice Emily Crick