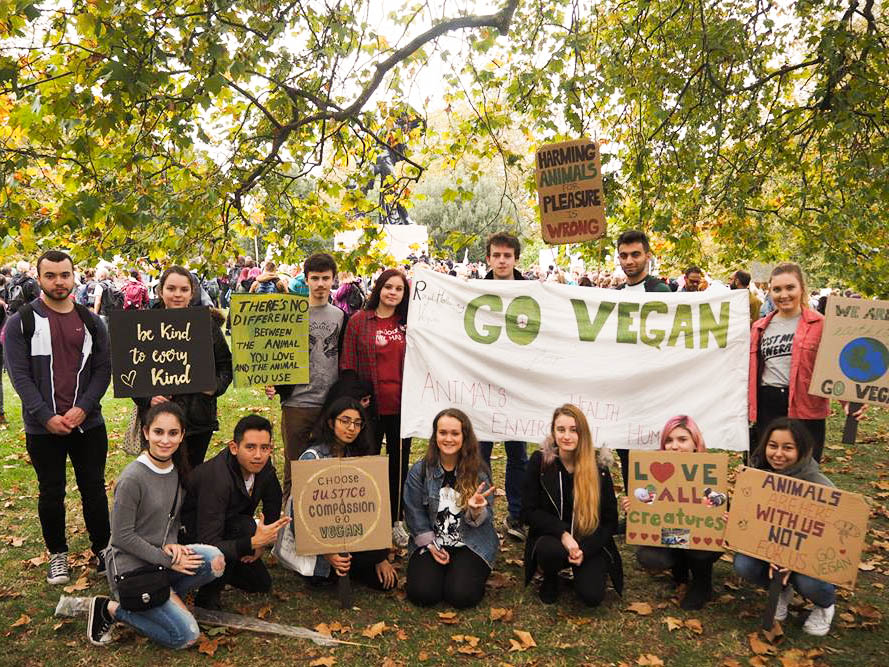 It's already been a busy year for Royal Holloway's Vegetarian and Vegan Society; a society comprised of vegetarians and vegans dedicated to creating a welcoming and accepting community focused on animal rights and environmental sustainability.
The Vegetarian and Vegan Society have been working hard to educate students on the benefits of a cruelty free lifestyle as well as exposing the harsh realities of the meat and dairy industries. In recent years, there has been a rise in the popularity of a vegan lifestyle as the concept of eating clean has exploded into a worldwide trend.
At the beginning of November the Vegetarian and Vegan Society joined 2500 others in the EU's biggest official animal rights march from Hyde Park to Parliament Square. Those involved called for politicians and businessmen to end the exploitation and murder of animals for human benefit. The march was put on by the animal rights activism group, Surge. Surge are dedicated to making corporations, businesses and politicians to take responsibility for their mistreatment and negligence towards animals. Speakers at the march included Tracy Cassidy from the Manchester Pig Save, Swedish campaign leader Richard Klinsmeister and John Curtain who has been an active figure in the animal liberation movement for over 30 years.
The Vegetarian and Vegan Society is a new community on campus, having been ratified in 2012.
Society Secretary Raahat Kaduji: 'When it began it was mainly a society for vegans and vegetarians. This year we're moving to make it more inclusive and open to all students for all lifestyles, and that's where Veganuary is coming into play!'
Veganuary is a global charity launched in January 2014 which encourages people to try to live a vegan lifestyle for the month of January and for many it becomes a permanent change. The Vegetarian and Vegan Society will be working with the Sustainability Society for nutrition week in January, as well as Veganuary where they plan to consider all different sides in their campaign. The committee informed me that they will be bringing individuals in to hold talks, and will focus on helping students transition from veganism, from vegetarian or any other lifestyle.
Society Vice President Joe Bloomfield: 'There will be the opportunity to go vegan for a month, we'll help people through that to make it an easier transition'
Society Treasurer Andrea Bonilla: 'Veganuary is an international campaign, we're focusing on providing support from current vegans'
Joe: 'Veganism is a social justice movement, we're just trying to spread justice, that's our main goal. One of the biggest things for us as a society is outreach, we want to reach out to everyone vegan or not and provide support and education'
Andrea: 'The biggest problem is that in general veganism is seen as negative thing which is something we want to change'
Raahat: 'We want to debunk all the myths surrounding veganism'
On the 28th and 29th of November, the society organised for iAnimal to visit Royal Holloway as the first vegan activism event on campus. A virtual reality headset allowed students to experience the conditions animals are forced to live in within the meat industry. It showcased the journey from birth to slaughterhouse.
The Vegetarian and Vegan Society have proved themselves to be a caring and inclusive family of individuals throughout the time I've been speaking with them. They're a new society trying to break through the stigma attached to the word 'vegan' and are fully accepting of any individuals interested in joining- despite their dietary and lifestyle choices! If you're interested in learning more on the controversial topic of veganism or taking part in Veganuary, you can contact any of the committee members through their Facebook page to get involved.