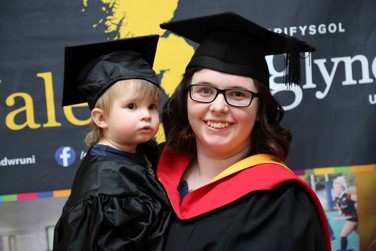 Maddy found out that she was pregnant in September 2013, when she was 19 years old and just about to start the second year of her theatre degree at Glyndwr University. She has since had a daughter and graduated with a First. She blogs at www.thespeedbump.co.uk and is writing a book called 'The Speed Bump: What To Expect When You're Unexpectedly Expecting'.
HOW DID YOU FEEL WHEN YOU FOUND OUT THAT YOU WERE PREGNANT?
My first reaction was terror. It was so unexpected and I felt numb.
I was convinced that everything I'd worked hard for, like getting
into university and doing well in my first year, was over.
HOW DID YOUR FAMILY, FRIENDS AND LECTURERS REACT?
My parents reacted out of shock at first. They asked me to consider
termination, because no-one thought I'd be able to balance
parenting and university, and they were worried about what it would
mean for the future. Eventually, they came around and were very
supportive, once the initial shock wore off and they saw that I was
determined to make it work.
My friends were shocked, as no-one had expected it – they even
said that I was the last person they'd expect to get pregnant at
nineteen. They were really excited, though, and adopted the baby as
the course mascot before she'd even been born!
My lecturers couldn't have been more supportive. I told them
almost in tears, convinced they'd kick me out. Instead one
lecturer said "Oh, thank goodness, we thought you were coming to
tell us that you're transferring course", and they congratulated
me and said that whether I chose to continue or to take a year out,
they'd support me every step of the way.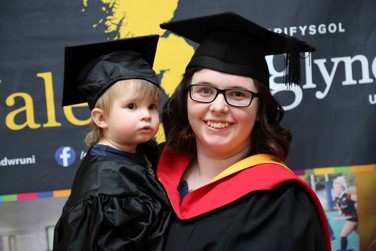 WHAT WAS THE MOST CHALLENGING ASPECT OF BEING BOTH A STUDENT AND A
NEW MUM?
Leaving my daughter in nursery to go to lectures was the toughest
part. I sat and cried in class on the first day (and I'm not
normally a crier!) as all I wanted to do was run across to the
on-campus nursery and pick my little girl up. My arms felt empty!
Second to that would be getting essays done, especially as she
became more mobile. She likes to press buttons, so I'd end up with
random strings of nonsense in my essays! I ended up having to write
after she was settled in bed, so I wasn't able to do any work
until 11pm when she was struggling to sleep.
WHO HELPED AND WHAT DID THEY DO THAT MADE A DIFFERENCE?
My partner Daf was amazing the whole way through, he really
supported me to get my work done. The lecturers on the course were
happy to give extensions if I needed it, and when we were rehearsing
late into the evening, they'd let me go early so I wouldn't have
to miss my daughter's bedtime. They were constantly on hand with
emotional support too, if I was feeling low or struggling to cope.
My friends were always there to make me feel better. If I was
missing her, they'd take my mind off it, but they always loved
seeing her, and would let me talk about her for hours when I needed
to!
WHAT DO YOU FEEL COULD HAVE BEEN HANDLED BETTER?
The only thing I can think of isn't even a criticism of the
university – it's the student loans company. They make it really
difficult to access the funding you're eligible for as a student
parent, and we've had massive difficulties with them since
becoming parents. On the part of the university, they couldn't
have done more to help.
HOW CAN STUDENTS AND STAFF BEST SUPPORT STUDENT PARENTS?
Be supportive of their choices when they are pregnant, and
congratulate them! It's hard enough dealing with an unplanned
pregnancy; the last thing you need is everyone around you tiptoeing
around the subject! My lecturers said 'Congratulations', and it
meant the world to me. Once the baby arrives, let them know that
you're there for emotional support as well as academic.
Extensions and occasionally overlooking absences or late arrivals
are a godsend to student mothers and fathers, because sometimes life
does get in the way and babies have a habit of springing surprises
on you. Thankfully my lecturers were really understanding whenever I
came in late because my daughter had barely slept, or we'd had an
emergency doctor visit in the night.
More than anything, just try and be understanding. If a student
parent comes to you for support, don't respond with "Well, you
should've thought of that before you had a baby". Be sympathetic
and supportive.
WHAT WOULD YOU SAY TO SOMEONE WHO FOUND THEMSELVES UNEXPECTEDLY
FACING PARENTHOOD WHILST AT UNIVERSITY?
What you do next is up to you. People will try and tell you "You
need to drop out", or "So-and-so managed to finish university
with a baby, there's no excuse for dropping out", but ignore
them. Only you know what you feel capable and comfortable with
doing. If you choose to leave university, no-one has the right to
judge you, because you are making a choice that is right for you and
your baby. If you choose to carry on, it's daunting but hang on in
there and when it gets tough, focus on the end goal. Trust me –
when you stand there in your cap and gown at graduation, all the
sleepless nights and the worry and the hard work will be absolutely
worth it.
ANY PARTING COMMENTS?
If you're newly pregnant, and worried about what this means for
your future – whether that's in terms of your studying, your
career, your friendships or your relationship – remember what I
said to my parents, to convince them that I wasn't going to let
the pregnancy stop me from reaching my goal. "This pregnancy is
not a stop sign. It's a speed bump".
Laura Wood is both PhD candidate in history and mum to a busy toddler. She serves as the SU rep for student parents and carers.