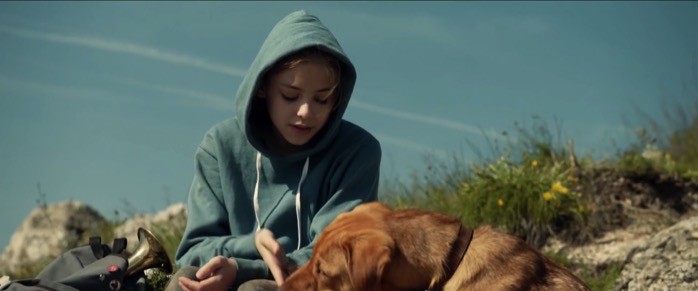 Man's best friend? What's that 02? Be more dog should we? Kornél Mundruczó might beg to differ on that one if his new film, White God ('Feher isten'), is anything to go by. In an internet-age saturated and suffocating with viral videos of nearly all things cute and cuddly under the sun squeaking and squawking, White God is quite the oxygen mask strap-on. Telecommunication marketing strategies aren't likely to be changed though, as White God is unlikely to make it beyond the art house circuit, despite attracting critical approbation.
Bearing an opening dedication to Hungary's famed politico-auteur, Miklós Jancsó, Mundruczó's seventh film is a political allegory with bite, a bizarre, quixotic tale of canine uprising that his countryman would have been proud to have his pawmark on. Swapping the classical art house long takes and hypnotic hum of Popol Vuh for handheld widescreen shots and, mischievously thematised, Liszt's Hungarian Rhapsody, White God is a significant advance on the alternately dreamy and dreary Delta (2009). (The one thing he has kept is regular actress Lili Monori looking the spitting image of Brigitte Mira, Fassbinder's frequent collaborator). For his efforts Mundruczó was duly garlanded at Cannes last year with the Un Certain Regard award.
Lili is a 13-year-old girl forced to spend time with her divorced abattoir-examining father. Upon discovering that she has brought her pooch along, and a new law having been recently passed penalizing non-pedigree dogs, the pet is sent packing by a motorway. Passed through various hands, like the eponymous saint-of-a-donkey in Bresson's Au Hasard Balthazar, the hound eventually ends up being fed dodgy protein shakes and made to do laps on a doggy treadmill in order to turn him into a lean mean fighting machine. After escaping his various captors and outwitting policemen of 'Allo 'Allo school capabilities, things quickly become proverbially on the other hoof with relation to man versus beast.
Various antecedents could be drawn out. Certain moments come across as positively Hitchcockian: cross-cutting in a concert performance feels a nod to The Man Who Knew Too Much, a scene that subsequently morphs into something more akin to A Night at the Opera. And the adversarial aviary on the loose in The Birds is a definite cinematic blueprint. Meanwhile various shots of Hagen and his pals by pools of water in a crumbly building site hymns to the iconic shot from Tarkovsky's Stalker.
As part of a recent marketing campaign for the recent ace documentary Beyond Clueless (bear with me) a poster was devised that sassily highlighted the fact many reviewers had used the grab word of 'hypnotic'. In White God's case this descriptor would be allegorical (cf. see above). I don't doubt the appositeness of this for a second. The sledgehammer subtext of a marginalized and oppressed group rising up against the ruling class is all but in the dedication to the politicism Jancsó's name undoubtedly sought to capture and foretell. Indeed, in its futura-fonted titles and queasy close-up shots of meat and butchery at the start, deference seems to be extended also to Gaspar Noé's Seul Contre Tous, another tale of the downtrodden seeking to more-than-even the score. (Interestingly, in interviews, Noé has described the protagonists of that film and Enter the Void as 'lost dogs'.)
And yet, this seems too easy. Throughout the film a point is made about Lili's father's lanyard, a prop conspicuously similar to a dog leash. Are we all not shackled in some way to something, purposefully or not? Our job, our family, our friends, our relationships, and so on. In terms of acting accolades, hounds win hands down here; all 250 real live ones of them. Forget that little dog from The Artist, it's all about Luke and Brody who share the acting chops. Although we may want to be Hagen running amok, or Elsa letting it go, really we are human and master to ourselves, accepting all the complex responsibilities that that entails.
If any bones were to be picked, there is a superfluous and undeveloped subplot involving a teenage crush and a drugs raid than could have been cut to make a leaner beast.
Nevertheless White God positively leaps off the screen, fawning at your ankles. Go play ball with it.