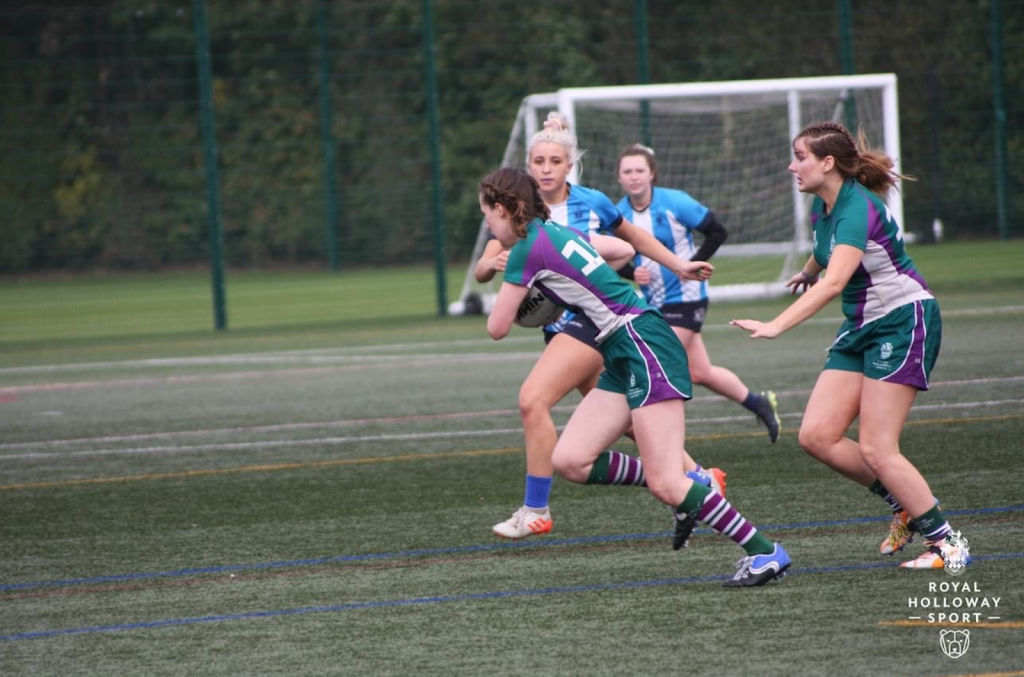 By Carmen Anderson
Given the nigh-on meteoric surge in worldwide interest in women's rugby, we spoke to the president of Women's Rugby here at Royal Holloway, Kiera Joyce, to understand a little bit more about her, the sport and her commitment to it. 
Kiera is a third year English Literature student. Aside from sport, she is passionate about the performing arts, involved with many societies. She previously played hockey and is planning to start playing polo. She had never watched or played rugby before starting her studies here, but on first introduction, Kiera "immediately fell in love with the game!".
Rugby is a contact sport, a highly physical game requiring top levels of fitness and can be deemed high-risk, with 1 in 4 players injured each match. What does Kiera find appealing about this challenging game? The answer is straightforward: "I'm a simple gal, I like throwing a ball and running into people!" Kiera goes on to expand, explaining that, "I love how convoluted the game is, how intrinsically you work within a structure. It reminds me of ballet which I was very committed to growing up."
Playing sports competitively can be a thrilling experience but there are always challenges to be encountered, one being that of motivation. Kiera finds herself inspired by her "peers and our coach to progress and develop; their skills and guidance make me want to become a better player." Another challenge is dealing with injuries, something that can be difficult for athletes to overcome. Kiera suffered a spinal injury and a secondary concussion last December and tells us how she overcame this: "The challenge wasn't so much the initial pain, but the longevity of those lasting effects as well as having to stand by the pitch every game watching my team progress whilst I stayed stagnant. I was cleared to play a week before term began, and whilst my body might not be quite at the level it was pre-injury yet, I feel that the time on the side-lines has only increased my understanding of, and motivation for, the game."
For centuries, rugby has been male dominated, governed by the misconception that 'only men can play'. Over the past few decades, we have seen this stereotype stripped down, with the first Women's Rugby World Cup being held in 1991. Women's rugby is one of the fastest growing sports in the world, with viewing figures increasing; the recent final of the Women's Six Nations saw 600,000 viewers tune in. Kiera speaks about her view on what has triggered this progression of the game: "I think there are many factors in play, from the switching attitudes to women's sports in general to the funding now being (finally) provided – from grassroots level to prem players – to the success of the Red Roses and the Black Ferns and the record-breaking support for the Women's World Cup."
Despite this progression, there are still barriers that exist for women wanting to play rugby, and prejudices have not yet been eliminated. Kiera says that "Logistical barriers do still exist for non-men attempting to get into the sport in terms of there only being men's teams in many places around the world and rugby in schools only being taught to boys. I think the UK is making changes around that and I would love to see that reflected globally." It is also important to address the blanket ban on trans women in Irish rugby that took place last year, a decision which until revoked will mean that access to playing will never be equal to all. Kiera speaks on this: "I don't think we can talk about barriers in rugby for women without addressing IRL's blanket ban of trans women in the game. Until this is removed there will always be a barrier for some women wanting to play rugby and there cannot be a rugby for all. We have just begun reaching out to clubs and societies encouraging them to join our Trans Laces Campaign and buy laces in trans colours from Stonewall both to visually demonstrate their support and financially aid the charity fighting for equality within the game.".
Royal Holloway can now boast an award-winning women's rugby team, having received the 'Rugby for All' award at the University Rugby Awards 2022/23. Kiera talks to us about her plans as president of the club: "I'm excited to work with my committee on outreach projects to grow the women's game and make a space for everyone within the club. We have already begun by running GIAG sessions with the SU for students to try out rugby. We have also entered the Inner Warrior league for a development squad who will play touch rugby, have a rugby festival planned as well as multiple volunteering days with primary schools teaching them touch rugby."
To those wanting to get involved with Women's Rugby, Kiera said: "There is a place for everyone in rugby. Whatever your ability, age, size, gender, financial situation. Whether you would prefer not to play but want to watch the games and attend socials or if you want to play casually in our low commitment inner warrior touch-rugby league or if you want to play contact in our BUCS team. Every level of skill is welcome, and it is never too late to join! Drop us a message on the @rh_womensrugby Instagram, or at [email protected], or come along to a session to find out more!"