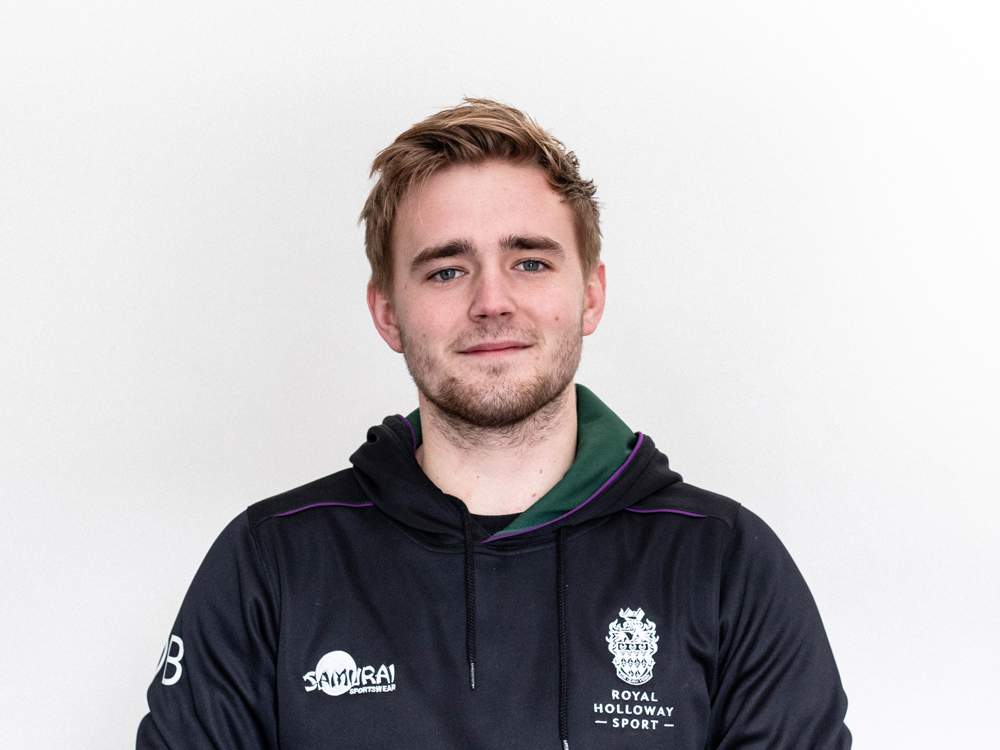 For those completing their second or third year as an Undergraduate at Royal Holloway, or those who are Postgraduate returners, the name Dom Brown will be familiar as it has graced this campus for two years following his successful campaigns, running for the position of Vice President of Sports. For those who have joined the Royal Holloway Family this year, it is a name you shall be hearing a lot around the University. In welcoming you first years to Royal Holloway, I had a chat with VP Sport, Dom Brown about his role and why he believes it is an important part of University life to join a Sport or Society during your undergrad.

So, Dom, during your time at Royal Holloway as an Undergrad, what did you study?
"I studied Film and Television Production for three years, so I was quite artsy and always enjoyed the practical stuff and in my third year I ran for this role (VP Sport) and then ran again, (laugh) so this is my 5th year at Royal Holloway, so yeah, I've known it quite a long time."

Are Film and Television a career opportunity you are still thinking of pursuing or has being VP Sport changed your mind?
"I think I want to blend the two – I really enjoyed the marketing media side of that degree and obviously enjoy working in sport so if there is a way I can kind of merge that then that would be ideal, but obviously I just have to see what's out there as this role is very unique to lots of other job roles you can get after university."

For the first years who are new to understanding what being a VP is all about, could you explain a little about your role?
"Yeah, so I'm one of the sabbatical officers for the Student Union – there is 5 of us; we have the President of Societies and Media, Sport, Welfare and Diversity, and Education, and we are all elected in march by our university students to represent them on a variety of different topics. I work very closely with the committees of sports clubs and try to help them develop as a group by communicating with them, letting them know about different events that are coming up, running events for them, and if there is a pressing topic coming up for sports or societies that's a big thing then I will go to the college and work with them to see if there is anything we can do to better their experience. As sabbatical officers, 60% of our time is our own commitment and we are also trustees of the union as well that oversees the strategic aim and finance side of things. Naturally in our role, we are activists and if there are campaigns running, like Black History Month which is this month we (or in this case, Lucy – VP Welfare and Diversity) get heavily involved with that. We're representatives but also staff members so we're here 9-5, Monday to Friday."

Was your decision to apply for VP Sport based on a keen hobby during your undergrad?
"Yeah, so I started playing sport from 5 all the way up to now so it's always been a massive part of my life. I kind of structure my week around being active and I've been heavily involved in the cricket club and football club at university as well as knowing friends that were included in other sports. I knew someone who ran for the role before me, so speaking to them and getting to know what it was all about made me very interested. I was Secretary for the football club and in the third year, Captain, so I've had lots of dealings with the SU and it's something that I was always very passionate about. So yeah, I'm very fortunate that I had the opportunity to do it and do it again."

Why would you say that joining a sports club is important?
"I think it's incredibly important not just the sports club but societies too – anything extra-curricular, because you spend so much time working as everyone comes to university for an education which is absolutely fantastic, but it can become very stressful and I find that for myself and speaking to lots of different people, having something else to do, either if it is going to the gym or going to play badminton with your pals twice a week, it gives you something to release your stress on. Over the last few years especially, the link between the mental and physical well-being benefits and sport and being active has got closer together, and people are understanding that actually it can be used as quite a good preventative measure in making sure someone's emotional fitness is as good as it can be but also the links of being active and being social and not feeling isolated increases employability aspect."

Are there any beneficial skills you can gain from joining a Society or Sport?
"I think having been part of a student group, your CV is showing potential employers that you like to do things other than just work or study. It shows that you have those team building, socialising skills and I think it is underplayed how important being part of a committee is, and how much stress and weight is put on you – but the success of seeing different student groups run campaigns and put on massive charity events where they are raising thousands of pounds for charity is huge. So yes, I think there are lots of different skills they can gain from being a general member or in a role within committee."

So, VARSITY! Any current thoughts…?
"I'm very excited to have the opportunity to have a home varsity as last year we were at Surrey University, but to have a home varsity is even better. Myself and some others are project lead so we're kind of organising everything at the moment so it's early stages, like putting themes together and just general ideas of how we want it to go, so we're looking at a very inclusive theme and getting more people involved such as societies but also keeping those features very competitive. Varsity started 4 years ago in my second year (makes me sound really old), and no-one really knew what it was, it just had a natural, healthy rivalry and only a few people went. But now, the idea of institutional pride around The Bears and knowing that there's a little bit of healthy rivalry between the students (and The Stags) is great.  and the event has got bigger and bigger every year and we are working very closely to provide students with the best possible experience. So yeah, really excited for it – 25th march and we hope to make it a fun event for everybody."

For anyone major sports fans, they will be curious to know – what teams do you support outside of University?
"I follow football very closely and I'm a Manchester United fan, obviously being from surrey, and I follow a lot of cricket. The Rugby World Cup is on at the moment and so I'm watching England very closely."

Do you have any final words of wisdom for our readers?
"Definitely be active as there are so many benefits and it's not just being part of a club or society,  there are so many opportunities through the SU 'Give it a Go' programme with free events, and there is an Active programme for £50 a year which gives you access to social sport where you can just show up, grab a racket and hit a ball around for a while, so always keep your eyes peeled for content coming from Royal Holloway Sport, and get active for little to no cost."

So, thank you, Dom Brown, for your introduction to Royal Holloway Sport and Societies – with Mental Health awareness being talked about more frequently, it is always good to be involved actively in keeping your mind and body fit and healthy. There are not only benefits to joining a Sport or Society for your well-being, but it is quite often the case you find life-long friends in the process. It is a fantastic way to build some skills, relieve some stress, and take a break from studies, but also the perfect opportunity to indulge in University culture, events and memory-making activities.