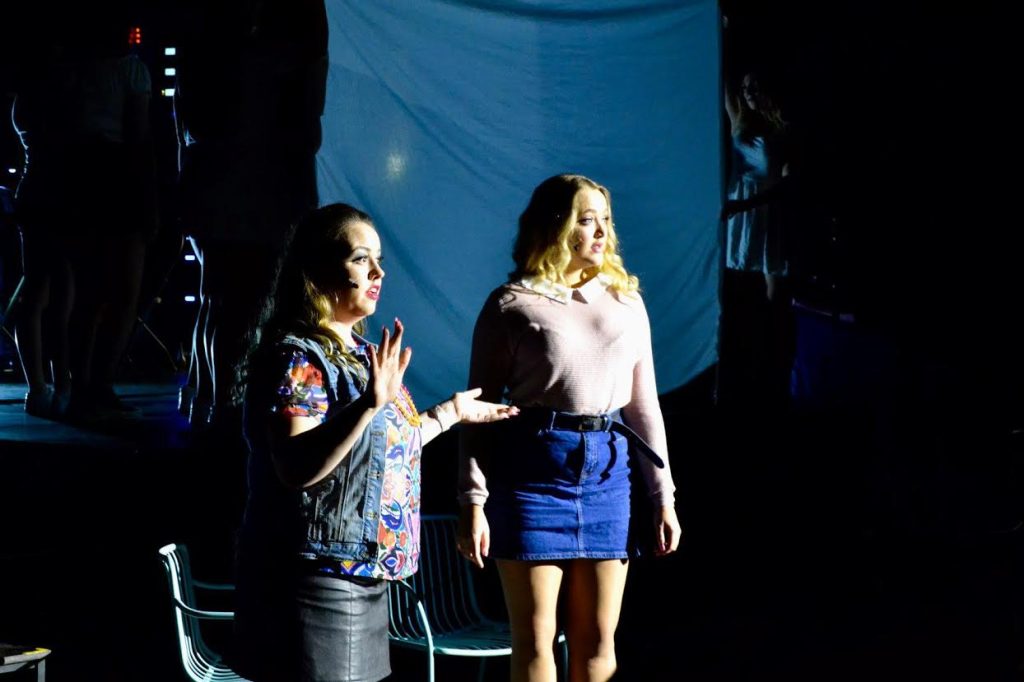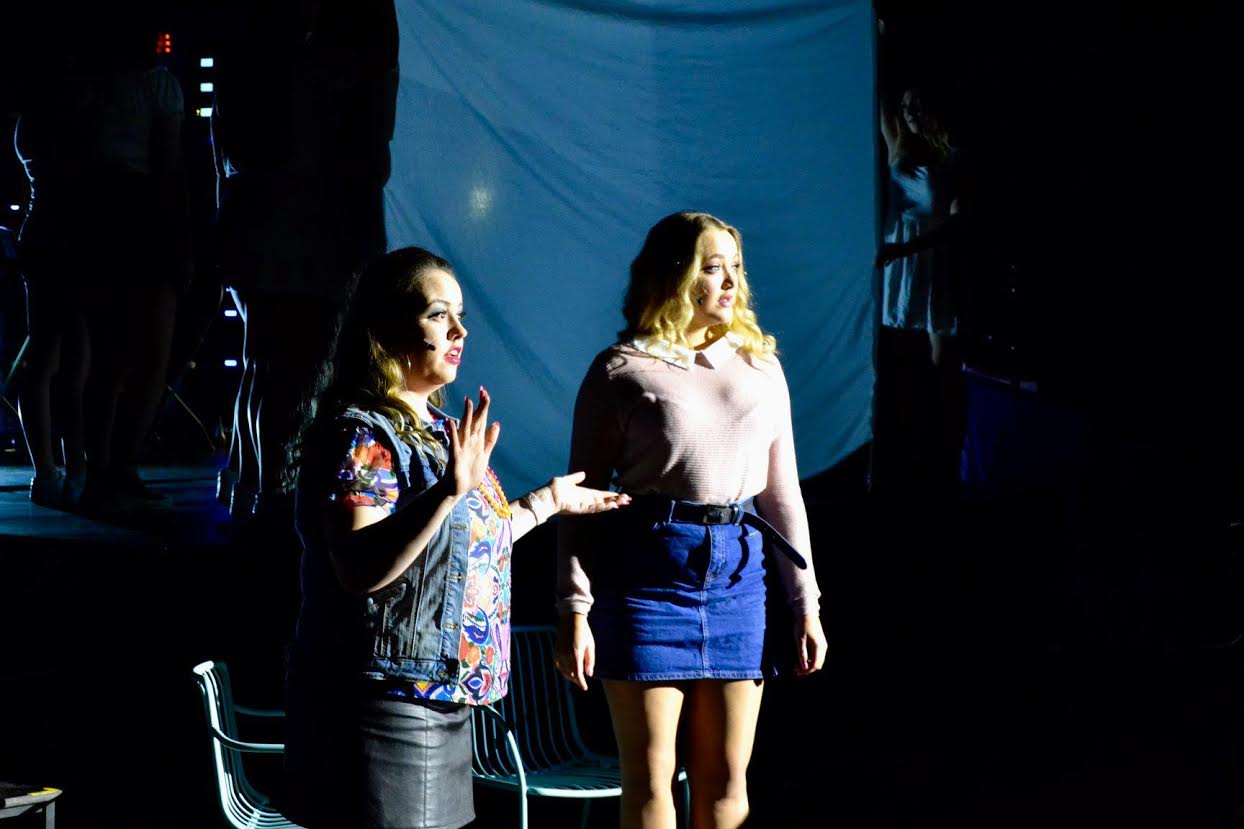 After bringing us the delights of Bake Off: The Musical last year, Lucy Wilson, Faye Tolliday, and Jenny Tipple return to whip us into shape with the Broadway and West End hit Legally Blonde. Based on the 2001 film of the same name, it tells the story of Elle Woods, a sorority girl who enrols at Harvard Law School.
On a wet November evening, we were welcomely transported from the SU hall to sunny Malibu and Harvard Law School. The pink drapes hanging from the ceiling over the audience were a great addition and really helped the audience to suspend their disbelief. A couple more drapes around the stage would have helped to take this even further, particularly as Elle's pink door had to be wheeled offstage at points.
The effective use of lighting really helped bring the production team's "upbeat and flamboyant" concept to life. I really appreciated the attention to detail in this aspect, particularly the illumination of the jump ropes during Whipped Into Shape using neon lighting, which matched the dancers' costumes. The staging was also well-considered, with different levels being used to convey different locations. However, I would have preferred Serious to have been performed on the stage, rather than the floor, to increase visibility. Elle and Warner were difficult to see for those sat any further back than the front row.
Becky Hinde was our Elle, and excelled in this highly demanding role. From her iconic entrance in the show's opening number Omigod You Guys, she hardly leaves the stage, and her stamina never faltered. Her American accent was honed to perfection, something the whole cast should be applauded for. Hinde was at her strongest in the show's comedic moments, displaying excellent wit, and perfectly embodying the stereotypical 'dumb blonde' component to Elle's persona. Yet her performance was far from one-dimensional, as she skillfully captured Elle's transition from a shallow sorority girl to a highly capable legal defendant.
Lauren Harris as Paulette was a particular highlight. Displaying impeccable comic timing, her Bend and Snap was nothing short of hysterical. She shone vocally in Ireland, where she also showcased a powerful belt. A special mention must go to Jenny, Lucy, and Faye's innovative silhouette choreography in this number, which I enjoyed a great deal.
Another standout was Reuben Havelock's, Professor Callahan. His suitably menacing persona, particularly during Blood in the Water, was repellent, yet his impressive vocals made him extremely watchable. I look forward to seeing him in Savoy Opera's production of Anything Goes next week.
Newcomers Jamie O'Connor as Warner, Jack Hardman as Emmett, and Beth Brown as Vivienne, all made confident debuts, portraying the relationships and heartbreak which are pivotal to the plot with ease. Their chemistry was great to watch and proved to be the 'glue' of the show.
Whipped Into Shape was an absolute delight. Emily Quillin as Brooke Wyndham managed to somehow combine riffing effortlessly with jumping rope – no small feat! Her stage presence and vocal control was sensational and opened the show's second act in style.
The show was ably supported by Olivia Davies, Coco Martel, and Gabriella Mulé as the comically dim-witted Margot, Serena, and Pilar, and Lizzie Bessent as serious law student Enid Hoopes. The contrast between these characters was really quite something, which is a testament to the girls' strong characterisation and high-energy performances.
And I can't fail to mention Dane Duffy, who played "macho man" Kyle, the UPS delivery man. He did not have many lines, but his monotony got some of the biggest laughs of the night. His own round of applause as he exited the stage was highly deserved, following his hilarious delivery of a package to Paulette.
As is the case with every show, it would be nothing without its ensemble, which are often sorely underappreciated. A huge well done to the Delta Nus, frat boys, Greek chorus, Harvard law students, courtroom staff, and featured dancers, many of whom seamlessly multi-roled throughout the show. Having just six weeks to rehearse such a dance-heavy show, each and every one of them should be commended for their enthusiastic, and seemingly effortless, performance. They ensured that their harmonies remained tight and never suffered as a result of the demanding choreography.
This recognition extends to the musicians also, who were smoothly conducted by Faye Tolliday. They played beautifully throughout and handled the complex score with the professionalism and capability of a West End band.
Unfortunately, as is the case with most performances on campus, there were a number of microphone issues throughout the show, concerning either feedback, or actors not being heard. It is a real shame that this is such a recurring problem. Our talented performers deserve better.
Speaking to director Lucy Wilson after the show, she said that she is "so proud of the cast" and is delighted with how the show and the cast's hard work has turned out. She says people should come to see Legally Blonde because it's "a really feel-good show". And Wilson is right: Legally Blonde is a great way to round off MTS's 25th anniversary year.
Tonight is your final chance to see Legally Blonde. Tickets are still available on the SU website: https://www.su.rhul.ac.uk/ents/event/4077/.
Photography provided by Lucy Ambrose and Elly Anderson.