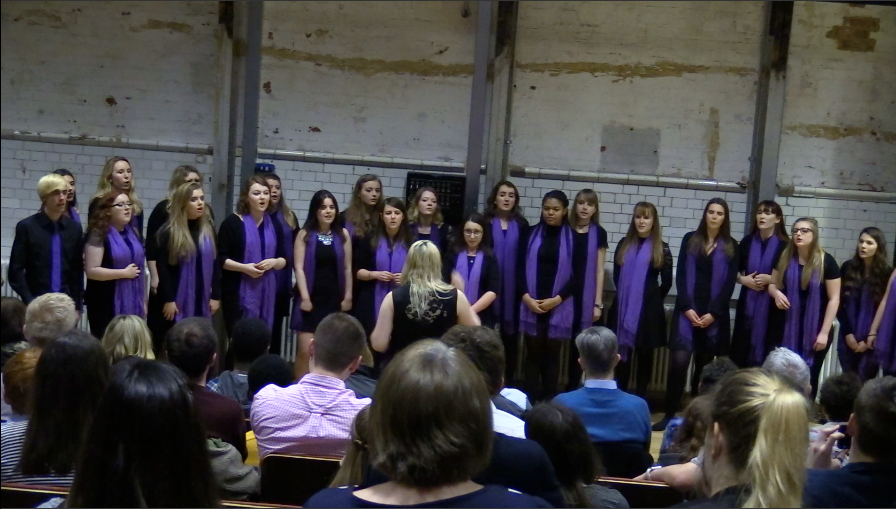 On the 11th of March, RHUL's resident acapella choir, Absolute Harmony, treated us to their Spring Concert in the Boilerhouse lecture theatre. For those not familiar with the choir, their website explains that they 'sing a wide array of original arrangements, ranging from pop hits to film soundtracks, all sung in at least four (usually five or more!) part harmony'. This range was certainly displayed in their concert; from 'Raise Your Glass' by P!nk, to 'Jolene' by Dolly Parton, there really was something for everyone. The evening was in support of two different charities, Dementia UK and The Children's Trust, both of which were of special significance to the choir. A collection was made after a member of the choir gave a short introduction; it was really inspiring to see how passionate AbHarm were about their chosen charities' work.
As the evening went on, it was clear to see (or hear!) that the choir has a beautiful range of voices, and each member should be proud of themselves for their performance. I didn't see one person who wasn't enthusiastically clapping at some point! This was particularly effective in the performance of 'September', perhaps not usually acappella-friendly, but it was a fantastic re-working of the song. What's more is that the choir members also take on the responsibility of arranging the songs, a new skill for some. This really highlights the talent of the choir: they can not only sing well, but are clearly very able when it comes to arranging music. The soloists that performed on the night were of a very high standard. Beth Westcott in 'Jolene' and David Larbi in 'Me and Your Mama' did a fabulous job of carrying the melodies.
Towards the end of the performance, the boys and girls separated to sing a song each, a 'Boys vs. Girls' type arrangement. Although the boys had won the previous year, this year the girls were crowned the victors. The girls' performance was particularly enjoyable, a mix of inspiring tracks about female empowerment which was passionately executed. The final song was a brilliant choice; 'Shape of You' by Ed Sheeran. This really topped off an entertaining evening, and if you get the chance, I would highly recommend that you go and see the choir for yourself!