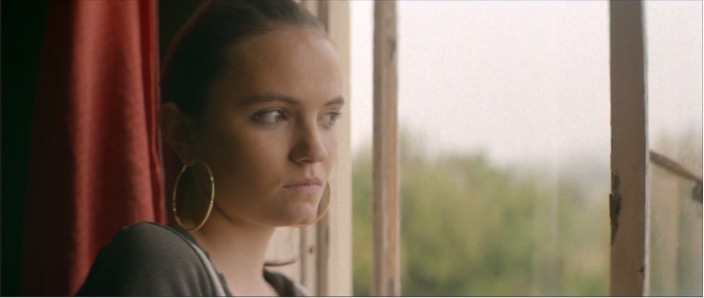 Discourses in the public media don't usually revolve around the way television looks or sounds, musically or otherwise. All things considered, such a state of affairs is pretty bizarre. At the end of an average working week it can be guaranteed that a sizeable proportion of the populus will be enjoying the companionship of their sets, or torpidly watching catch-up services on their iPads or laptops, the more likely option for those under 35. In other words most people divest a significant proportion of their free time to looking at the stuff.
In part, this can be attributed to TV's trenchant position as an inherently narrative-driven medium. Increasingly eulogised as the definitive apparatus for telling gripping yarns, TV over the past few years seems to be in the state of receiving triennial op-eds proclaiming its renaissance or maturation. Even the mouthpiece publication of the British Film Institute, Sight and Sound, made space for the format in their end-of-year poll of 2014. Hunger has grown sharply both for long-form, five-season drama and lower budget indie fare, as evinced by the deservedly rapturous response to Golden Globe winner Transparent, written and directed by Jill Soloway for Amazon's streaming service. Blame it on new digital media platforms. Blame it on the state of Hollywood. Blame it on the weather. Whatever your socioeconomic scapegoat, TV's got a new shine in its cheeks.
By way of which brings me to a J. K. Rowling adaption, one The Casual Vacancy. Scheduled at 9pm on a Sunday evening on BBC One, on paper, specifically the glossy front pages of the Radio Times, it's pretty much what you'd expect to find if you happened to turn your television on twenty five hours after you parents had been watching The Voice the night before. But if you actually did sit down and tune in, admittedly a dying mode of media consumption, you'd find something arrestingly other.
Roundly, and rightly, praised in the press as an adapted drama, The Casual Vacancy deserves credit not just for its ethical stances (read tory-bashing if you're on the right), but for the look and feel of the show. With widescreen monitors becoming normative over the past decade, and high definition quality looking to follow as standard too, it's not surprising the medium is having an aesthetic overhaul. To my memory, however, The Casual Vacancy is the first BBC show to be shot in widescreen and art-directed so opulently, yet subtly. Over the past few years Channel Four has been favouring the 'scope format in diverse dramas such as Top Boy, Utopia, The Fear, and, most recently, Russell T Davies' dramedy Cucumber, alongside its sister show, Banana, on E4. Meanwhile Southcliffe, also starring Rory Kinnear with a scene-stealing turn, daringly used a long take aesthetic more frequently encountered in the sidebar of a European film festival.
But it's not just the aspect ratio. The show's director Jonny Campbell brought onboard Zane Lowe-approved alt pop two-piece Solomon Grey to provide an evocative original score of orchestral and electronic sounds that creates supersonic unease, a work to file alongside Cristobal Tapia de Veer's compositions for Utopia. The diegetic source of the music is even played around with in one scene where the music is implied to be coming from a girl's bright orange 'Beats' headphones, a trick you'd be more likely to find in a Wes Anderson film. Meanwhile other characters are listening to Hip Hop and Pet Shop Boys. It's certainly no George Fenton soundtrack.
The look of the show, art-directed by Keith Dunne, also bears comparison to the ocularly-offending primary colours of Utopia. The school is shot in blues; the Mollison's house decked out in garish petty bourgeois red; whilst yellow is the designated colour of Barry's car and the symbolically jaundiced, and literally leaking, community center of Sweetlove House, a connection that hints at the character's past. The local hospital is gleamingly white, while the merlot hue of the doctor's uniform uncannily matches the furniture. If one were to reach for lofty comparisons, the chromatic scheme isn't far off from that utilized so memorably in John Boorman's Point Blank. In another scene the hazy blue and pink neon lighting in the local boozer coupled with lashings of rain feels like a tribute to the American crime cinema of early Scorsese and Michael Mann, or Nicolas Winding Refn.
With the broadcast of the second episode viewing figures have shown that The Casual Vacancy shed a third of its initial audience. This is a shame, but not unsurprising for a work with such complex, and seemingly contradictory, registers at play.
The Casual Vacancy is not a curate's egg, but something of a Trojan horse then. A Sunday Night Drama featuring Miss Marple as someone you'd like to murder, with an impassioned leftist rhetoric in the same ballpark as Jack Thorne's recent televisual and theatrical writing, all wrapped up in an aesthetic that wouldn't be out of place at your local Picturehouse or Curzon cinema. A Guardian-reading aesthete's dream, in other words.
I'm certainly on cloud nine.