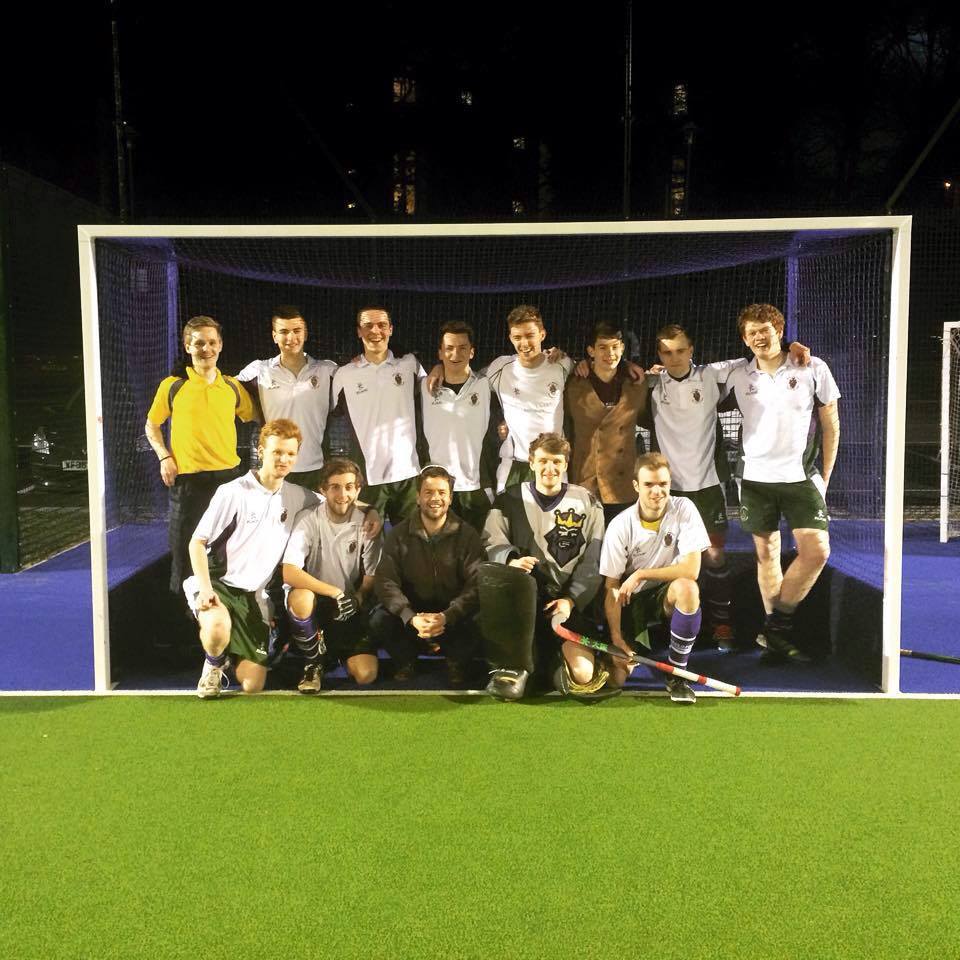 Another year of lectures almost done, another season over. But for the Hockey Men's 1st XI, this hasn't just been any normal season. What do I mean by this? It has been abnormal, because on Wednesday 11th March, at 14.15pm, the men in white, green and purple were crowned undefeated champions of league 4A, thereby ensuring their promotion.
It had been mathematically confirmed two games previous, after the defeat of Imperial Medics in a thumping 5-0 win in front of the home faithful. It would be fair to say that we had an exuberant group of fans that day, unlike the away day experienced by the legendary Wealdstone Raider. However, after that day, what remained illusive to us and to so many teams in the past was the undefeated, ten-wins-from-ten season.
A tricky home match against Portsmouth 3s, always a feisty opponent, almost saw us lose this record. 2-1 up at half time and the performance was slack, lacking precision and very error-strewn. We paid for this as Portsmouth fought back and, with 10 minutes left, led 3-2. But a goal from the ever-reliable Ali Wass, after strong work down the wing from Jack Blakey and then a lofted finish from myself, Dom Baillie, ensured the comeback was complete and the record still intact.
We could smell the stew brewing of potential success and unbeatable glory, the meal was being held in front of our noses and all we had to do was grab it. But one last game loomed; an away match at Brunel. The local one, the Surrey showdown, the Kentucky derby if you will. Gutted that it would not be exhibited on home soil at Fortress Noble, we went to Brunel searching for that final win. Probably five minutes in, and extremely against the run of play, we went 1-0 up through a Josh-Wilson Holliday reverse strike, which was soon to be doubled by the effervescent Wass. Shortly after Dan Rogers converted from a short corner to make it 3 but after a brilliant first 15 minutes, we suffered and, but for some brilliant tackling from Captain Bowes and saves from Hutch, we went in with this score line a little fortuitously. Knowing we could produce more, the next half included better hockey but this was slightly marred by the overtly physical approach taken from the home team. An aggressive affair as are most derbies but, after a cross was swatted into the roof of an empty net by myself again, the final whistle blew. 4-0 winners and the Championship, and undefeated season, were ours.
Celebrations were incredibly muted; we are all professionals in how we play on and off the pitch and champagne and smoke bombs at Brunel's pitch would have been incredibly incorrect and had to be kept inside. But a feeling that was definitely inside all of us was the fact that we had done it and we were Champions at last.
Now that the season is almost at its end, promotion in LUSL is still on the cards next Sunday, the team and the club will go through another evolution as it does every year. Players will leave; new players will come in. Overall change is a formality. But what won't change on paper or in the minds of this entire team are stats from the 2014/15 season. And one of those stats is 10 wins from 10. To do the double this season would really cap it off in a week but what I can say in the present right now, as I type, is this. We are being promoted and we should bask in this fact.