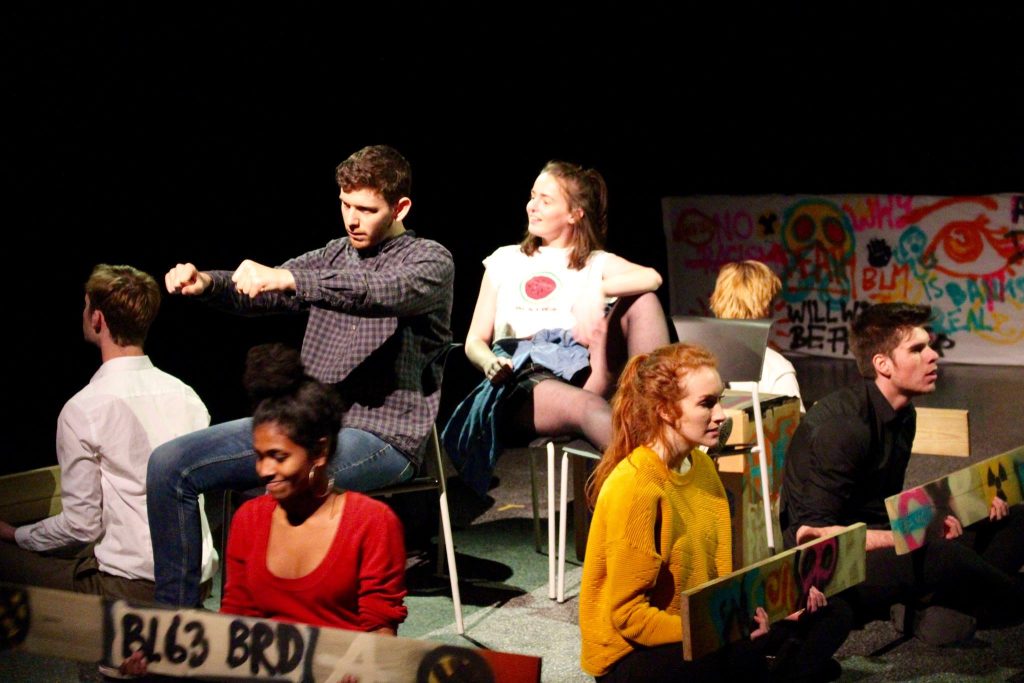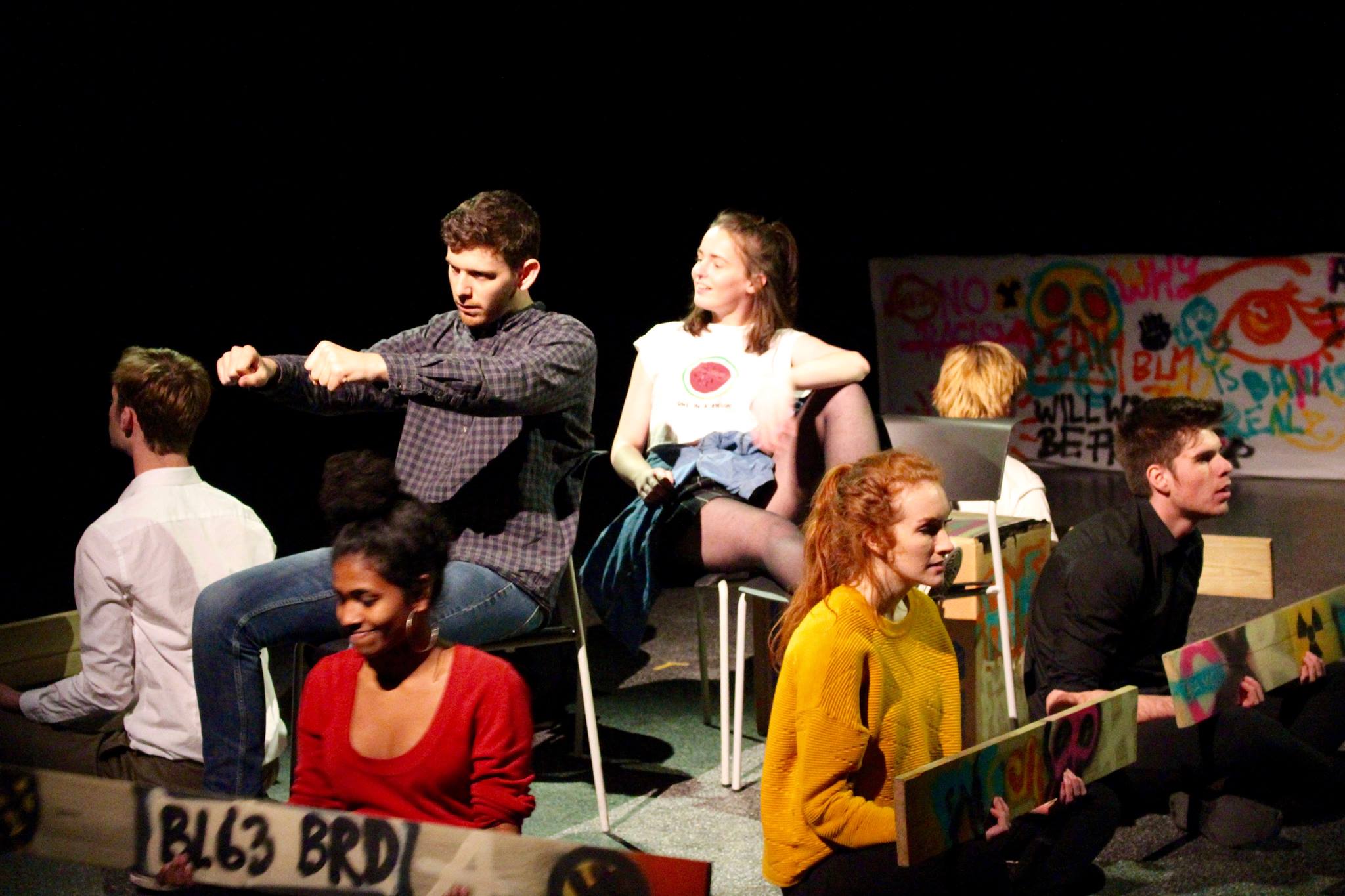 Drama Society's production of 'Bluebird' by Simon Stephens is filled with raw and visceral emotion. I have to commend director Emily Young for her bravery and experimentation in this very well executed production.
Jimmy (Rafael Aptroot) is a taxi driver. He is sullen and monosyllabic. We, the audience, are voyeurs of Jimmy's interactions with his 'fares' on what appears to be typical night's work for him. From grieving fathers, to smooching couples, to a young sex worker; the customers in Jimmy's taxi tell their story of living on the margins of society and their fragmented tales create a mirage of the bleak possibility of life in London.
'Bluebird' is not the sort of production you can passively enjoy: thought provoking and emotionally charged would be more apt descriptions, although this adaptation is filled with moments of pure theatrical delight. Emily Young has taken Simon Stephen's claustrophobic drama of psychological interiority and burst it wide open with exquisitely choreographed physical theatre sequences, which were created during rehearsal through devising techniques.
The set and tech design suggest the bleak and sparse back streets of London. A board of graffiti along the SU stage with matching wooden slats held by the cast show the grimy, unloved world that the characters inhabit. The tech team at the SU must be commended for creating a seamless show with music and light changes that complemented the emotions and the choreography.
The optics of this show are stunning. The excellent staging means that the audience can see the choreography from all angles. Although some of the physical theatre sequences are a little too long, their quality and the casts' focused performance means they are still enjoyable. Repeating motifs that express the emotional state of each character all build to the dramatic climax of the play. It is fantastic to see a university director be genuinely creative with movement and make something so visually striking.
The cast really felt like they were working as a company who have been together for more than just a few months. The odd accent was a little jarring and perhaps needed more rehearsal, but to mention this is really nitpicking at some fantastic work all round. Every cast member brought something to the table. Rafael Aptroot as Jimmy succeeded in portraying the tension of suppressed emotion that gradually becomes more and more unbearable. Orla O'Sullivan stood out in particular, managing to show the balance between her character Angela's fiery Jordy exterior that masks her underlying vulnerability.
Comedic flourishes from Ned Sanders as Guvnor and Boy (who has a real talent for delivering bad jokes!) and Andrew Bennett as the hyper-aggressive bouncer Andy, lightened the mood and the harrowing content of the play is made all the more poignant by these moments of light relief. Harry Jepheart, Hannah Woodger and Tom Holmes all stood out for their impressive physicality and their ability to morph between roles and Francesca Mudannayake as Clare brought members of the audience to tears.
In the programme's forward, Emily Young describes that for her 'Theatre at its best is the result of creative, dynamic talents coming together to build something thrilling,'. The cast and crew of 'Bluebird' have definitely achieved this with their brave, bold and beautiful production and I hope to see Drama Society making more shows with original and creative concepts.
'Bluebird' is on until November 22 at the Students Union.
Students: £5
Non-Students: £6
Tickets available via the SU website or pay on the door in cash.
By Vicky Bastable, Photo Credit: Sophie Morgan