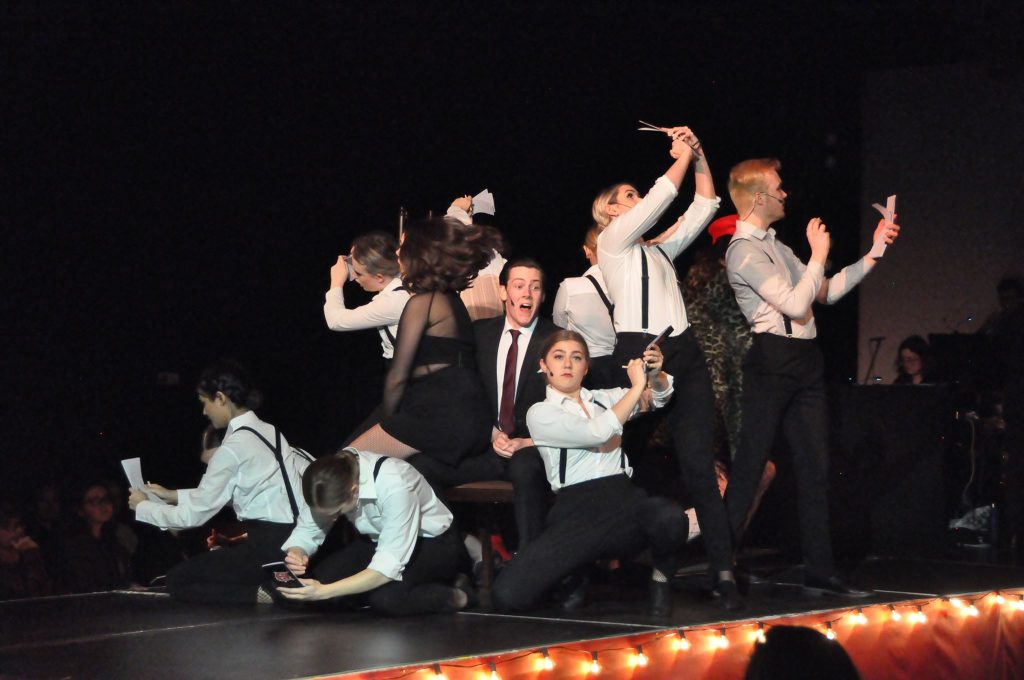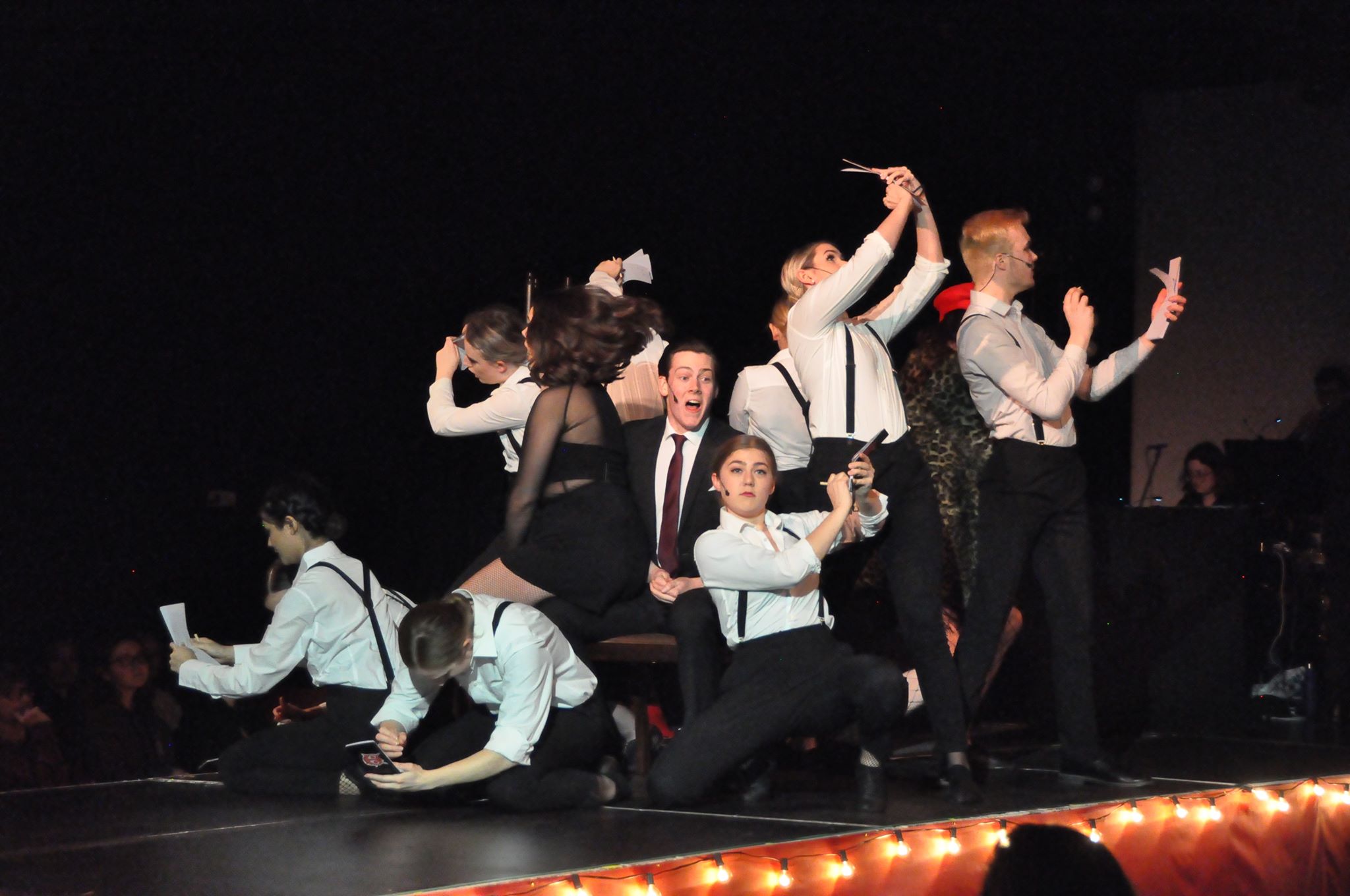 Standing out in stark contrast with the convivial tone of previous productions Super Kart and Legally Blonde, MTS opted to tread a darker path in their final show of the academic year by bringing us the delights of Chicago. Based on the 1926 Maurine Dallas Watkins play of the same name, Chicago follows the trials of two women who murdered their lovers and satirises the corruption of America's criminal justice system and the notion of the 'celebrity criminal'. It boasts music by John Kander, lyrics by Fred Ebb, and a book by Ebb and Bob Fosse – the former of whom composed the Broadway hit Cabaret.

Director Sorrel Wilson endeavours to present a production that is self-aware as a theatrical performance and her concept is clear throughout. The traverse stage, adorned with red drapes and lightbulbs, in conjunction with the predominantly red lighting and playing of jazz music convincingly transported the audience into a 1920s jazz club, thus stressing the performative element of Wilson's concept before the curtain raised. The setting altogether felt seedy, evoking an appropriate mood for a musical as raw and gritty as Chicago. In accordance with the show's theatrical self-awareness, the band faced out front and provided the plot's sound effects. However, a louder crash of drums would have heightened the impact of the gunshot it represented. Musical director Daniel Looseley was incorporated into the performance as an emcee figure. Frequently breaking the fourth wall to introduce characters' songs, the production had a rather Brechtian feel to it. Perhaps some premium table seats at the foot of the stage could have been sold to make the jazz club setting even more immersive.

Wilson's concept placed a distinct emphasis on the band and it was wonderful to see Royal Holloway's musicians receive some well-deserved recognition. A musical such as Chicago gave them a platform to shine – and, boy, did they take it, as each member of the band stood up at various points to play their solo. It was a shame this could not be seen beyond the second row of the audience. Energetically conducted by Daniel Looseley, they got one of the biggest rounds of applause of the night as they played us out.

Costume and props were well-thought-out by costumer Hadley Wehner and stage manager Lucy Wilson. Their consideration of the finer details was especially notable in the Cell Block Tango, as Hunyak wore a white ribbon to symbolise her innocence, contrasting with the red ribbons of the other Merry Murderesses. It was refreshing to see smaller scenes being held to the same standards set-wise as large ones, with Wilson sourcing an actual office table and a court stand.

This high level of attention extended to Jess Lee's choreography. Clearly taking inspiration from the style of Bob Fosse, her dances helped situate the show clearly in the Jazz Age of 1920s America, while also catering well to the production's traverse staging. Performers frequently alternated between each side of the audience, ensuring one side was never neglected. I must confess, Chicago featured some of the best dancing I've seen in three years of MTS productions, although the movement direction in solo numbers involved too much walking up and down the traverse for my liking.

Emily Quillin and Olivia Davies were our leading ladies as vaudevillian murderesses Velma Kelly and Roxie Hart. Quillin embodied Velma through and through. There are rare occasions when you see a performer in a role and, while a cliché, think they were 'born to play it'. This was one of those cases. What is most impressive about Quillin is that they are a triple threat. Their acting, singing and dancing were each impeccable and showcased in their fullest in I Can't Do It Alone. And Olivia Davies was the name on everybody's lips as Roxie. Her sweet vocals were aptly juxtaposed with Roxie's scheming manipulation that lay beneath her coquettish demeanour. I especially enjoyed her seductive performance of her eponymous song Roxie, although I would have preferred a more pronounced distinction between Roxie and Velma's personas.

Merritt Little just oozed charisma as morally-dubious lawyer Billy Flynn. He instantly captivated the audience with his suave manner, and his belt in All I Care About Is Love drew notable nods of appreciation. And while Amos may not have won Roxie's heart, Reuben Havelock certainly won the hearts of the audience. He perfectly captured Amos's naivety, unyielding love for Roxie and desperation to be noticed. His performance of Mr Cellophane was one of the show's highlights. Aside from being vocally powerful, it generated a tragicomic contrast of humour and despair. When the emcee denied Amos the exit music he'd played for Velma and Billy, I did not know whether to laugh or cry. Havelock's American accent was spot on – as were the whole cast's.

Boglarka Kurucz made her MTS debut as Matron 'Mama' Morton and her vocal control was also very impressive. She varied effortlessly between belting and controlled quiet, and her poise conveyed the worldliness of a woman who has seen a lot in her years. Tom Avann's entrance as Mary Sunshine was, in a word, unforgettable. With seemingly boundless energy, his soprano vocals were splendid and it was clear he had considered every nuance of his performance – from his flirtatious wave at Billy to his sign of the cross in response to Roxie.

Well done to the Merry Murderesses – Loredana Gibilaro, Leela Saeng, Ella King, Beth Brown and Lauren Rider – for the Cell Block Tango. Arguably the most well-known song of the show alongside All That Jazz, their sultry dancing and indignant characterisation ensured it lived up to audience expectation. It is often the quality of an ensemble that, in my eyes, catapults a show from good to great. Chicago's ensemble of Adam Manville, Keegan Carr, Barbora Cikler and Anna Roberts succeeded in doing just that.

Director Sorrel Wilson wishes to thank the cast, crew and band for all their hard work and has found the whole process very "rewarding". Thrilled at how far everybody has come in seven weeks of rehearsals, she encourages people to come to Chicago's closing night because it features some "really talented performers" and transforms the Students' Union into something completely different. Tickets are available at tiny.cc/Chicago tickets for Chicago's final performance.

Photography provided by Tsiala Corboz Werntz.