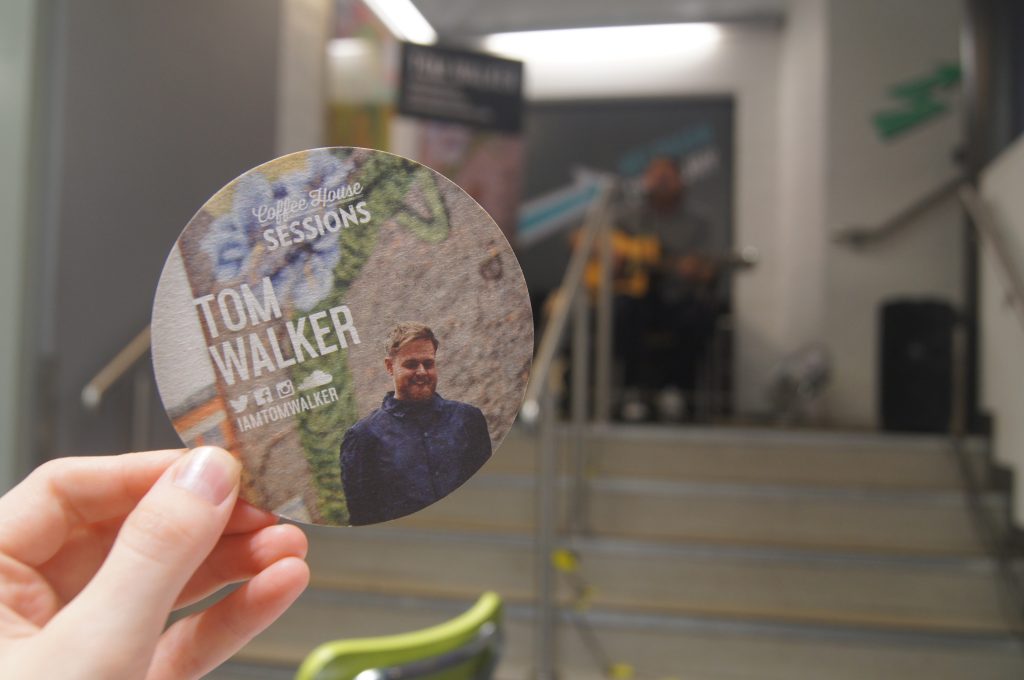 A revived, rebranded SU seems like the perfect place to kick off the brand new season of Coffee House Sessions, and, ignoring the lack of coffee house status, Tommy's Kitchen provided a near perfect setting for the first of these. Sharing a name with our founder (and therefore the venue), Tom Walker stepped naturally into his second show of the day and performed a stunning original set – the audience may have arrived hungry for a Colossus burger but I certainly left with a hunger for more of Walker's original songs. The set was fresh but full of cultural references, including Katy Perry, the Fresh Prince of Bel Air and Spotify: it provided something to relate to even though you were hearing completely new content.
We sat down with Tom Walker before the set to discover more about his background and with influences like Ed Sheeran, Jack Garrett and Paulo Nutini, I was not surprised that the musical style seemed familiar and comfortable. However, it also reflected a diversity – the sound fuses hip-hop, blues, soul and pop with a variety of instruments, namely drums, bass, guitar and piano. His route into the industry was through surprising himself in succeeding in his songwriting degree and then being spotted by Sony. Since then life has been like a dreamworld, and with 21 shows in just two weeks, it's a busy time for Walker. Luckily, he also ends up writing his good songs in the shower or the car so with so much time on the road it seems like we could be hearing a lot more from him in the months to come – to keep up to date check out his social media under the name @iamtomwalker.
Excitingly, Walker is only the first in a stream of 'freshly brewed' talent coming to Tommy's Kitchen this term, with Metaxas and Stranger Stranger having also entertained students over the last few weeks. The Coffee House Sessions are designed to bring live shows back to universities in venues where the audiences are already there – generally coffee houses or, in our case, the versatile Tommy's. There's something intimate about being able to enjoy a burger with friends alongside a performance by an upcoming artist, particularly as the Coffee House Sessions have already launched the careers of Izzy Bizu and The Carnabys, the latter of which is heading to Royal Holloway on 5th November. If you can't afford the £8+ for a ticket to that gig, the free Coffee House Sessions should suffice, generally happening at 5pm on Mondays. Already announced for 7th November is Lee Rasdall-Dove and you can find the most up to date information on the Coffee House Sessions website: http://www.coffeehousesessions.com/royal-holloway-university-tommys/.
Look out for Coffee House coverage from our fellow media outlets, Insanity Radio and rhubarbTV, as well as on the Orbital website! You can watch Tom Walker's set below.