Features Editor, Yasmeen, interviews the Asha and Francesca of the Royal Holloway Uni Boob Team about something everybody should be doing this Valentines Day and every other day of the year.
Everybody likes boobs. Let's face it.
Whether you're a proud owner of a pair or not, boobs are pretty cool.
Have I caught your attention yet?
Good.
No, you were not duped into reading this, it is actually about boobs. But I'll let the interview speak for itself.
CoppaFeel! is a pretty cool name for a charity. How would you best describe it?
CoppaFeel! is a charity set up by a lady called Kris Hallenga, who was diagnosed with breast cancer when she was 23.  It took a long time for Kris to be diagnosed, and by the time she was, her breast cancer was at stage four. There is no stage five.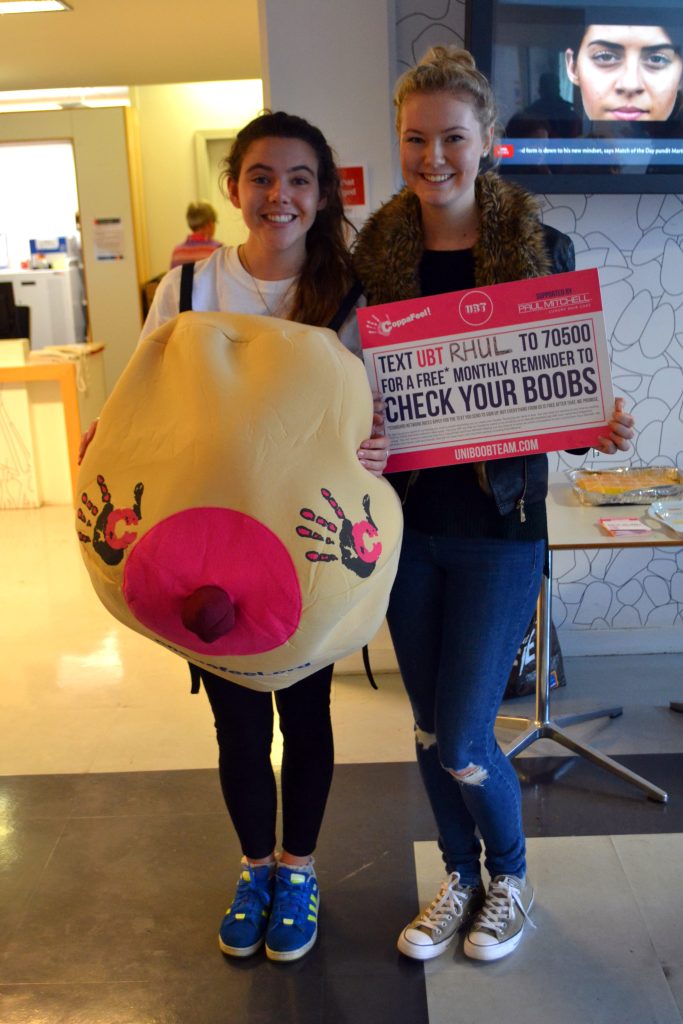 Frustrated by the fact that there was nobody telling young people they should be checking their boobs, Kris set up CoppaFeel! CoppaFeel!'s aims are to raise awareness about checking your boobs/pecks among young men and women and to stamp out late detection of breast cancer. One way in which they do this is through their free* monthly text service which acts as a helpful reminder to check those knockers. You can sign up by texting UBT RHUL to 70500.
What is it like being part of the Uni Boob Team (UBT) at Royal Holloway?
Seeing as this is our first year on campus, the UBT is still finding its feet. However, it is a great way to not only be more involved in uni life, but to also tackle real world issues. It's fulfilling to know that we are making a difference, even to the lives of just a few people. Next year we hope to become a society recognised by the Students Union, which will allow us to grow both in number and force.
Do you think that there should be more of a focus on educating individuals about disease prevention/detection measures at school? For example, being told how to examine your own breasts? Sadly I don't think many people are aware of these simple but essential checks.
Definitely! One of the most shocking things that we found when we first started was that a large number of guys had no idea that they could get breast cancer which was something that we just presumed everyone knew. That's the whole point of this charity- raising awareness so that more people remember to check themselves. It's all about knowing your own boobs and what's normal. That way, it's easy to identify when something doesn't seem quite right. CoppaFeel! have a campaign called #RethinkCancer which ultimately aims to educate the masses about cancer from as young as possible and supporting teachers with teaching their students about cancer – including risk prevention.
I can imagine that being part of something with the name CoppaFeel! you're sure to get a variety of different reactions- what are some of the best you've had?
One of the funniest reactions we have had was when we approached a girl and asked her if she had a minute to talk about boobs, to which she stared at us in a panic and promptly ran away. The weirdest would have to be two guys at our cake sale in Bedford , who after asking for a free cake started to coppafeel in the foyer of the library, and ask if nipples and chest hair were normal. The cheeky charity name definitely draws people in and gets lots of attention which we see as a positive.
Other campaigns such as 'Free the Nipple' have been quite provocative and have changed public perception. Do you think that there is a similar sort of stigma that surrounds checking your breast? And if so, what do you feel would lessen this?
Talking about boobs so openly can sometimes seem quite controversial and there is definitely a stigma attached to opening up about checking your boobs. CoppaFeel!'s #GetItOffYourChest campaign is about just that and encouraging all young people to not only coppafeel but also to be confident enough to tell a friend and go to the GP if there is anything abnormal. The more people aware of CoppaFeel! the better and hey who doesn't love to talk about norks?
What has the Uni Boob Team got planned for the near future?
After an extremely busy Breast Cancer Awareness Month we are still doing lots to spread boob love across Royal Holloway. We have already hosted one pop-up salon in Bedford Library and plan to do another one shortly. We have a Glitter Party coming very soon – so keep your eyes peeled. And after Christmas break we will be hijacking your showers with reminders about feeling your chest. To keep up to date with all our events follow us on Facebook (CoppaFeel Royal Holloway Uni Boob Team) and Twitter (@UBTRhul). So, why not check your boobs/pecks now??
*Standard network rates apply for your initial sign up text (10p plus VAT but free for Vodafone users) but everything from us is FREE after that. By signing up you agree to us texting you once a month to check your boobs. You can stop the service at any time by texting STOP to 70500 (Standard network rates apply). You will receive a welcome text from CoppaFeel! And Paul Mitchell is offering you the chance to enter an online competition to win a prize. We will keep your details safe and secure and will not pass them onto any third parties.