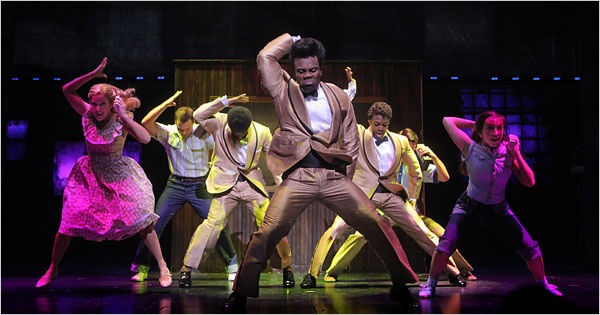 Unfortunately, The Shaftsbury Theatre hasn't had the most illustrious success in the century it's been performed in. Hidden at the dark, neglected end of London's most infamous avenue, the auditorium's only real minor claims to fame include "Hairspray" and "Rock of Ages". Luckily, Tony award-winning, Broadway sensation "Memphis" strode confidently into the theatre during February of last year.
Cast with singer-songwriter Beverley Knight, and up-and-coming West End star Killian Donnelly, "Memphis" opened to a mixture of hype and awestruck surprise, gaining an unexpected level of box office success. No-one anticipated how such a previously unknown show could've achieved such immense popularity in only one year. Bagging two "Oliviers" Awards and a "What'sOnStage" Award, the rock "n" roll musical follows the life of Huey Calhoun, a washed up illiterate white man trying to find a way to make a living, with nothing but great taste in "negro music" in his repertoire. Falling in with African-American club owner Delray, and his talented sister Felicia, Huey devises a cunning scheme to bag himself a middle-of-the-dial radio show, make Felicia a show-stopping live performer and revolutionize the US music industry.
Making way for "Motown: The Musical", "Memphis" took its final bow on October 31st, leaving quite a legacy in its wake. Launching the career of leading man, Killian Donnelly – now playing businessman Charlie Price in "Kinky Boots" – and catapulting Beverley Knight to musical theatre infamy – currently in the role of Grizabella in "Cats" – "Memphis" has had a superb and fortunate run.
Packed away on both the West End and Broadway, sadly you'll have to fly to Japan if you want to see the phenomenon one last time, in its final global hurrah.