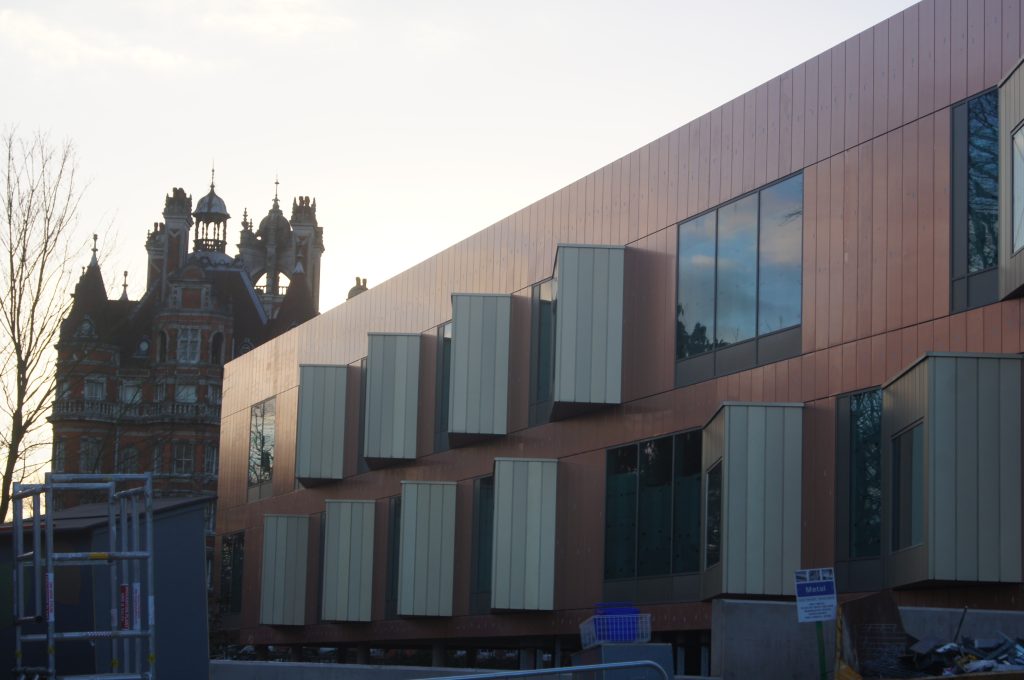 The Orbital's Joanne Archer gives you the low down on the new Library and Student Services Centre. We promise you it's cooler than it sounds.
The latest addition to campus, the Emily Wilding Davison Building, has certainly caused quite the storm. The chaos of an ever-expanding building site has made walking anywhere in a 2-minute radius feel like a pilgrimage. It's certainly not been a silent development. The Orbital magazine was lucky enough to be given an exclusive tour of the site in its early stages.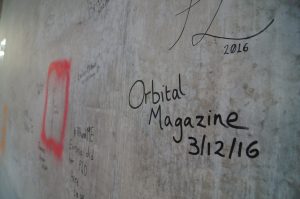 At first I was reluctant, the building looked like a mismatch of cardboard and glass, not exactly the stuff that fuels Hogwarts-esque dreams. Stepping inside, however, I realised the full potential of the building. It towered in its skeletal form, lacking any protection from the weather, but the scale of it felt enormous and the potential of the space, as it develops, is virtually limitless. The tour was led by Mike Berry, Director of Estates at Royal Holloway, and Mike Trigg, Senior Project Manager for Osborne. You could really see how much the project meant to them. The duo told the group all about what would be going into the building, including a bank, a shop, an exhibition space and group study pods that overhang outside of the building. The idea here being that students will feel immersed in nature, even whilst inside the building. It wasn't just a pride at their own work, but an excitement that future generations would get to enjoy the fruit of their labours and that we were able to see it in its early stages. For me, this has made the library even more special.
It's really hard to imagine how so much is going into one building. This isn't just a library and that is why the project is so necessary. The library will have a relocated and improved Student Services Centre and a Care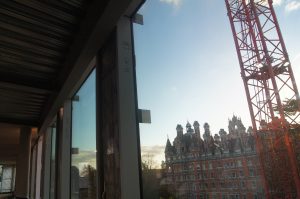 ers and Employability hub. There will be a dedicated Postgraduate reading room, a new café and an Archives reading room. The shop is said to replace the current temporary SU shop, still run by the SU, but operating in double the space and seeking to make deals with local farmers to source fresh and local produce. Everything really will be in one place, all it needs now is a nightclub and maybe a place to take a much needed snooze!
During the tour, I was able to take over Royal Holloway's Instagram, giving students a virtual guide to the building site. This was quite the challenge whilst juggling an SLR camera and trying to keep my protective gloves on as much as possible. The best part was being allowed up onto the roof just as the sun was beginning to set and being allowed to sneak away from the tour group to capture some incredible shots. I even got to sign a wall on behalf of Orbital!
Material world: the facts
-One side of the building has recently been covered in 650m² of copper. This may sound bland but it is a 100% recyclable material which is great news as we seek ways to protect our environment.
-Over 8km of terracotta baguettes installed next to the glazing. Attention to detail is key here with various shades of terracotta being used to connect the building aesthetically to Founders.
-Almost 500 sheets of glass installed, weighing the equivalent of 104.5 tonnes.
-1150 study seats and silent, social, creative and collaborative zones.
The library's current opening date is set for Autumn term of 2017, two years on from its ground breaking that took place on 8 October 2015. The principal has promised those graduating this year that Founder's Square will be ready in time for the ceremony. The open space has also been pedestrianised and will be a great area to hold events, run stalls and showcase student talent.