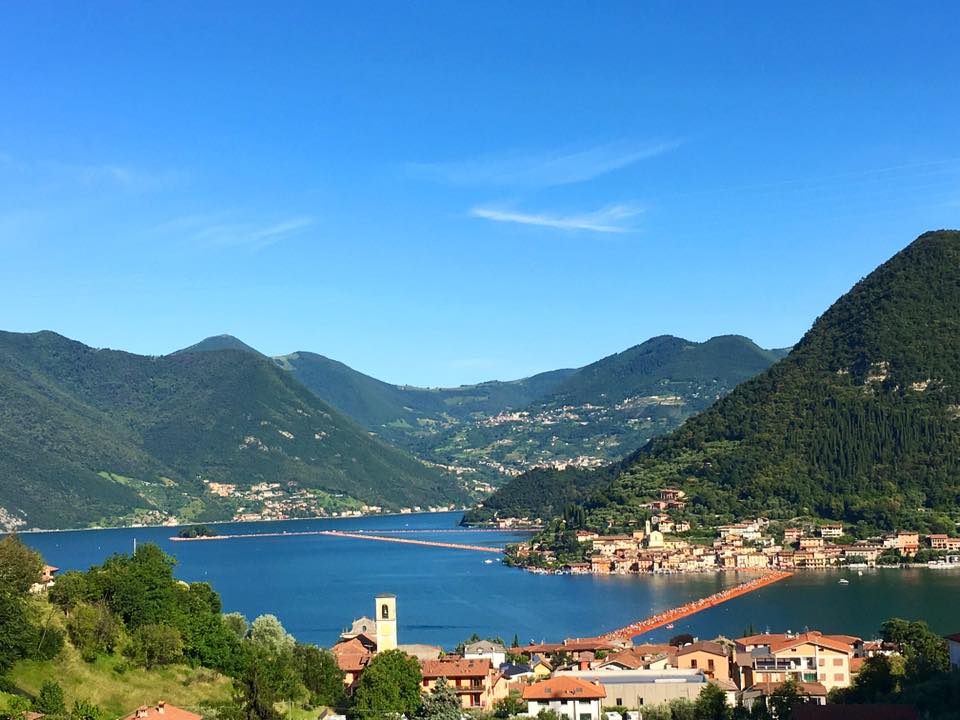 Last summer saw an artist's dreams recognised as Christo was given the go ahead to carry out a project he had been planning since 1970. The idea was the product of two artists, however Christo's partner, Jeanne-Claude passed away in 2012, and was never able to see the project completed. Finally, earlier this year, Christo and his team were able to begin setting up the Floating Piers on Lake Iseo in Italy. The Floating Piers was a highly anticipated piece and became a hot topic worldwide. The project was an incredible success and drew in over a million tourists throughout the 16 day exhibiton. I was lucky enough to be able to visit the Floating Piers in late June, and it truly was a beautiful experience.
Lake Iseo is naturally a stunning sight, sparkling crystal blue waters surrounded by small towns embedded in an almost mountainous area. The usually sleepy towns were busy and bustling with tourists, the bars and restaurants enjoyed a constant stream of clientele.
The piers were made of 220,000 high-density polyethylene cubes, and included a 3 kilometre long walkway extending across the lake. They were 16 meters wide and draped in 100,000 square metres of warm golden fabric which carried on along the streets in Sulzano and Peschiera Maraglio. The project, funded by Christo alone, reportedly cost around £11.7m. There were no fees and no tickets, the artists goal was to create 'works of art of joy and beauty, without charging'.
The first time I walked along the piers it was almost 2am, and there was still a multitude of people queuing for the experience. Fortunately, I was accompanied by my partner who is a local, and so we were able to skip the queue and get straight on. The water softly lapped the edges of the piers, turning the material a burnt orange shade. We took our shoes off and walked, hand in hand under the moon. It was the most romantic thing I've ever done. It felt as though we were walking on the water, I could feel every gentle movement of the water beneath us.
The second time I found myself laying on the pier beside the edge under the afternoon sun. The piers welcomed all, adults and children alike, even dogs enjoyed the feeling of the rolling lake beneath our feet. It was such a relaxing, calming experience. At one point, the pier was swiftly evacuated as the rippling of the water increased just a little too much and Christo was spotted on a boat gliding across the lake. The crowds of people erupted in a loud and raucous applause. I'm so thankful to have been able to witness such a beautiful exhibition, one that will surely go down in history.