With a net worth of 198.8 billion dollars, do you really need to be handing Jeff Bezos your money this Christmas?
Every year there is a festive panic as thousands rush to big corporations like Amazon, Asda and Primark to purchase last-minute hot water bottles, strings of fairy lights and fluffy socks. Of course, you would; it's quick, it's cheap. I see the appeal. However, now more than ever is the time to carefully consider our role as consumers.
Only eight years ago, 1,129 Bangladeshi factory workers were killed when the building they were working in collapsed. Many of these garment workers were supplying global brands such as Walmart, Joe Fresh and Children's place. As well as violating human rights, recent EU reports show that the textile industry makes up 10% of global greenhouse gas emissions.
Throughout the year we have made promises: to check out that organic shampoo your friend mentioned, avoid fast fashion or reduce waste. This Christmas it is time to put your money where your mouth is, because it's not all doom and gloom.
Small businesses have acquired a unique platform with the rise of social media, from Facebook marketplace to Instagram, they have become visible in a way that was never possible before.
Here are some of the best small businesses you should be checking out this winter:

From sharing important information on mental health and eating disorder recovery, to fundraising for Lebanon, Ray and her jewellery are more than just beautiful. As well as making the most gorgeous freshwater pearl jewellery you will find online, Ray works as a postdoctoral researcher in Psychology and promotes online activism. Having stumbled over her page during the first lockdown, I have now been following her for a while and have acquired a number of her pieces. I have often struggled to find affordable earrings that won't irritate my skin, so it was a massive relief to find 925 silver or 14ct gold that is reasonably priced!
@Raymakesthings Ray Makes Things

This beautiful Adire is handmade by local artisans in Nigeria and Ghana and is an absolute must this Christmas. Whether you want to purchase this fabric to work your own designs (you can finally make that pillowcase you have always been talking about), or buy one of Fola's custom dresses, these gorgeous colours will definitely stand out under the tree. There are also Nigerian head ties and leather card holders perfect for your parent's stockings. Together with an Etsy shop, Diligent hands fabrics have a website and are contactable via Whatsapp for any questions!
@Diligenthandsfabrics

Remember that scene in Charlie and the chocolate factory, where Charlie is drawn to the chocolate bars in a shop window on a snowy day? Well if I am Charlie, then PonkyWots is definitely the chocolate bars. These gorgeous pots and candle holders are hard to miss, with their bright colours and quirky designs. As well as releasing a range of limited edition pots you can commission pots in the shape of a celebrity, a family member or even your dog!
@PonkyWots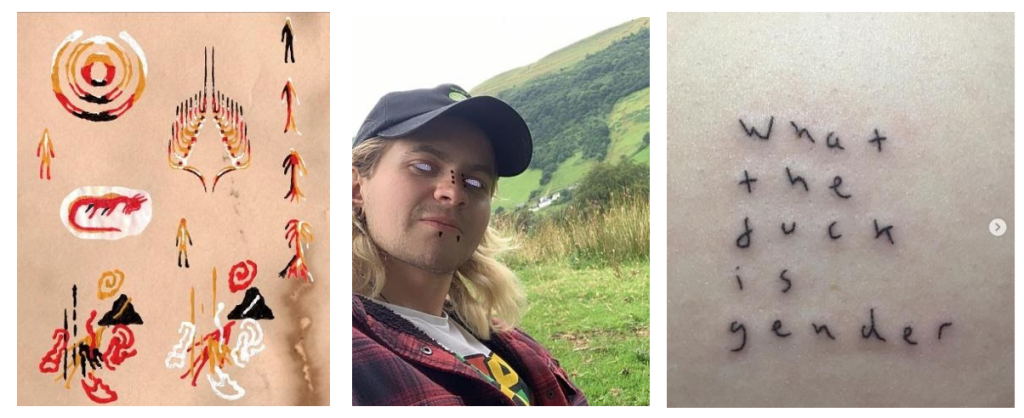 For a slightly less conventional Christmas gift check out Caspar Grey, a London based trans artist who designs and inks gorgeous hand-poked tattoos. For anyone who wants to get a tattoo or who knows friends or family looking to get one this coming year, Caspar Grey is the go-to. Grey is a very popular artist who's availability fills up quickly, so be sure to book in advance – I know I will be at the front of the queue! Alternatively, he also offers drop-in sessions, so I would advise giving their instagram a follow to be the first to know. Lastly, as Caspar is an alumni of Royal Holloway University, you can't show your support more locally than this!

I knew I had to get my hands on one of Katie's designs the moment I saw them. The bright colours and funky style are a 70s dream! I was given one of her T-shirts as a birthday present this past year and have worn little else. Katie often collaborates with other small businesses, such as Goshgirl and Sadie Alys, to decorate all kinds of things from handbags to dungarees. One of the best things about shopping small is that many of the creators will go out of their way to support other local businesses, which is a lovely way to help content creators grow and grow!
@Katiepeckdesign

Talk about the ideal stocking filler! These gorgeous satin scrunchies are handmade and work on a range of hair textures; they come in a wide range of stunning colours. Personally, I like to use my scrunchie for a messy bun or to keep it out of my face while studying at the library. Also, can we talk about how well small businesses wrap their items? The attention to detail and presentation is insane!
@OKscrunchies
Handmade Scrunchies UK by okscrunchies on Etsy

I think it's time for me to come clean and say that Goshgirl handbags are definitely on my Christmas list. With the most gorgeous range of fabrics, each of these bags is entirely handcrafted and, with a few exceptions, are all limited edition. So don't hesitate or you'll be kicking yourself when it goes to someone else! I always get such a kick waiting for the latest drop and you'll often find me with my fingers poised over my phone in anticipation… Say goodbye to my student loan, oops. Goshgirl also sells limited edition necklaces featuring thick chains and neon colours. Take your outfits to the next level in 2022 by adding some Goshgirl to your wardrobe.
@g.o.s.h.girl
(Header image by freestocks on Unsplash)
By Helen Nicholls