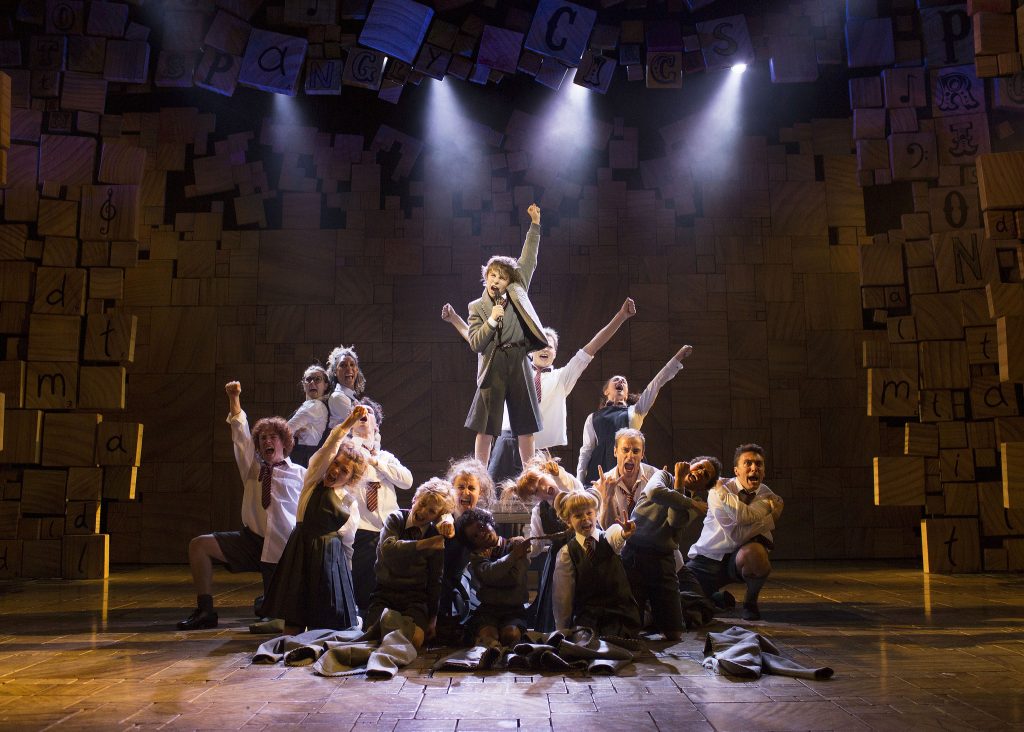 The vibrantly lit stage of the Cambridge Theatre is littered with colourful wooden blocks spelling out words like "shiny", "joy" and "escape", a nod to Matilda Wormwood's love for books and the escapism reading provides. Commissioned by the Royal Shakespeare Company, Matilda the Musical is based on the 1988 children's novel Matilda, written by Roald Dahl. The premise follows a similar narrative to the novel. A young girl discovers her magical powers as she navigates parents who'd rather she were a boy, and a headmistress who uses any opportunity to throw her in the much-feared chokey, a narrow cupboard with nails and sharp, pointy pieces of glass sticking outwards from every corner.
With an army of schoolchildren dancing and singing atop classroom desks and chairs, Matilda the Musical opens with a promising start. In the song 'Miracle', children at a birthday party voice the praises sung upon them by their mothers, proudly singing, "my Mummy says I'm a miracle." Matilda's mother, however, calls her a "lousy, little worm." The irony is not lost, as Matilda really is a miracle. Accompanied by her Latin-dancing partner, Mrs Wormwood's personality is as loud and gaudy as her bright dancing costumes. Her fixation with vanity, (at one point telling Miss Honey, "You have books and I have looks"), makes for an entertaining character who prioritises her dancing competitions above the wellbeing of her daughter. The emphasis on Matilda's home life compared to other children, is one of many juxtapositions in the play, including the dichotomy between brutish Miss Trunchbull with the caring, gentle countenance of Miss Honey.
It's not just a play for children, it's a play for everyone.
Dressed in long brown coat, a matching leather belt and a sinister smile, headmistress Miss Trunchbull, played by Craige Els, exudes an arrogant and hilariously pompous attitude, reminiscent of the character portrayed in the 1997 film adaptation. When she breaks out into song, grumbling about maggot-like schoolchildren, her status as a villain is called into question. She develops into more of a satirical anti-hero than a scary villain. Clad in a garish, green chequered suit, Michael Begley's Mr Wormwood delivers a fantastically sleazy persona that could contend with Danny DeVito's portrayal.
In the West End production of the musical, four young actresses portray the titular character. The young protagonist in the role of Matilda delivered a strong performance driving a theatre production with such ease and confidence, despite appearing a little contentious and whiny at times, an odd combination for such a likeable character. Matilda the Musical is a little bit too long and at times overly dramatic, but from the catchy lyrics, funny dialogue and colourful production, it captures the heart and spirit of Roald Dahl's novel. It's not just a play for children, it's a play for everyone.