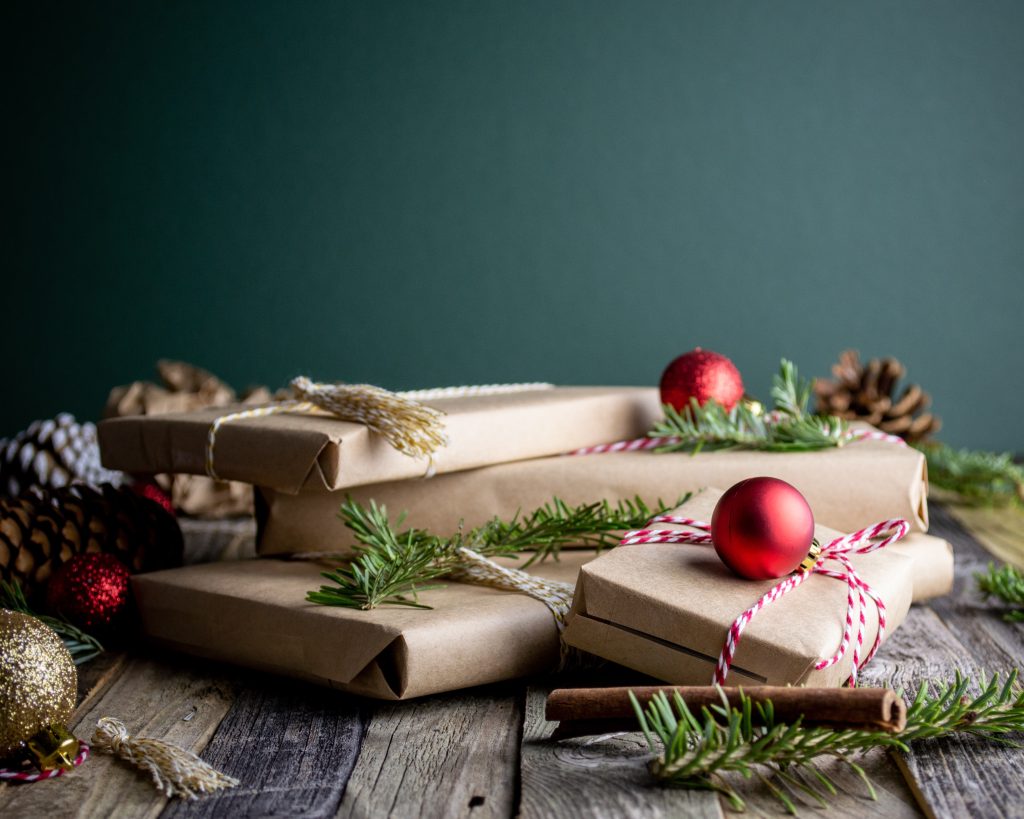 It's festive season, folks! While this time of year can be a foggy mess of mince pies and mulled wine, turkey and family issues, the joyous cries of Cousin Bertha receiving her third Fenty lip-gloss are drowned out by the planet screaming at us to get our act together.
The UK alone produces an additional 3 million tonnes of waste at Christmas and fills 100 million bin bags every time the season comes around. The problem here is the high levels of methane gas and CO2 emitted from landfills, which cause global warming. If that doesn't make you stop and think, just one single tonne of landfill costs us £56 in taxes, which could definitely help pay for Auntie Jackie's presents this year.
These are some astonishing figures that may put a dampener on our yuletide cheer, but not to fear, we can still devour a delicious dinner, purchase perfect presents, and truss up our trees with twinkles, by just making a few slight adjustments…
Season's Greetings
The average person in the UK receives 17 Christmas cards each year. For every 3,000 Christmas cards, one tree is cut down. If we consider that in 2020 just over 67 million people were living in the United Kingdom… well, that's a lot of cards, and a lot of trees.
Despite the alarming state of these figures, there is no need to give up completely on this delightful tradition, as sustainable options such as recycled cards are readily available, especially at charity shops; look for the Forest Stewardship Council (FSC) mark which guarantees sustainable and ethical production. If you are a plant lover, or know someone who is, 'plantable cards' are growing in popularity. These come with seed packets which the recipient can sow themselves. (Wildflower Favours offers some beautiful options)
Drinking
If you are planning a party, plastic cups are an environmental mood killer. Paper cups are a great alternative, although if like me you aren't partial to a slightly soggy rim, glasses can be rented from Waitrose, among other places.
Decorating
Christmas tree choosing is a staple tradition in many houses, with real trees being more environmentally friendly than artificial trees. To really show some love to the planet, why not create a new family tradition in the form of your own pot-grown tree that can be replanted after the festive season is over? The Carbon Trust states that "a tree's carbon footprint is reduced by 80 percent if it is repurposed rather than left to degrade". Growing and keeping your own Christmas tree is not only eco-friendly, but is also a beautiful addition to a garden year-round.
Hold back on the tinsel this year; it is one of the unnecessary aesthetic plastics that cannot be recycled. However, our trees still deserve to shine as bright as Uncle Jim's forehead after a hearty dinner, so opt for LED or solar lights to reduce energy use, while keeping your fir fancy.
Wrapping
Remember we talked about the incredible number of trees that go into Christmas cards each year? Well, even more mind-bending is the 227,000 miles of wrapping paper used annually in this country. To put this in perspective, if rolled out, it would stretch around the world… 10 times. Some wrapping paper 'red flags' include dye, glitter, foil or plastic, all of which cannot be recycled. Carefully unwrapping presents, while it may be a lengthy activity, means that wrapping paper can be reused. Another option is 100 percent recycled wrapping paper, which can be found at most craft stores. Brands like FatFace and Primark have launched sustainable/reusable shopping bags, which are able to double as perfect wrapping paper.
Eating
The UK carves around 10 million turkeys each Christmas; that's as many turkeys as there are people in Sweden. Vegan options are incredibly sustainable, and God bless you if "Tofurky" fulfils your Christmas dinner needs. However, if the 25th of December is simply incomplete without a turkey or goose, try ordering a smaller organic/free-range one. If we all did this, it would make a huge difference to greenhouse gas emissions and consumption in general. We waste an awful 54 million platefuls of food over the festive season, so reducing over-buying would help the environment, and our wallets!
We can also show our support for independent businesses, and reduce food miles, by shopping at local suppliers. Any food that hasn't been used, keep for leftovers: bubble and squeak, soup, turkey sandwiches for days… trust me, you don't want to miss out.
Winter is an annual celebration of joy, togetherness and festivities, but this year, let's have a Christmas that doesn't cost the earth.
Header image by Mel Poole on Unsplash
By Jessica Watts