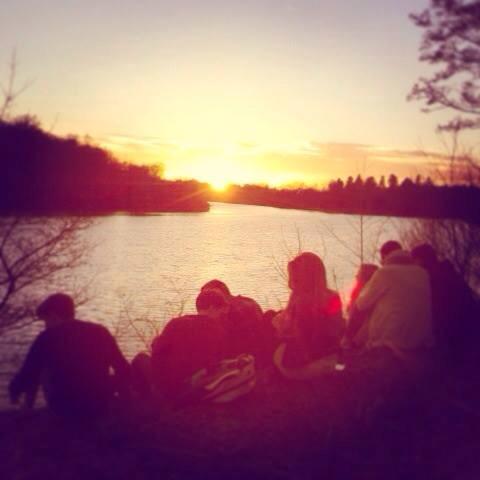 Virginia Water
As Royal Holloway students, having one of the most spectacular landscapes on our doorstep needs to be taken advantage of. Virginia Water is a man-made lake with many spectacles to enjoy. You can lose days going on walks, getting lost among the many mazes of gardens and woodlands; enjoy jogs with friends; picnics in summer or just soak up the solitude in the soothing environment.
Virginia Water was first dammed and flooded in 1753 and until the creation of reservoirs it was the single biggest expanse of water in Britain. There are reminders of the past all around as the lake was a place of pageantry and spectacle. If you take a trip further around the lake you can discover an ornamental cascade imported from North Africa in the 18th century and the Leptis Magna Ruins, a 'Roman Temple'. A more recent addition has been the 100 foot totem pole.
The lake is situated along the main road from the University, 2 miles North of Englefield Green.
Staines-upon Thames
This is the nearest retail park. It can't quite offer the same facilities as it's fancier-sister Windsor, but it has slightly more recognisable non-charity shop/pharmacy brands. With a Vue cinema to take advantage of those Orange Wednesday deals or a range of shops if you fancy spending your student loan on other areas. There is a range of restaurants to choose from including the all-important Nandos, McDonalds and Pizza Hut… If you're feeling adventurous, you could even try out one of our local Harvesters! (Top tip – If you're looking for a job in the area, Thorpe Park workers get discount at the Harvester in Staines!)
Thorpe Park
But let's not forget Thorpe Park. At Staines station you can pick up the frequent 950 bus service taking you straight to the theme park. Whether you've experienced it before or never been it is definitely worth a visit at some point in the year to maximise its close proximity. With over 30 exhilarating rides to enjoy, what better time to visit than Fright Night. The park is open for 12 hours of thrills for selected dates in October and November with exclusive mazes taking inspiration from The Blair Witch Project, SAW and The Cabin in the Woods. For the ultimate adrenaline rush make sure you take a trip on Stealth (it is worth the wait), the 62.5m roller coaster can even be seen from campus in the Founders building.