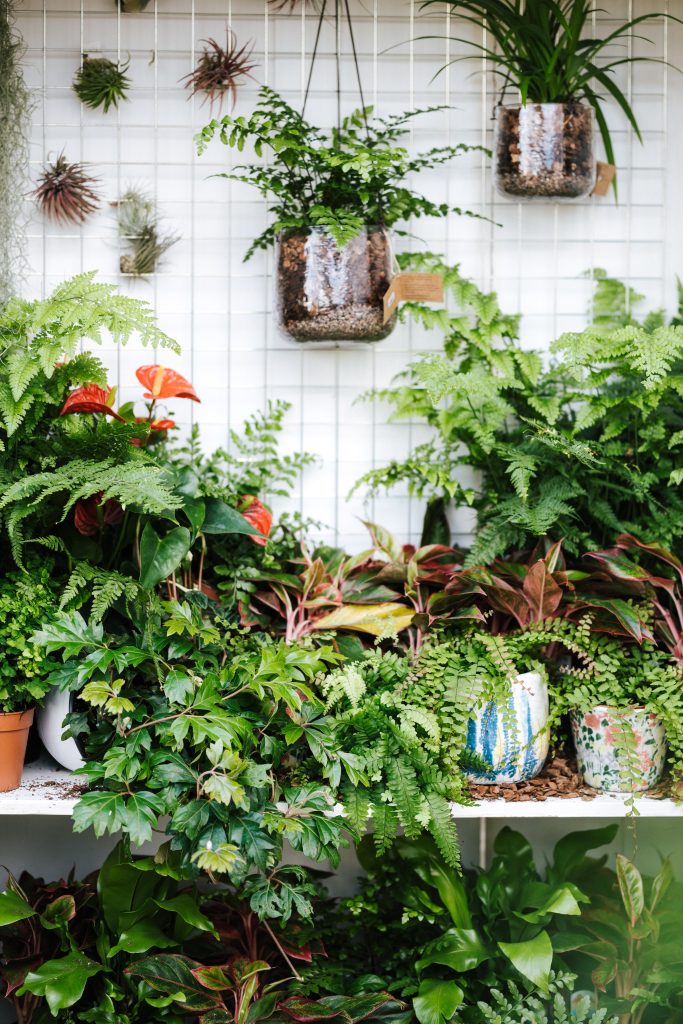 Thom Cuffin-Munday
Besides adding beautiful earthy colours and allowing mother nature into your room, there are many health benefits to having houseplants. According to the Royal Horticultural Society, these include improving mood and attention span, as well as reducing stress, blood pressure, fatigue and headaches (by up to 25% in one study!). In my experience, houseplants also have a psychological benefit – understanding the basic needs of a houseplant, such as regular watering, sunlight and warmth, helped me to understand my own basic needs. Just like human beings, your plants' health can begin to deteriorate without daily care and attention.
On a base level, a plant respires in the exact opposite way we do. They 'breathe in' carbon dioxide and 'breathe out' oxygen, so a houseplant can purify and improve the air quality in your room. It is proven that houseplants remove up to 87% of air toxins in 24 hours. Many studies have also highlighted how indoor plants in hospital rooms can aid patient recovery, not simply on medical grounds, but also therapeutically with how the presence of plants 'brighten up the room', and help with positivity.
By no means are houseplants a quick fix for mental health problems. However, studies have shown that they can help. Below is a small list of recommendations for plants that don't require green fingers and can liven up your student digs:
Monstera Deliciosa or the 'Swiss Cheese Plant'
A very popular houseplant that you will have seen all over Instagram and at the RHSU plant sale. The Swiss Cheese is named as such because of its holey leaves. It is easy to take care of and grows very quickly! You only need to wait until the soil dries to water it again, and it loves sunny spots but not direct sunlight.
Asparagus Setaceus or 'Lace Fern'
Another very easy plant to take care of, the lace fern is ideal for over-waterers, as it can take a lot of moisture! However, be careful not to water it too much, as this can cause its roots to rot. This plant, and other ferns, can thrive in environments such as your bathroom too. It grows quickly and bushes out, so don't be afraid to give it a trim every now and then if it gets too big. This delicate plant can add a touch of beauty to any room. 
Chlorophytum Ocean or 'Spider Plant'
A classic for any budding house plant enthusiast, the spider plant is a wonderful variegated-leafed plant which is known for purifying air. Spider plants are pretty easy to take care of in preferring sunnier spots and moist soil. It's a pretty hardy plant so will be able to survive winter, although the cold slows down its usually fast growth. It can also be used as a hanging plant!
Aloe Vera or … 'Aloe Vera'
A trendy plant at the moment, this succulent is another easy one to look after, as it is an indoor plant that likes the warmth. As a member of the cacti and succulent family, it doesn't need a lot of water and the soil can dry up to 5cm deep before needing a top up. The thick green leaves look fabulous on a windowsill or on a shelf alongside your books. Although the topical benefits of aloe vera gel are well known – from moisturising to helping to cool sunburn – it is best to research this extensively before attempting to harvest it yourself!
*All images and plant care taken from hortology.co.uk*
Although garden centres are allowed to stay open during lockdown, it may not be easy to get to our local ones (Thorpe Lea Nursery, Notcutts Staines or Longacres Shepperton) and so some online options for ordering your leafy delights are www.bloomboxclub.com or www.patchplants.com.
Sources
https://www.rhs.org.uk/advice/profile?PID=949
https://www.nbcnews.com/better/health/indoor-plants-can-instantly-boost-your-health-happiness-ncna781806