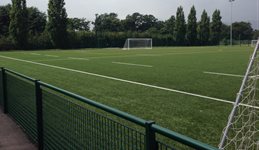 Nobles took quite a transformation over the summer. The former sports field, consisting of football and rugby pitches, is now unrecognisable. In their stead stands a sand based hockey pitch, tennis and netball courts; in addition there is a multi-use games area and the 3G pitch. Only returning students can fully appreciate the new facilities at their disposal given the virtue of comparison to those they replaced.
Gone are the days of training in half-darkness throughout winter when the only source of light was the archaic and unreliable scattering of floodlights – which when turned on sounded not too dissimilar to that of a plane departing the runway. No longer are we attempting to play anything that resembles sport with severely waterlogged terrain underfoot, helplessly churning it up even further. The problem with grass pitches generally seems to be that they're either too hard or too soft, whilst Nobles has always had some of the best university pitches even they were not exempt from this age old issue. The 3G has undoubtedly fixed what was 'broken' about the sports field. The lighting and surface is a dream, even if those black dots have now invaded the homes of everyone who has ever stepped foot onto it! The quality of football, speaking from experience, is greatly enhanced by the 3G (sadly replicating this quality elsewhere can prove rather more difficult).
Furthermore the artificial pitch has given new meaning to 'home advantage'. It is more than likely that very few visiting rugby teams have ever before competed on 3G causing them to approach matches with particular caution and wariness, much to their detriment. That is when rugby can be played on the 3G as opposed to the hockey pitch, it is a hockey pitch after all. One need not stretch the imagination too far as to conclude why playing rugby on such an unforgiving surface is not preferable for anyone involved.
Several sports are now played at the same place and time creating a far better sense of unity across clubs which had previously been missing. Opposition are now welcomed by an intimidating scene of competition in all its diversity. Sport at Royal Holloway has been reinvented and given a long-overdue renewed lease of life. Our limited space cannot grant logistical perfection but sport isn't perfect, it's challenge.