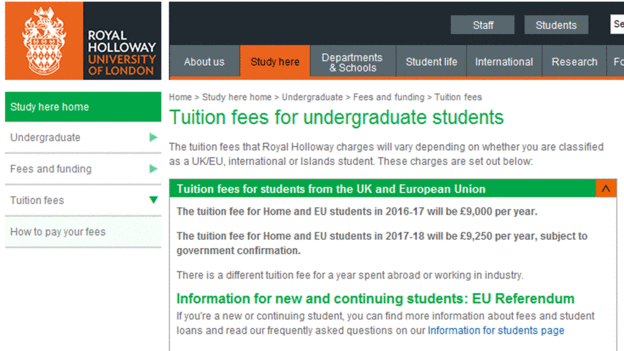 The Mail has recently reported that it is only two out of 123 institutions with full-time students rule out increasing their charges. Every single English university in the elite Russell Group as well as the 1994 Red Brick Institutions will raise fees, including Royal Holloway. The tuition fees cap will rise £250 a year to £9,250 from 2017, and could apply to students currently enrolled on a course.
Durham, Kent and Royal Holloway were the first 3 universities to announce that they would be raising the fees, however the changes are still subject to official government approval. Royal Holloway states online that 'The Government has proposed changes to allow tuition fees for UK and EU students to rise by inflation. These changes are currently subject to approval. If approved, they would take effect from 2017/18 and would result in tuition fees of £9,250 per year.'
NUS have said the move would have a 'damaging impact' on undergraduate students already concerned about the mounting levels of debt faced upon graduation. The only universities to have rejected the fee increases for the next academic year are University College Birmingham, and the University of St Mark and St John in Plymouth.
Universities and colleges with undergraduate courses must submit documents to The Office for Fair Access (OFFA) to lay out their tuition fee levels and how they aim to maintain accessibility for students from all social groups. OFFA has to approve these 'access agreements' and they have the power to impose fines or prevent universities from charging higher fees if violated.
All universities looking to charge higher fees next year have passed a 'baseline' standard as part of the Government's new Teaching Excellence Framework, to link future fee rises with teaching quality. Only institutions rated 'excellent' or 'outstanding' will be able to raise fees in line with inflation, while those ranked as having met 'expectations' will be restricted to only half the rate of inflation.
MPs will vote this autumn on whether to allow the increases in tuition fees, and Royal Holloway will continue to keep their current students up to date with any changes made.