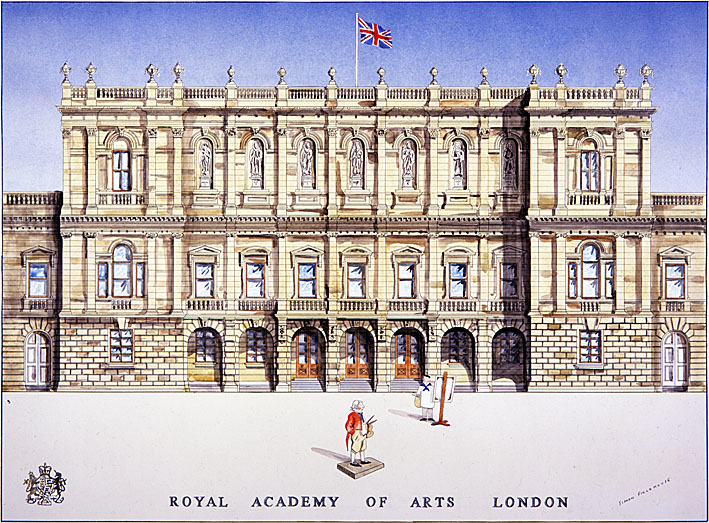 One of the biggest art events of the year is also one of the most accessible art exhibitions. Running until 21st August, this year's Summer Exhibition is definitely worth a visit.
The art world is often seen as impenetrable, pompous and downright confusing. The plethora of exhibitions and events that run every year often prove to be an intimidating and uncomfortable place to be for anyone who is not an art dealer themselves. Many times I have found myself stifling giggles at pieces that those around me find fascinating.
There is one exception to this unwritten rule of the art world: the Royal Academy's Summer Exhibition in London. This yearly event is open to all. All kinds of punters and all kinds of artists, and that is what makes it so special. Every year the Royal Academy accepts submissions from anyone, 12,000 in total. No qualification needed, from an art enthusiast, to a budding artist, to Harry Hill, and topped off with Tracey Emin. The collection of exhibitors is eclectic to say the least.
As is the range of art that is exhibited. This year, my personal highlights include a lovely Oil Painting of Hyde Park in the snow, a haunting series of photos of the Chernobyl aftermath, a page of visual poetry, a Churchill bust made of eggshells and a full size bronze statue of Iggy Pop. Yes, really.
To top off all of this variety, the range of visitors is also broad. Yes, the presence of the occasional art snob is felt as you wander round the exhibition (the majority of works are for sale so many are on the look out for investments. Bronze Iggy is a veritable bargain at £92,000). However, there are also ordinary folk like us that are just there to appreciate art. Nothing pretentious or grandiose but simply people expressing their own humble opinions such as, "oh I like that one, it's very colourful and happy", "I like that one but I don't like the frame. That other frame would be much nicer" and "hehehe that lady has no clothes on".
So I urge you to delve into the world of art with this year's Summer Exhibition, don't hide your true opinions. In this gallery, everyone is a critic and each opinion is valid. If you desire an insight into the world of art, now is the time and this is the place.
Photo credit: https://en.wikipedia.org/wiki/File:Royal_Academy_Simon_Fieldhouse.jpg