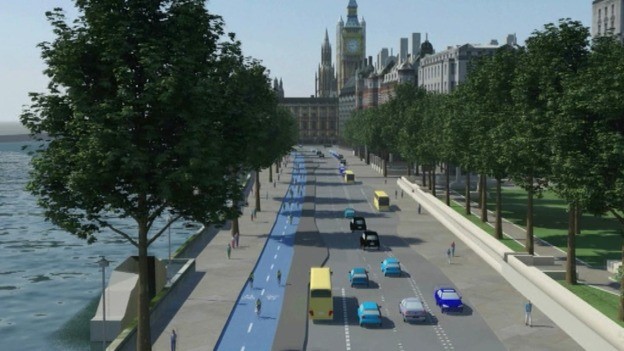 The 18 mile segregated cycle route costing £160 million and set to become the longest of its kind in Europe, will take cyclists via segregated bike lane past some of the capital's busiest and most iconic monuments and sites including Somerset House and Hyde Park, leading all the way up to the Parliament building.
The majority of the path which will run parallel to the roads of London, will include pedestrianised crossings and conversions of existing roads to cyclist one-way paths.
The measure will allow commuters and students alike to travel safely to and fro their destinations, as it provides separation from Heavy Goods Vehicles (HGVs), which caused nine of 14 deaths to cyclists in 2013.
With it comes the hope that more people of London will begin cycling, moving away from use of private vehicles and eventually reducing congestion.
However, quite the opposite is the main point of one of the leaders of the opposition to this proposed plan. The London Taxi Drivers Association has proclaimed that reducing the width of the roads will lead to increased congestion in the city, named by Transport Analyst Intrix to be the 'most congested city in Europe'.
London is this way due to the architectural history of the capital. London, unlike cities akin to New York and Tokyo, was built over many hundreds of years, with streets and roads varying greatly in size and, especially, width.
The move to create the highway was welcomed warmly by the Green Party, with Baroness Jones stressing that the change to nurture a city growing in cycling has been 'painfully slow'.
Boris Johnson, the Mayor of London, has shown clear intent in this plan, taking the route up to Parliament's doors demands the gravity of a serious undertaking. In addition, by summer 2016 when the route is due to be completed, he will be out of office, and unable to reap the electoral benefit of such proposals.
The profile of the route itself demonstrates the extent to which this plan will impact London's transport future. The question must be asked: just how far will this go? Will we see a London divided up into noughts-and-crosses board of cyclists and traffic lights on segregated lanes? A London swarmed with bikes and bike locks?
On balance, the scheme harmoniously embraces the future sustainability of London in conjunction with a large social cycling revolution that has taken place since the implementation of the 'Boris bike' scheme, and recent British sporting success in track and tour cycling. The main concern for Mr Johnson and the City of London will now be to weave this intricate plan into the endlessly packed urban landscape of our capital.
Article by Thomas Vaughan