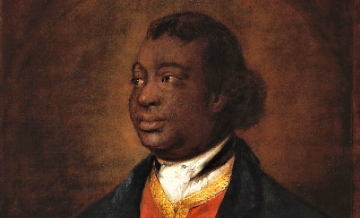 Clarissa Philpott
Premiering on BBC Four at the end of September, a documentary special dedicated to the missing chapters of a forgotten part of musical history, 'Black Classical Music: The Forgotten History', was presented by stand-up comic, activist and Royal Holloway alumnus Lenny Henry, alongside writer and music broadcaster Suzy Klein. Their focus throughout the 90 minute programme was on the hidden figures of the classical music world and the emphasis on the sheer creativity, musicality and beauty that was translated through the music of POC composers. In this article I hope to highlight and celebrate just a handful of the composers mentioned.
The earliest composer mentioned in the programme was Ignatius Sancho, born of West African heritage in the 1720s. Sancho began his life as a slave, and was brought to London as an orphan to serve under three unmarried sisters in Greenwich. Sancho's impressive academic aptitude caught the eye of John Montagu, the 2nd Duke of Montagu, who mentored him and encouraged him to learn to read. Finding his life unbearable in Greenwich, Sancho ran away to Montagu House in Greenwich Park, and worked as a butler there until the death of Mary, Duchess of Montagu in 1751. It was at Montagu House that he learned the arts of music and poetry. After leaving the Montagu household and marrying a West Indian woman, Anne Osborne, the couple opened a grocery shop in Westminster. In becoming an independent house owner, Sancho became eligible to vote, and was the first man of African descent to vote in a British general election. Although almost none were published within his lifetime, Sancho is perhaps best known for his letter writing – principally about literature and politics – but he also composed four books of music for voice and dance, including his most well known, Minuets, Cotillons & Country Dances. He was the first composer of African descent to release and publish music in a traditionally European way. This collection in particular uses music styles greatly approved of in traditional Georgian high society, with the triple time minuets being the most important couple dance of the 18th century. According to records, Ignatius Sancho is the first published black composer in history. (You can now find recordings of his music on Spotify and find out more about his letter writing here.)
Next is Joseph Bologne, more commonly known as Chevalier de Saint-Georges, who was not only a widely celebrated composer, but an excellent violinist and a champion fencer. Born in the French colony of Guadeloupe in 1745, he was the son of a tradesman and a slave. His father took him to France when he was young and had him educated at boarding school. He was enrolled in a specialist school for fencing and horse riding, and quickly became a good fencer. On his graduation, he was made a Gedarme du roi or cavalryman to the king, because of his great swordsmanship. Saint-Georges' musical training, however, is a bit of a mystery in comparison. There is no documentation of him as a musician before 1764, but given his strong technique as a violinist as an adult, he must have practiced immensely. He earned dedications of violin and harpsichord music from notable composers of the time, and he studied music from this point with François-Joseph Gossec and Jean-Marie Leclair and went on to become first violin of Le Concert des amateurs, a music company in France during the 1760s-80s. Saint-Georges' string quartets were the first performed in France (1772) when he became the conductor of Le Concert des amateurs, debuting as a violin soloist the same year. He played his first two concertos and received critical acclaim; his first opus was a set of six quartets which were inspired by Haydn. He wrote three more sets of quartets, various sonatas and several violin duets. Between 1771 and 1779, Saint-Georges wrote over twenty more pieces in varying rhythms and styles. Saint-Georges bid to manage the Paris opera in the late 1770s, and was endorsed by none other than Queen Marie-Anntoinette, but failed after three of the leading women at the opera house refused to work with him because he was a 'mulatto', which was a derogatory term used to describe a person of black and white mixed race.
The last of the composers I have chosen to talk about from the programme is Samuel Coleridge-Taylor. Born in London in 1875, Coleridge-Taylor learnt to play the violin from an early age. His father was of West African descent, and his mother was English, and after his father failed to become a physician, he left them to return to Africa. Coleridge-Taylor joined a Presbyterian choir in Croydon, London, and was admitted into the Royal College of Music in 1890. As a student he published some anthems, but it was clear that he was far more gifted in instrumental writing than choral. He became an amateur conductor in 1896, whilst teaching and guest-judging at music festivals the rest of the time. He had early success at the Gloucester Music Festival, with both orchestral and choral music. His clear influences were Dvořák, Tchaikovsky, and Grieg, but alongside this was the clear influence and appreciation of African American folk music. Because of this, Coleridge-Taylor became particularly popular in America, and was able to tour there on three separate occasions in the early 1900s. In 1896 he met African American poet Paul Laurence Dunbar and decided to set some of his works to music and gave joint performances in 1897. By 1898, Elgar (who at the time was the country's leading composer) said that Coleridge-Taylor was 'the cleverest fellow amongst the young men'.
These three men are only but a few from the vast array of Black History that is weaved into a sea of the famous classical musicians that we all know and love. Without these hidden musical figures, the backbone of classical music as we know it today would most likely be very different.