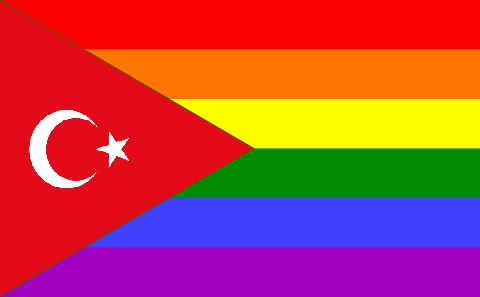 February is LGBT history month and that means that it's the perfect time to look back at how the community has fought for its right to exist. There have been many tales of hardship and resilience in years gone by, which have all contributed to forming a society where it is now safer than ever to exist outside of the heterosexual norm.
That said, the global fight for equality and acceptance is still far from over. Even this month, younger generations have been fighting for their identity across Europe.
In Turkey, for example, four students from Bogazici University were arrested for publicly displaying artwork that depicted the LGBT rainbow symbol alongside the sacred Islamic site, the Kaaba in Mecca.
The act was in response to the installation of a new university rector, a professor who is alleged to have ties with the overtly homophobic President Erdogan.
Turkish interior minister Suleyman Soylu labelled the four students as "deviants" on Twitter, and branded the artwork as an "ugly attack" on the country's religious beliefs. The artwork also garnered attention from the chief adviser to the President, who according to the BBC, went on to say that the students' actions would not be excused by their right to freedom of speech, and would therefore face legal consequences.
This has led to protests from LGBT youth and allies within Turkey, which has resulted in a predictably hard stance from President Erdogan. Further arrests on the campus came soon after, with 159 people being detained by authorities.
When addressing his political party via video, President Erdogan said: "We will carry our young people to the future, not as the LGBT youth, but as the youth that existed in our nation's glorious past.
"You [in reference to the protestors] are not the LGBT youth, not the youth who commit acts of vandalism. On the contrary, you are the ones who repair broken hearts."
The links he makes between the LGBT community and themes of unlawfulness are plain to see, but in the context of Erdogan's comments in 2020 where he suggested that activists were undermining "our national and spiritual values" and "poisoning" young people, his contempt for this minority group becomes all too apparent.
Plus, with Turkey being a largely conservative country, widespread public support within their own national borders has been hard to find.
That doesn't look set to change anytime soon either, as the incumbent regime has been overtly cracking down on LGBT rights movements in recent years, with Pride marches in Istanbul having been banned for six years on the bounce.
This has led to criticism that Erdogan has stoked up homophobic sentiment within his country, and it's easy to see why when such negativity has even been observed amongst leaders of humanitarian groups. For example, Kerem Kinik, chairman of the Turkish Red Crescent Society (an organisation with links to the Red Cross) tweeted that LGBT activism was simply the work of individuals with "paedophiliac dreams".
Sadly, international stories like these are not abnormal, and although a lot of progress has certainly been made here in the United Kingdom, there is still a long, long way to go in the fight for equality around the world.