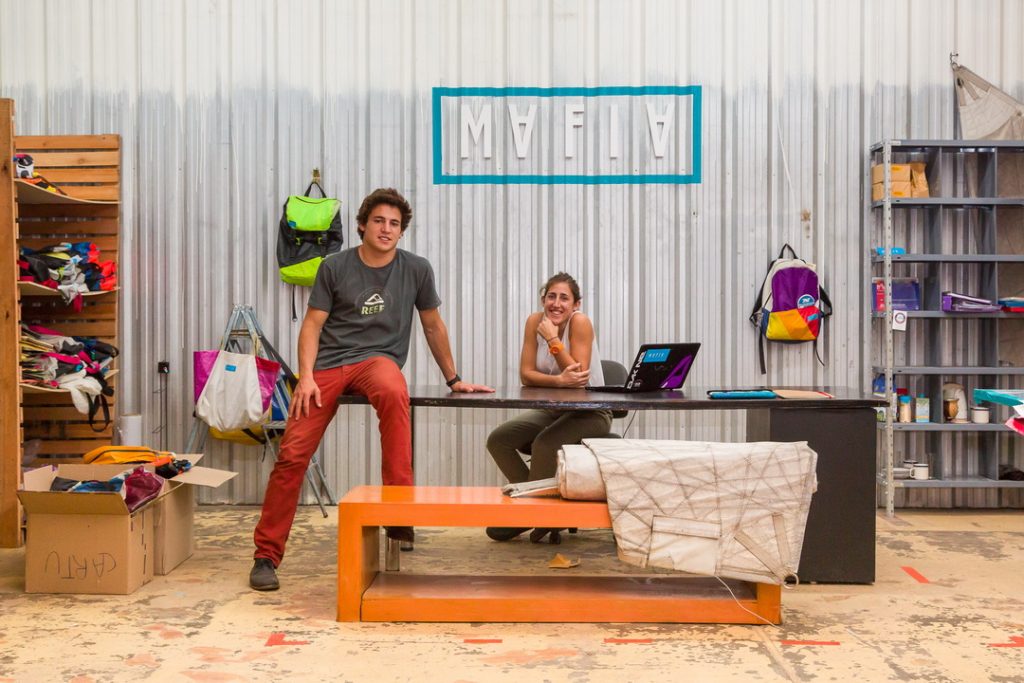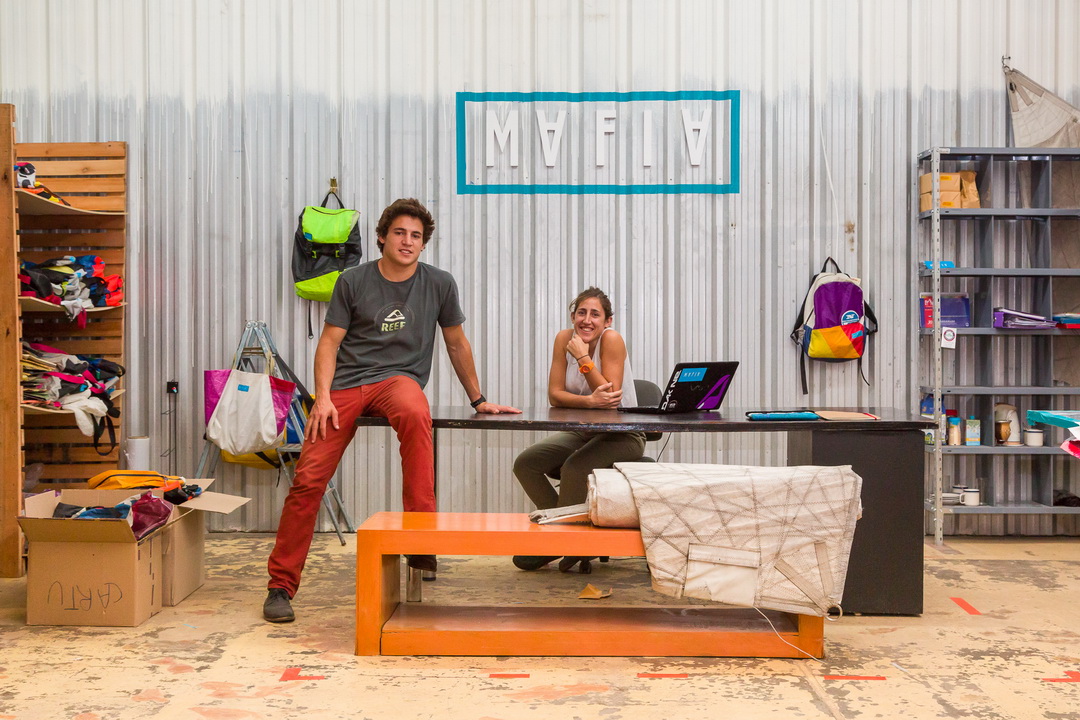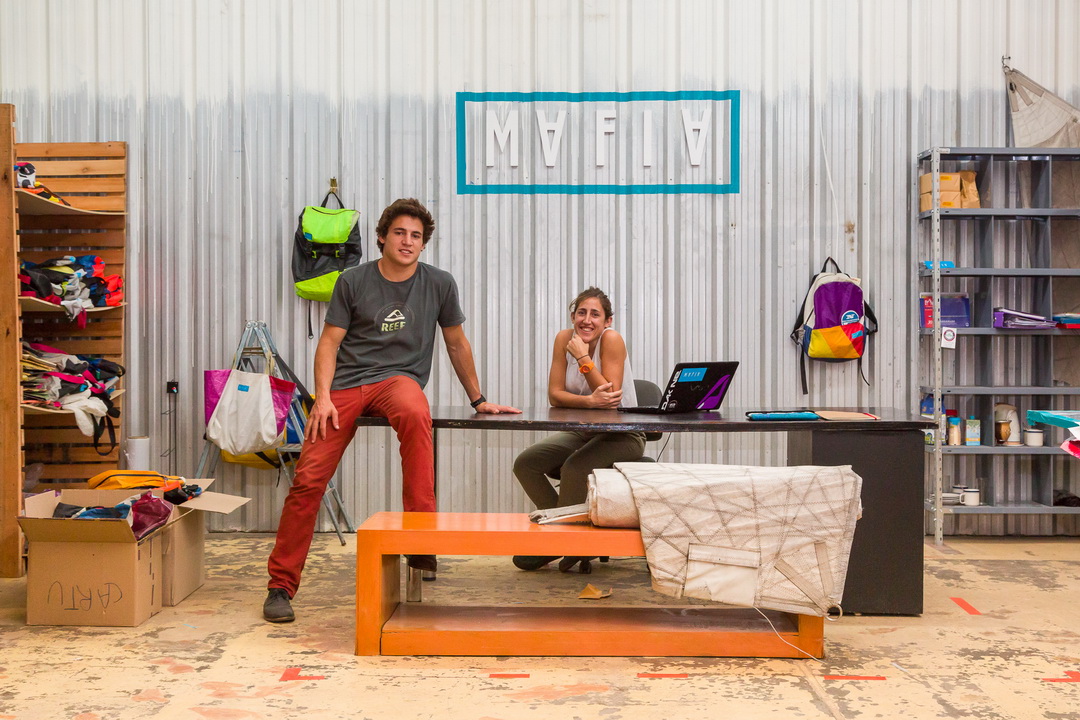 Extreme sports to city life! Marcos Mafia is taking the world in a whirlwind. From starting his unique company only four years ago, Mafia age 26 has expanded the horizons of not only his company but also lifestyle branding in general. MAFIA Bags is a San Francisco based company that focuses on recycling sails from boats, kite surfs, and windsurfs, to create unique, one of a kind products. Over coffee, an a typical showery day in April The Orbital met Marcos Mafia at his pop up store in Oxford Street's Topshop.
Friendly and with a cheerful grin he explains to us how he started his brand when he dropped out of college and was still a champion kite surfer. "I am always looking forward to the next thing," he tells us "even when I was winning medals, that didn't matter to me. It was about who I was with and what I could do next." This passionate drive is what fuels the brand: from beginning with a bag to carry his wetsuit to the beach (and after his mother told him to shift the sails that were cluttering up the house) the brand is now based in sixteen locations including, Japan, Argentina and the USA and has expanded its product range to include gym bags and totes. In addition to this growing product range and universal audience Marcos employs a team of thrill seeking, unique individuals. "We have an artistic Russian designer at the moment, who lives in the forests in California. She travels in from the forests to work three days a week. Her designers are original and crazy." He also tells us about his marketer who is "fantastic at organisation. He worked in a library for five years, and really knows his art." These diverse individuals are what are making the brand so exclusive and evolutionary.
The concept behind the bags is that one is never the same! Made from recycled sails, every bag is different and no one design is repeated. In addition to this he wants the bags to be personal and so part of his reason for being in the UK is to get support for bags to be made in the country that they are purchased. Constantly on the move, the San Francisco born Marcos has recently been surfing in Barcelona and Skiing in Germany to secure and promote the brand's globalisation. When asked how he hopes to compete on a global scale, particularly in light of fashion's e-commerce and growing digital output, he answers that a lot of design and time is being put into re-branding the website. Also the Facebook page is a large source of advertisement, in addition "every bag sold, has it's own photo. It takes time, but it is to show the individuality; which is what the brand is about."
However, this brand is not all about the individual, I would go as far to say that it is about a global family who nurtures each relative. Originating in California MAFIA bags can be seen in Hawaii, New York, Tokyo and now hopefully London. Marcos travels by himself "with only my bag, which contains everything I need. I meet friends in which ever country I am in." His friendship and support knows no limits as he picks up keen individuals along the way. "The girl I am dating, she owns her own bag company." And he tells us about a girl from Scotland. "Who came to the pop up then emailed me asking if there was anyway that she could get involved." Friendship and activity are two key aspects of his mantra, and with connections to Vans and Reef the brand's supportive influences nurture and likewise enhance its connectivity. Taking opportunity when available Marcos tells us about his meeting and invitation to kite surf with Richard Branson. From finding out that Branson was in San Francisco, Marcos wasted no time in getting into his truck then cycling to the spot where Branson was spotted. Presenting the Virgin Group founder with a MAFIA bag, they exchanged business cards and a promise of surf on the waves.
So why is Marcos Mafia here in London? "London is an artistic city and artsy people always want something different that nobody else has." Art is at the forefront of Marcos's mind and after being offered a place at one of the US's top art business schools, it is a topic he knows and adores. Enjoying Oxford Street's abundant restaurants and shopping culture he is unsure as to whether it is the right place for the pop up though. Nestled into the bag section on the ground floor, the pop up is not given the justice is deserves. When asked if he plans on taking the bags to this year's festival season, we are thrilled to hear that he has secured a place at the US's famous Coachella festival. Full of art, culture and music it is the indie kids paradise. In addition the festival season will also offer the brand a platform to make known its cultivation endeavours and charitable work.
Sports, city, charity, and travel are the epitome of the modern day student. Marcos is keen and eager to involve students in his endeavours: "they are not like 30 year olds. They are eager and want to do things." Collaboration with students in the USA is something, which is already underway with MAFIA and proving very successful. The Orbital has been lucky enough to be the first student publication to speak with Marcos in Europe and so I hope that the students of Royal Holloway and London are now willing to take a look at the brand and get outside to wilderness or inside the city to uncover many gems and adventure that come their way. Marcos and MAFIA bags are proof that anything is possible! Watch this space Herschel… you have competition!