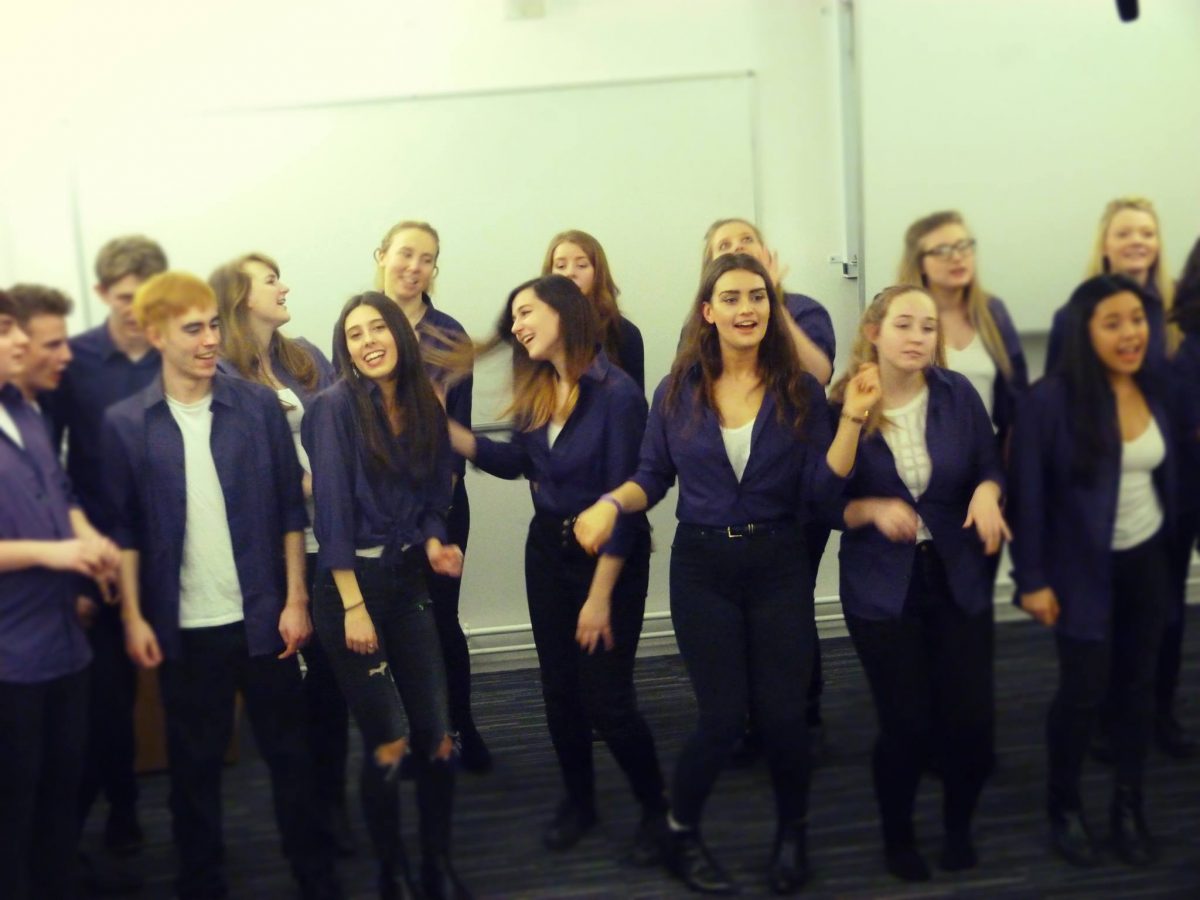 Absolute Harmony's very own acapella festival has now become a yearly tradition. The aim was simple: five days of acapella related entertainment.
Acapalooza commenced on January 25th with a very successful open rehearsal followed by lip sync battles in Medicine, which had a record number of students in attendance. The following day there was a viewing of Pitch Perfect 2, where snacks were available for purchase; the money was then kindly donated to charity.
Mid-week, Absolute Harmony and The Voices of Holloway created 'Absolute Voice Swap', where both choirs swapped musical directors for the evening. The Voices showcased their amazing dance to: 'Do You Love Me', there was shimmying, sliding and clapping which most of Absolute Harmony got the hang of by the end of the rehearsal.  Then Voices were shown the acapella ropes with Cheylea Hopkinson's mash-up 'Do You Love Me Now I Can Twist And Shout'. In Absolute Harmony style we all split into the five vocal sections before bringing it back together for the finale of the rehearsal where both choirs sang in perfect harmony. Open mic night was another society collaborated evening. The comedy society and Absolute Harmony took to the stage to entertain the audiences of Crosslands. The evening felt warm and jazzy with audience members looking relaxed and fully entertained. Acapalooza unplugged sadly brought an amazing acapella filled week to an end. Based in Stumble Out with a small yet supportive audience, Absolute Harmony invited Gospel choir to join them in their finale.
An interview with the President of Absolute Harmony – Abbie Witherington
1) What has been the most successful acapalooza event in your opinion and why?
How we collaborated with so many societies that we haven't necessarily spent any time with before. We had events with MTS, Voices of Holloway and Comedy Club. It was such a pleasure to join in with other societies and their activities. With the joint rehearsals with Voices of Holloway we were able to place our members outside of their comfort zone and get them dancing whilst singing, it was a unique and fun experience for both choirs. We even collaborated with the comedy society, something that we've never done before, and the results were better than what we could have predicted, our joint open mic night was a huge success- Crosslands was packed!!
2) How many members are currently in Absolute Harmony and Hardcore Harmony?
An astonishing 75 paying members, which is forever increasing, we have just had two new members join this term! This year has been incredible for recruiting new members, at the end of last year there was less than 10 members carrying on to the next year, so I am chuffed that we as a committee have intrigued so many members to join and stay apart of our society. We truly are one huge family. This year we have a larger number of members in Hardcore Harmony, with 19 of us. We had such a influx of talented auditionees, which is perfect as we are now in the process of competitions with other a Capella choirs.
3) You mentioned an upcoming competition, the first one in five years, how has the preparation been going?
Yes now this is very very exciting. After researching into a Capella UK based competitions I quickly realised we lacked something; movement. I knew we couldn't ever wish to compete if we didn't have some kind of corresponding movement, so now we have introduced choreography to our Hardcore Harmony repertoire and it has given such life to our performances. We offer something that is now both visually and audibly stimulating. It's been a creative and entirely fun process so far, and we have just recorded and sent off our video audition tape to Voice Festival UK. Very very giddy.
4) What are some of Absolute Harmony's future events that we need to be excited for?
Lots awaiting Absolute Harmony, we have our Spring Concert coming up, we have another fantastic AbFilth night that we are arranging again, look out for a cirque du soleil theme! We also look forward to a personalised workshop with the fabulous Opus Jam- a very prestigious a Capella choir! And of course if all goes to plan, competitions for Hardcore Harmony.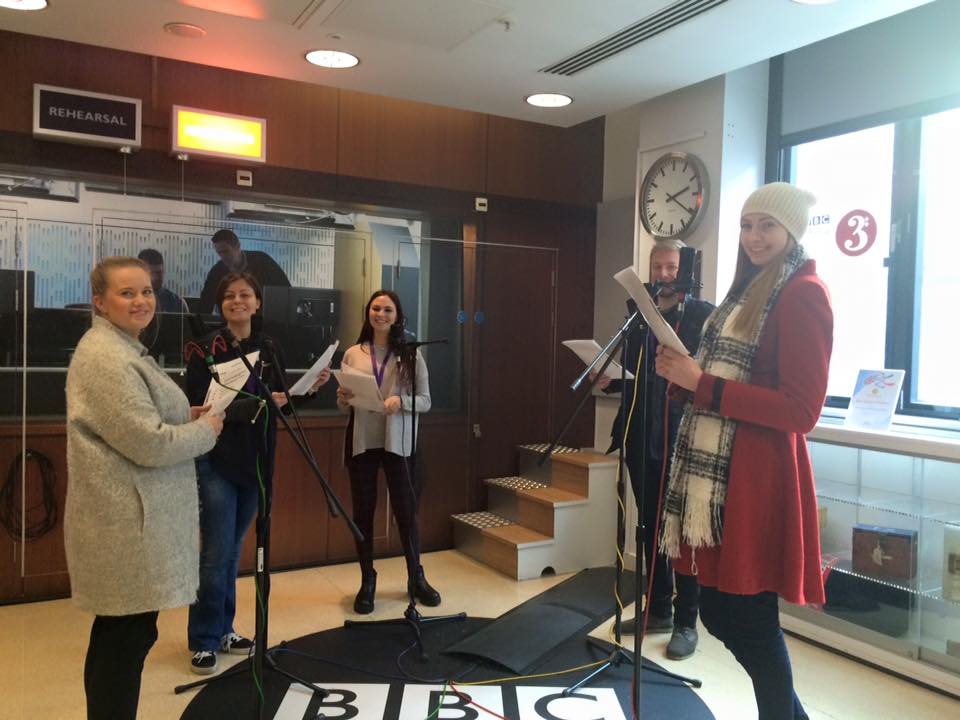 by
A gloomy January day was no obstacle for Media Society as members and non-members enjoyed their first event of 2016: a trip to BBC Broadcasting House. Our group was eclectic, with students studying a wide range of subjects from all across Europe, and included people who hoped to work in the broadcasting industry and those […]