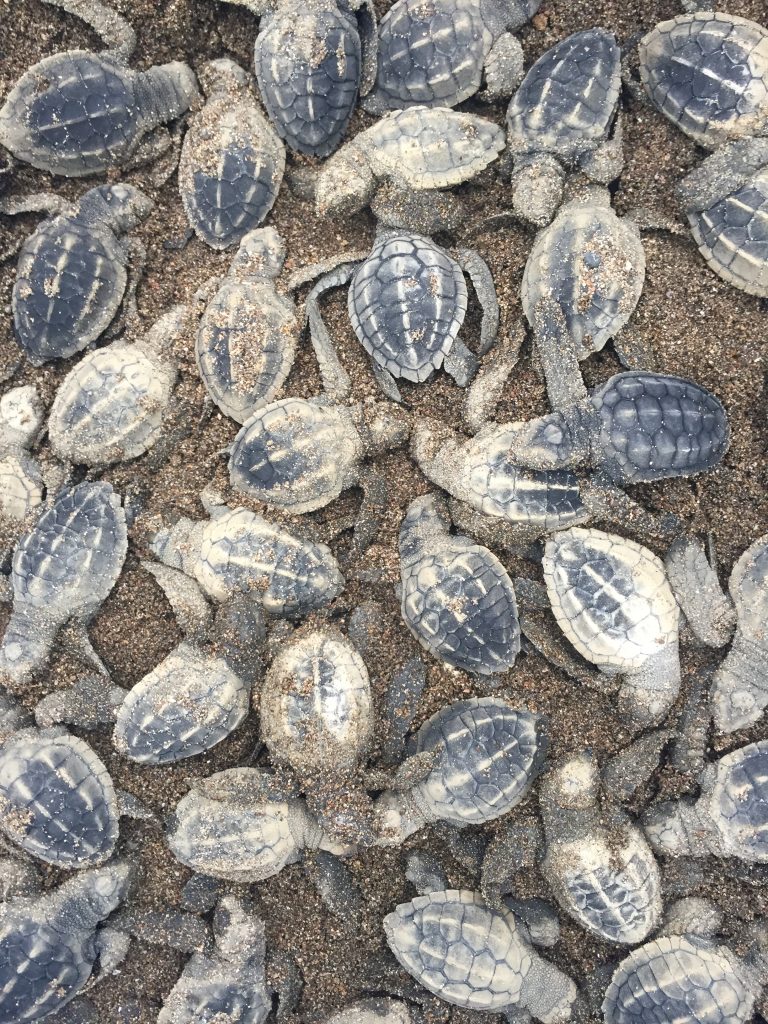 A day in the life of a turtle: A trip to Costa Rica to save the Turtles
On Sunday 26th July my friend Jo and I set off on our journey to Costa Rica. A long journey awaited us. An hour and a half drive to London Heathrow. An eight-hour flight to Miami, followed by a change to a three hour flight into San Jose. Our programme trip was entitled 'Surf and Turtle Conservation' so the main aim of our trip was to save some turtles. However, prior to reaching the camp we would be staying in for the next couple of weeks, we had a couple of days residing in a youth hostel in the town of Alajuela just off of Costa Rica's capital city. The environment was amazing as it was full of the energy of so many young travellers wanting to go out and experience new cultures. As my Dad says, "when you feel gratitude it is hard to make you feel any element of negativity".
The journey to Samara – the destination of our volunteering – involved several buses, one being five hours long. Then to get to our camp we had to cross a river that would rise and fall at different times of the day according to the tide. Luckily it only came up to our hips however this still meant our 2 weeks worth rucksacks would need to be on our heads. Our camp was in the middle of an isolated beach. Whilst walking down to the camp there was mist creeping over and round the far corner of the island and swarming the trees and forests on the horizon. It felt like one of the pictures you see on Instagram which you dream of experiencing yourself.
Whilst working at the conservation we had to work shifts a dawn. Sitting on a bench looking over the beach with the sun rising, good music and an incredible view. And after sleeping, snoozing and observation we saw the sky brighten with pinky hues and we knew it was coming to the end of our shift.
At 6am, we were told we could dig up the most recent hatchery nests of turtle eggs as they had not surfaced yet. After much digging and not actually much expectation of seeing them, suddenly we hit harder surfaces and some rather squishy ones. The shells and the limbs of baby sea turtles began to appear through the sand!! Our first full early morning of being at camp and we found over 70 sea turtles. Incredible luck.
It was not all work and no play though, and we were treated to a surfing lesson. We practiced on the beach in front of the camp, first on the sand and then in the water. The current is actually surprisingly strong so once you flip off you are taken by the wave then have to climb your way back through the water. I managed to get up the first time however full on face planted several more with a couple of punches from the board itself.
What makes surfing the perfect sport is the breakfast afterwards… Banana pancakes (cue jack Johnson) and watermelon slices.
Nature and nature's natural elements are definitely to marvel at in Costa Rica and on one night the sky blew up the planetarium of Monday night and made it look like a mere single constellation in the midst of Tuesday's universe.
It was an incredible experience and two weeks were not long enough. I learnt to surf, saved and studied turtles whilst also helping to maintain the local environment and make it more inhabitable. In addition I learnt about the solar system and got to see nature in all her beauty, not smudged into the distance with light and air pollution; it was like being in a completely world. I would tell anyone – whether looking for a mini gap-year trip in the summer or to just gain new experiences – to go and save some turtles… you won't regret it!