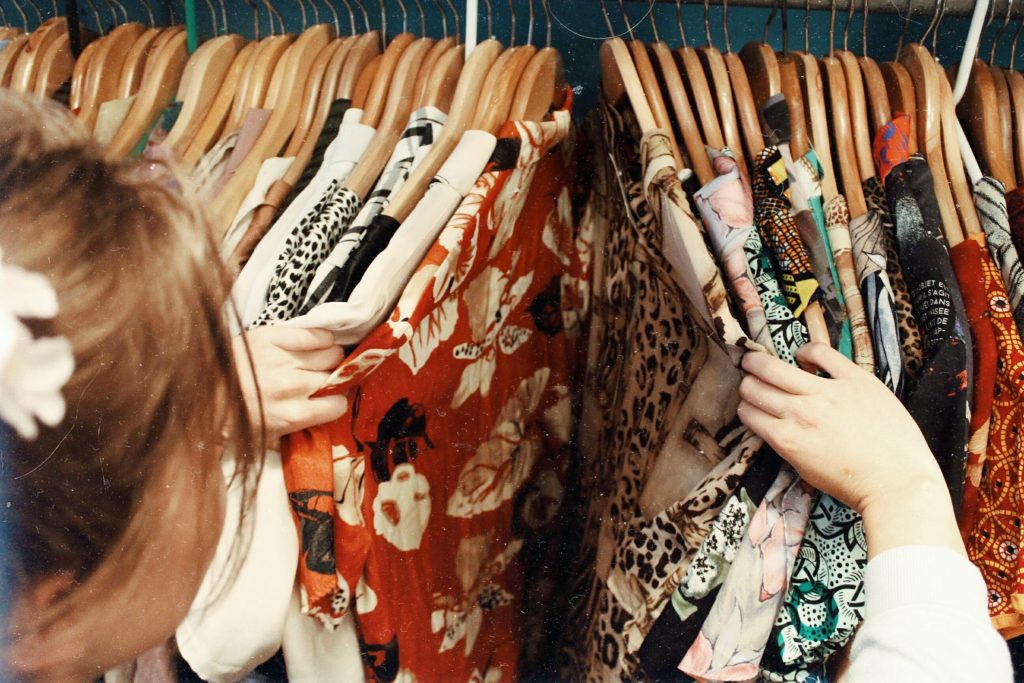 Picture this…
It's 2013. Katy Perry's "Roar" is blasting from your brand-new iPhone 5c and you're getting ready for a shopping trip with friends. As you are yanking on some sexy mood rings and an edgy print New Look crop top, you get a message from a friend:
"I really fancy going into the charity shops, can we?"
You are stunned, offended even. Charity shops are for Grandmas, weirdos, losers…why would you ever want to step foot into those dusty antique collectors?
Fast forward…
It's 2020. You've been in lockdown for four months and all you dream of is seeing the welcoming red sign of the British Heart Foundation. How you long to be browsing the aisles of Oxfam, arms brimming with treasures. What could be better than an afternoon of thrifting?
A decade ago, buying clothes from a local charity shop was less 'vintage and vibey', more 'second-hand and sloppy'. The preconceived ideas that second-hand stores were 'dirty', 'disorganised', or even 'smelled weird' were widespread, and buying from them often led to judgement or even bullying. It seemed 'charity shop' was synonymous with 'lower class', and those who frequented such stores were either struggling financially or mentally. It was a widely shared opinion that buying from thrift stores was indicative of class, and many people who shopped at thrift stores were judged for doing so. Unfortunately for them, many middle/upper class people missed out on the treasure troves that are charity shops. Due to these classist views, they are only now opening their eyes to the wonders of thrifting. For the accessibility of these stores, and at the prices they offer, who cares who might've worn that Harley Davidson t-shirt before you? We have washing machines for a reason. Perhaps Macklemore didn't help matters when he said his thrifted leopard mink coat "smells like R. Kelly's sheets…piss", however the hit song "Thrift Shop" did otherwise aid in popularising the now common hobby. As he correctly states, "one man's trash, that's another man's come up".
Today, Gen Z have re-written the definition for thrifting, and account for over 40% of global consumers. With the help of social media and fashion trends, thrifting is more popular than ever. Recently, tapping into the world of y2k fashion, among other eras, Gen Z has been delving into the archives and digging up some incredible finds. Those Juicy Couture tracksuits started 2019 in the back of Great-Aunt Agnes' attic and finished in 2021 on the way to Starbucks with Tana Mongeau. Even vintage and designer bags can be found for fractions of the price, meaning you can flaunt it, while making it financially feasible too. Not to step on Kevin Bacon's toes, but "no brainer!", right? Now, with apps such as Depop and Vinted, the thrifting scene is booming more than ever. Second-hand shopping is now a $28 billion industry that, according to online store ThredUp, "is expected to eclipse fast fashion by 2029".
There is a danger, of course, that the mass influx of thrifters might in turn inflate prices, defeating the original purpose of thrifting. This is clear closer to cities, such as London, where second-hand sellers skyrocket their prices due to demand. The best stores price-wise to dig around in are often found in smaller towns, or are exclusively charity shops, a few of my favourites being the British Heart Foundation, Red Cross, and Oxfam (which is also amazing for books). However, Marylebone Street in London does offer a wide array of charity shops, among privately owned thrift stores.
Another benefit of the intense switch to second-hand shopping is sustainability. Thrifting is the most sustainable way to shop, making up one third of the environmental golden triangle: reuse, reduce, recycle. Upcycling garments covers the 'recycle' third, while all the above serves to 'reduce' environmental damage. Go green, go Goodwill. Not only this, but charity shopping obviously helps charities that represent brilliant causes which your money (no matter how much you have) will help fund.
If you have never tried thrifting before, clear your head of any preconceived ideas and venture into the magical land of hidden gems. I promise you it's worth it. Give thrifting, and other people's clothes, a second chance.