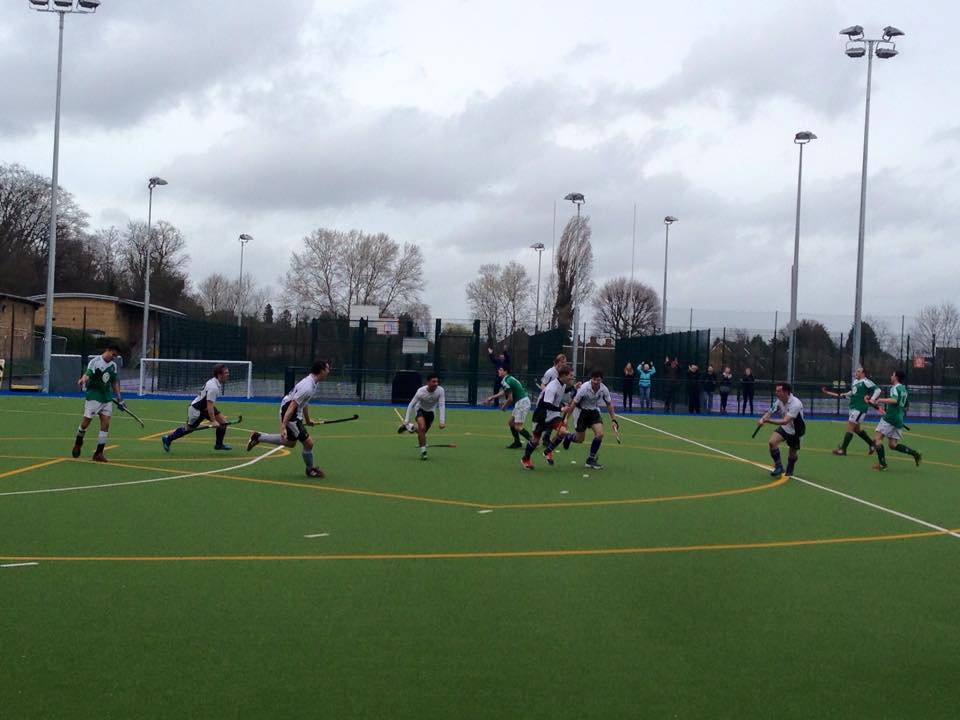 Off the back of their recent promotion to BUCS League 3A, Royal Holloway Mens Hockey 1st XI capped of an utterly outstanding season by finishing top of LUSL (London University Sport League) and being promoted to its Premier league.
In front of a raucous crowd down on the so-called Fortress Noble Astro, the men in white, green and purple edged an enticing encounter 3-2 against Royal Vets to be crowned champions for the second time in only a matter of weeks.
One thing for sure, about Sunday's encounter, was that any person watching it was being served an absolute whopper of a game. Possession being shifted from side to side at pace, crunching tackles and big hitting were only a few things that were on offer in truly one of the hardest games we have played all season. For the start of the game and, for most of the first half, we had to have patience. We were playing a team that, I believe due to them winning their game in hand, were a point above us in first place. In other words, they knew how to hold a hockey stick. With the majority of play in the Vets half, we were playing nice hockey but were not getting our customary award of a few goals before the break. With good midfield disruption from Ivan Taylor, returning fresh from a hand injury, and mercurial speed on the wing from the man-in-form Ali Wass, we looked dangerous but went in at 0-0. There were no nerves about throwing it away, just a little bit of frustration. But we were not to wait long for the breakthrough.
After winning a short corner, Wass converted from the middle with a straight strike. We then started to carve through the Vets like a scythe through a field of reeds and starting playing with panache and verve. A beautiful team move saw the ball make it to Josh Wilson Holliday who unselfishly squared it to Josh Gray for an easy tap in. I do say easy, but I probably would have missed. Lets move on shall we. Well 2-0 and time definitely on our side, you would think we would have cruised to full time. Not the case. Vets won a short corner and converted it to make the tie interesting. Then, they could not believe their luck when a fortuitous 'scuff' from their striker looped over our goalie and made it 2-2. As it stood, they would win the league with that.
How could we throw this away? Well this is when captains earn their pay as the saying goes and Ollie brought the lads in for a huddle and obviously said something to re-energise them. There were still a few minutes left and with seconds remaining we won a short. Could it be, could this be the time to get the winner?! Of course it was. The ball goes to the top for the straight strike and what does Wass do; he smashes it home. The crowd went wild. The subs bench, including myself, leaped up and got involved in the pile-on on the pitch. And there it was, champions again. We had done the double.
I feel it suitable to just write a tiny eulogy about the boys. So the leavers, well there aren't many. Dan had a brilliant game and a beautiful season and is such a rock of a midfielder and exactly the same goes for Ivan. Ryan came back into the team and showed such composure. The Freshers (Jordan, Clegg, Blakey and Ali) have been seriously impressive and I can't think of a better fresher intake in my time at university. The massive amount of second years – Kitt, Charlie and Josh W-H – you have been so consistent with your tackling, defending and goal scoring respectively. The soon-to-be masters students/lingerers – Gray and Ashby. Gray you play like every sport so good stamina and Chris you are such a dribbler (with the ball) and have good chat. To the goalie Hutch, you have done well to concede so few this season. But to the captain Ollie, you have led this team superbly. Such a calm player and guy, you have got us through some big games with your words and your displays and you have done that with multiple injuries. Fair play to you. I'm praying to God I haven't forgotten anyone now. Well here's for a closing statement of sorts. Boys, well done, you all deserve this glory and let the success kick on from here.