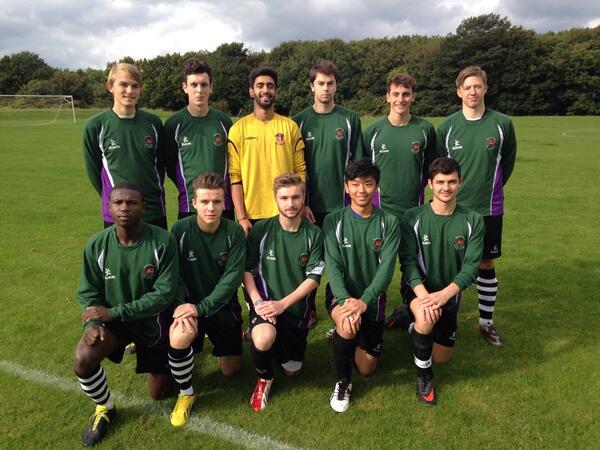 Continuing an extraordinary run of recent results, Royal Holloway Mens 1st XI defeated Imperial Medics 2nd XI, in an enthralling encounter at Harlington Sports Ground one Sunday afternoon. Here's what happened and why…
It is fair to state that the 1st's had nothing short of a busy schedule: 4 games in 11 days. The mountainous fixture schedule has a gradient that only seems to be getting more sheer, but the boys have not complained, have kept their rucksacks on and are heading to the top at a quicker pace every time the final whistle is being blown.
This game was definitely our most sternest of tests. Imperial Medics are a decent, well-drilled team. Their midfield contained many technicians and at the start, their status of being two leagues above the boys in white, green and purple, was evident. They passed with panache, they pressed with purpose and deserved, albeit of a scrappy nature, their 1-0 lead at the break.
We were agitated. We sat in the goal at half time and really pondered what we were to do next. We had not done a lot wrong but not a lot had been done right either. We spent most of the first half transferring the ball from side to side, but not really hurting the defence. And when we did have the ball near the D, we were just trying to hit it harder than a boxer on fight night. All in all, not a fantastic half. But what was to come? Well an entirely different story.
What was our biggest task facing us, that had faced us on no other occasion this season? Well it was the ability to come from behind and get a result. Maybe the medics tired slightly as they had been pressing a lot in the first half. But the clinical side to the Bears began to show.
As you all know, it is incredibly hard to stop a moving train. And when the Royal Holloway train gets going, its very hard to relent. Passing the ball with more speed, accuracy and thoughtfulness, the Bears looked like a team. I had been quite selfish at the start of the half, but on one attack I cut in from the right, squared to Josh and he buried it . 1-1. Game on. Now the ascendancy was certainly coursing through our veins. We kept plugging away, spreading it wide, looking for runs in behind and, after a great ball into Ali, a superb one touch from him landed it again to Josh who, AGAIN, buried it. A beautiful team goal. One we can all be proud of.
The energy of the team stood out for me. Even when we went ahead, there were still around 10 minutes left and of course the Medics started to pester us. But just how resolute the boys stayed was a trait to admire from even those who don't know of hockey. It is just the belief of the boys that they can win. They all ran their feet into the ground until the umpire blew his whistle and that is fantastic.
This is a phenomenal period for the boys in terms of the season and the history of this university sporting club. It has been a while since results have been this good. Who knows what the other games hold in store? I certainly have no clue. But in 4 games, there have been 4 wins, 14 goals scored and only 2 conceded. The mountain may yet hold a more sheer rise to it boys but at the moment, it is not making us fall onto our backs and downwards. Lets keep playing and lets keep winning.