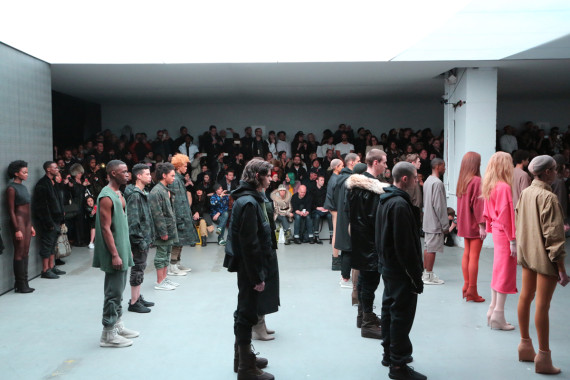 Kanye presented his collaboration with sportswear super house Adidas at New York Fashion Week in March. However, it left a lot to be desired. Whilst Kanye dominates the rap music scene i,n the world of fashion he is a stranger. To begin the show (which was running half an hour late) Kanye's booming voice echoed around the silent showroom: "I'm here to crack the pavement… I want to create something better for you."
Yeezy tells a room with the likes of Anna Wintour that HE is here to create and dictate fashion for them rather than the other way around. Whilst his arrogance in music is justified, in fashion he is in a completely different ballpark. Whilst his dress sense and interest in fashion is endearing one cannot walk into the fashion world and expect everyone to fall at your feet. In the music world Kanye worked to be where he is, he cannot walk into fashion and expect the same response without years of hard work. Ask any fashion designer, it takes years of blood, sweat and years to build up a respectable design house.
It is not only his arrogance but his collection which warrants a negative review. The collection of sportswear featured bland neutral tones and rather uninspiring bodystockings over his designs. Female models paraded the room in a military like fashion wearing little more than their birthday suits. Whilst male models were mostly featured wearing joggers, combat boots, and oversized and heavily distressed jumpers. Rather bizarrely some also wore bulletproof vests. There was a very clear contrast between the military style clothing and the barely there underwear of some of the models. The show seemed disjointed and unimaginative.
One thing I can credit Kanye for is his choice of models. He did not, as most fashion houses do, opt for the white, skinny, tall female model throughout. Whilst his models were beautiful and for the most part an unattainable image of human for people like me they were much more inclusive than the usual NYC fashion show. There were models of different heights, sizes, shapes and ethnicities. Whilst this sounds like something that should be seen in every fashion show, unfortunately it is not the case. Whilst Kanye may not be revolutionising the fashion world with his sportswear designs he is certainly revolutionising the criteria for high end fashion models which is something everyone should be applauding.