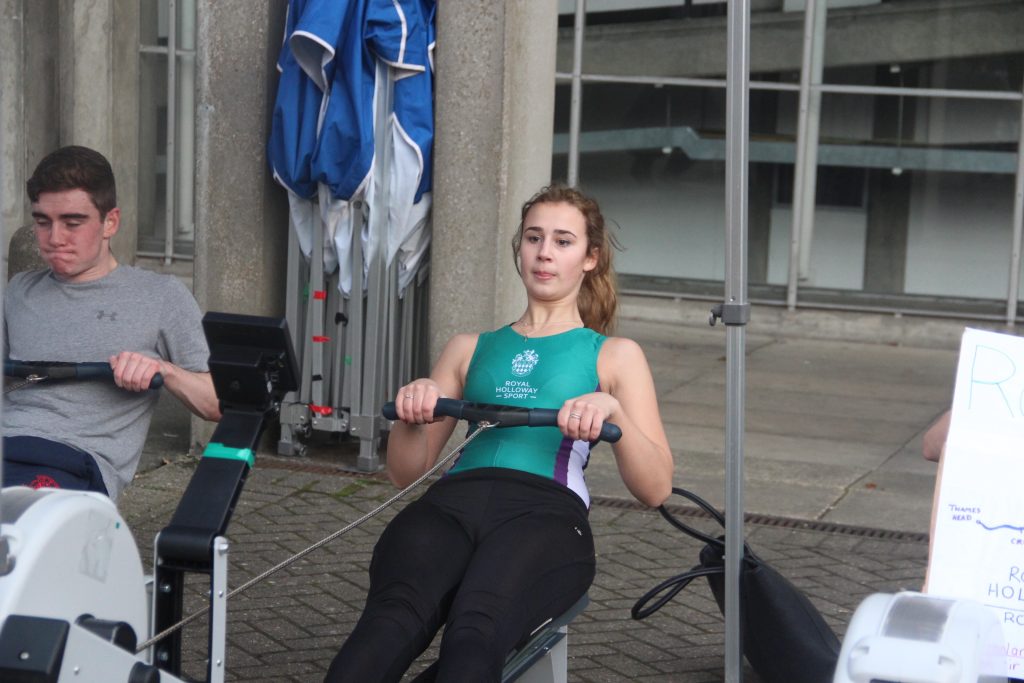 On the 5th of December, the members of the Royal Holloway Rowing club sat on rowing machines outside Bedford Library and aimed to row 346km, the length of the Thames river. The fundraiser was in aid of the Midlands Air Ambulance Charity and the British Heart Foundation as well as the purchase of a new boat for the club's competitions. Each member was required to sign up for at least one hour of rowing (or 12km) as part of the fundraiser. In the end, the rowers surpassed both their distance and fundraising goals. They rowed over 500km, the distance to Calais, France and raised £633, exceeding the £500 they originally aimed to raise.
The idea for the fundraiser began when the father of one of their senior rowers passed away from a heart attack very suddenly. The club rallied around the member in the wake of tragedy and the fundraiser was a nice gesture on their part to help the charities that in turn helped the club member and his family.
The Midlands Air Ambulance provides support for thousands of people every year, funding and operating three air ambulances in 6 Midlands counties: Gloucestershire, Herefordshire, Shropshire, Staffordshire, Worcestershire and the West Midlands. The MAA has operated 46,000 missions since 1991, averaging nearly 2000 each year, cementing its authority as one of the biggest air ambulance operators in the UK. The charity is reliant on donations from businesses and the public as it receives no government or National Lottery funding. Over £7 million is needed to keep the air ambulances operational each year. The Rowing Club's donations to the charity will be appreciated and will help to keep the air ambulances running; every little bit helps.
The British Heart Foundation is a charity that boasts itself as the largest independent funder of cardiovascular research. It was founded in 1961 and has since enabled research into heart disease, discovering vital treatments that has helped thousands of people to survive heart attacks and heart disease. The charity has many supporters and gains many donations each year for their research but the increasing financial strain on cardiovascular research means that any and all donations are greatly appreciated.
The club is also raising money for a new boat for the new rowing season. The club operates on membership money and thus cannot afford to get new boats very often as they cost thousands of pounds. The fundraiser will add to the boat fund so that the club can "improve their fleet" and accommodate a "larger number of members".
While the Rowing club's fundraiser is now over, the charities are always looking for donations and there are many ways of donating to them at the following links:
https://www.midlandsairambulance.com/how-to-support-us/ways-to-donate
https://www.bhf.org.uk/get-involved/donate