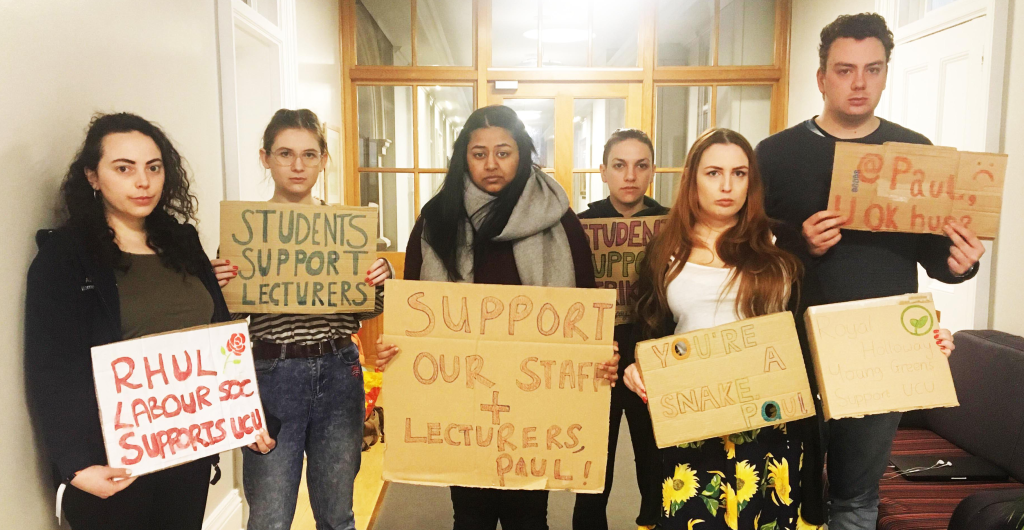 Students occupied the Principal's Corridor, a section of Founder's Building, on Friday March 16 just after 12pm. They have taken up position in the corridor, just outside Principal Paul Layzell's office and are planning to occupy until their demands are met.
Their demands include:
A full statement to be delivered by Paul Layzell in support of the UCU strike aims which include a defined benefit scheme and an indepedent evaluation of the Universities Superannuation Scheme (USS).
Paul Layzell to come out and support members of staff and students and apologise for the hard-line approach taken so far.
Paul Layzell to publically back any future developments that may arise in relation to preserving the current scheme.
Paul Layzell to read and take into account the letter written by the University of Edinburgh's leadership team.
Paul Layzell actively speaks to students and staff instead of continuing the take the draconian approach so far.
After initially discussing the occupation with Principal Layzell, he and his staff all vacated the corridor. 24 hour security was placed on the door immediately and their presence has been constant throughout the occupation. According to the college's statement, the "24 hour security posted at the doors is to prevent the number of students occupying the space from growing".
Chief Operating Officer (COO) David Ashton and Principal Layzell returned at 7pm to give a written statement to the student occupiers in response to their demands.
Principal Layzell confirmed that he had been writing a letter to UUK and that his letter would reflect the disappointment expressed over a lack of support for a defined benefit scheme and an independent evaluation of the USS. Furthermore, Principal Layzell stated that he is in full support of a full independent evaluation of USS.
Principal Layzell and COO David Ashton also felt that they had already apologised for treatment of staff and implied they would not be releasing another apology, despite occupiers' demands for one.
The students remained in occupation following their meeting with Principal Layzell and COO David Ashton, wanting to wait until they see Principal's Layzell's letter to the USS in full support of a defined benefit scheme and an independent evaluation.
The situation escalated on Saturday March 17 when a few of the occupiers decided to stand silently with solidarity signs in the foyer of the Emily Wilding Davison (EWD) Building during the college's Applicant Visit Day. These students were then 'banned' from re-entering the occupation, according to COO David Ashton, and the occupation was put into lockdown. Ashton later confirmed that freedom of movement to the occupation was still in place for all other occupiers that were no involved in the EWD demonstration.
Support for the occupation has been immense, with UCU members bringing food and drink to the students and singing solidarity songs outside the corridor's window. The students have been given access to a pantry that is along the corridor, with hot water and a microwave available for them to use.
The college released a statement just before 4pm on Sunday March 18 officially addressing the occupation. The college feel that their "willingness to support the right of our students to peacful protest has been misrepresented" in regards to comments made by student occupiers on Twitter. To read the college's full statement, click here: https://www.royalholloway.ac.uk/aboutus/statement-from-royal-holloway-18-march-2018.aspx
The student occupiers, also known by the hashtag #RHOccupy, have written a statement in response, which can be found here: https://docs.google.com/document/d/1i0mXD6i-fm1l81TilfCBL4AGpDu5rDjwROo2tf9G4Zg/edit?usp=sharing
As of writing, the students have been in occupation for nearly 70 hours. They are planning to stay as long as is needed for Principal Layzell and the college to meet their demands.