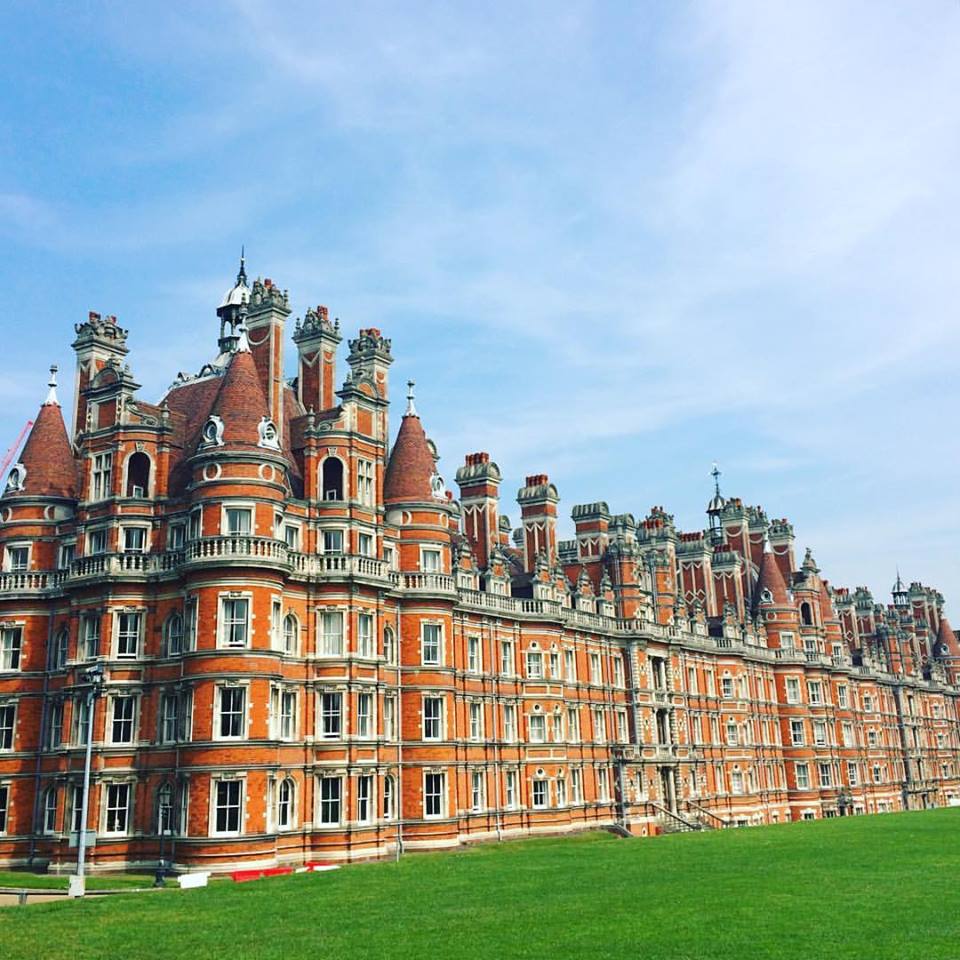 You've returned to Royal Holloway after Christmas and to get back into the swing of uni life you need to find a way to show your friends and family just how much Royal Holloway slays. One setback: despite Holloway being the 'University of London', perhaps the most exciting thing outside of campus walls is Runnymede Chicken and Ribs. Never fear. Orbital has rounded up the very best spots, both on campus and the surrounding area, to fill your Instagram feed.
Founder's
Very cliché and predictable but, no matter how hard you try, you will not be able to avoid uploading a photo of the Victorian architecture from one of the numerous angles. There is no doubt that Founder's Building played a huge part in your decision to attend Royal Holloway. My personal favourite angle is from the bus stop as you have plenty of time and very few obstructions to capture the perfect shot with a dramatic sky. The field by Founder's is also host to several events including Holi Festival and a petting zoo during exam season, so even if you don't highlight Founder's on its own, it's sure to make it in your camera roll at some point in the year. Equally popular is the view from inside the quads featuring Roho's very own power couple Tom and Jane, the Clock Tower and Queen Vic herself.
Founders Pond
Not exactly a picnic spot, but a quintessential scene tucked away between Founder's, Jane Holloway Hall and the Students' Union Shop. Whether you are on a midnight stroll with friends debating the meaning of life, drunkenly having a paddle on a lilo or just passing by on the way to lectures, who doesn't love a water feature?
Virginia Water
Easily the most beautiful location within a stone's throw of campus is Virginia Water. Put on your comfiest shoes, pack a picnic and prepare for a day of exploring. You can easily walk to the lake in about twenty minutes, with the walk around the lake being 4.5 miles. Around the lake you can find many Instagrammable hotspots, including a 100ft totem pole, ruins imported from North Africa, many beautiful flower gardens and the very cascade used to film "Agony" from Into the Woods. If you happen to find a prince, tell him where he can find Orbital HQ.
Windsor
Just a short train journey away, Windsor is a must see. Home to the notorious Windsor Castle, even more notorious Atik nightclub, Legoland and many scenic locations and shops, you are sure to find something to do there. Be sure to put this one on your feed, even if just to prove that in your whole time at uni you have been to an actual club.
Richmond River
Further out than the other spots, Richmond river is one for the voyager amongst us. The scenes from the riverside are absolutely breathtaking, with boats of all varieties passing by the natural scenery. There are also a number of restaurants and bars in the area and you can even hire a boat to take out on the water for a more immersive photographic experience.