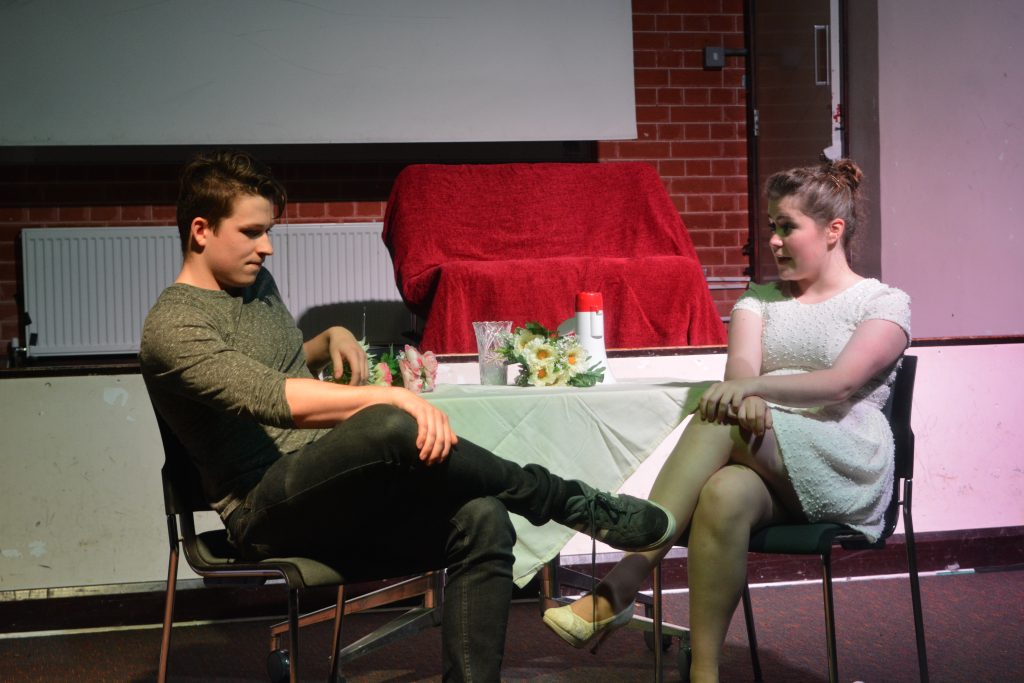 For their first term production, Royal Holloway's Shakespeare Society are tackling one of Shakespeare's best loved comedies: Much Ado About Nothing. It's no small feat taking on such a well known play, but it's a challenge they rise to wonderfully.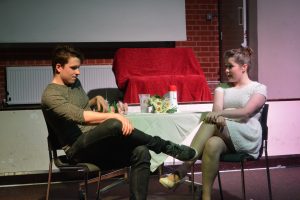 It's the age old tale of a love/hate relationship as we watch Beatrice (Olivia Dutson) and Benedick (Dan Scott) bicker their way through the marriage of Claudio (Will Maidment) and Hero (Samantha Van Den Esschert) and the troublesome scheming of Don John (Tom Knight), the bastard half brother of the honourable Don Pedro (Momin Ahmad). No production of Much Ado would be complete without the iconic overhearing scenes, which are staged hilariously, and this time there's even the appearance of a small dance number – because, why not?
The setting in this production is changed to a contemporary one, which perfectly shows just how timeless Shakespeare's works can be. And it also provides the opportunity for even more comedy, from additions such as a loving rendition of Oasis' Wonderwall sung to a bottle of vodka, to dabbing – if you're into that sort of thing. The script remains largely the same, meaning those who are fans can still enjoy the familiar story and characters, while being treated to a more unique take on the tale.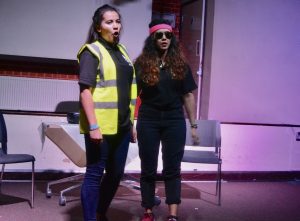 An absolute highlight of the show has to be Alicia Ingram and Amy Habib as the hilarious detective double act, Dogberry and Verges, who get to bask in some of the loudest laughs of the show. It's an uproarious performance by the rest of the cast too, in particular Caleb Rowan, who plays the part of the embarrassing father trying too hard to be cool to a T. But it isn't all comedy: in some of the more serious moments of the show, Dan Scott does a marvellous job at capturing the multifaceted character of Benedick. Olivia Dutson portrays Beatrice's stubborn righteousness so well that it's hard to believe that this is her first acting role with the Shakespeare Society.
No need to fear if you're not a seasoned Shakespeare fan, Much Ado is still as entertaining as if you are a diehard fangirl of 16th century playwrights. This production certainly does not fail to deliver on the entertainment front. Immense credit has to be given to first time director Daniel Trigg and his talented crew for constructing such a marvellously heart-warming production, and I for one can't wait to see what they pull out of the bag next term.
If you didn't get a chance to go on their opening night, there's still tickets available for the 24th and the 25th of November performances. Tickets are priced at:
£4 for society members.
£5 for students.
£6 for standard tickets.
And tickets can purchased here https://www.su.rhul.ac.uk/ents/event/1805/ for the 24th and here https://www.su.rhul.ac.uk/ents/event/1806/ for the 25th. Doors open at 7pm for a 7:30pm start.
Photos by Hannah Milligan.