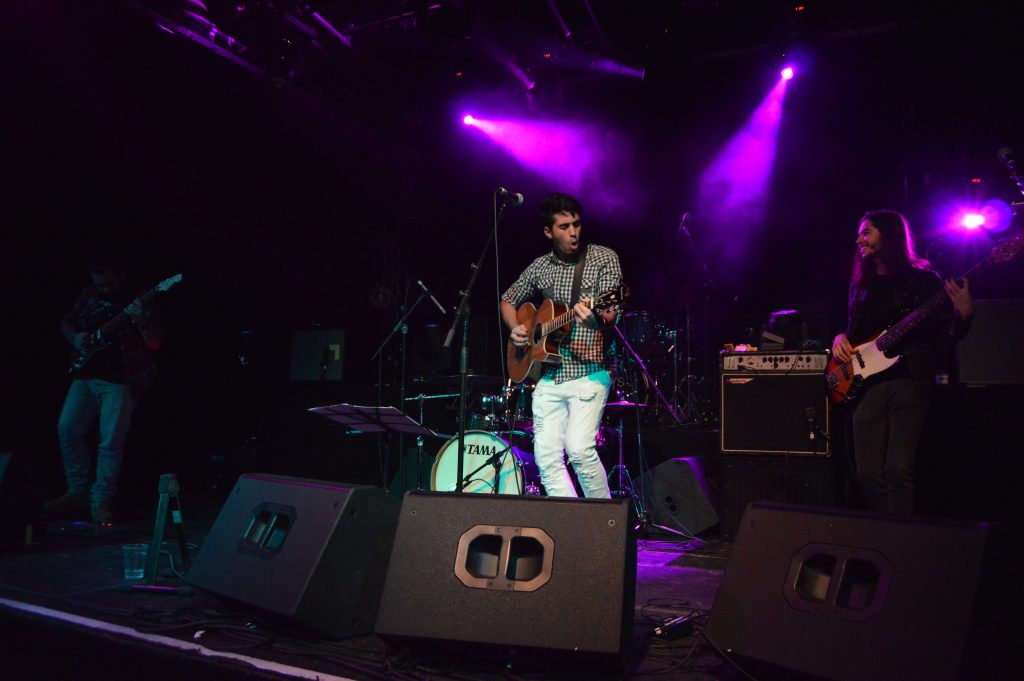 Ruby Rogers chatted to indie rock band The Carnabys after their gig at the Students' Union.
"Do we think that Jack could fit into your skinny tights?" asks Ben Gittins, guitar player of up and coming indie rock band The Carnabys. We never did find out the answer (maybe next time?) but I quickly realised that my pre-interview nerves were almost totally unwarranted. Chatting to Ben and lead singer Jack Mercer after the gig felt more like chatting to your significantly cooler mates at the pub, mates who've toured with Blondie ("Yeah, you'd just sit down and have a bit of soup with Debbie [Harry]") and played gigs at the Roundhouse.
Playing at the Students' Union as part of the tour for their debut album 'Too Much Never Enough' on Saturday 5th November was the third time I had seen The Carnabys, after seeing them at the SU last year and again at the Camden Barfly earlier this year. This time, the band was supported by the talented if melancholic folk noir singer Echo Wants Her Voice Back alongside promising newly formed student band Marios, fronted by third year Marios Panayi. Despite it being a fairly small crowd, the atmosphere in the room was almost palpable: the Carnabys have a wild energy when they play that is difficult not to get caught up in, even if you don't know all the songs. And it's easy enough to picture them playing big arena gigs, a dream the band has: "I'll always feel like we've succeeded when we headline our hometown," said Jack, "when we sell out Twickenham Stadium."
These are big dreams, but until the day comes when they're playing sell-out gigs to 80,000 people, the guys are sticking to smaller venues. And they are passionate about these venues – they've donated all the proceeds from the pre-orders and first week of release of this album to the Music Venue Trust, a charity which helps to support grassroots venues. As to their favourite venue, both Jack and Ben agreed: "KOKO [in Camden]… It's an old theatre, and it's always great fun when we play there. It sounds great."
While playing live gigs is the main way through which the band can access their audience, the band were also inspired to become musicians by many classic British artists who made their names by playing in small venues. "Coming from Twickenham, it's the home of rock and roll. You've got Eel Pie Island, where the [Rolling] Stones, the Beatles, Led Zep, Rod Stewart, they all started playing," said Jack. "We started playing with all the old boys who have played with these people." It's easy enough to see evidence of these influences in the band's music, and why being able to play live in smaller venues is so important to them, coming from this background so rich with amazing musicians.
Their visit to our little uni might be over, but the Carnabys certainly left an impression on me. Whether they're tearing up a stage or having a beer and a chat with you in the bar, they never fail to deliver on a good time. Same time next year, lads?
The Carnabys' debut album, 'Too Much Never Enough', is now available on Spotify and iTunes. Tickets for their UK tour are also still available online.