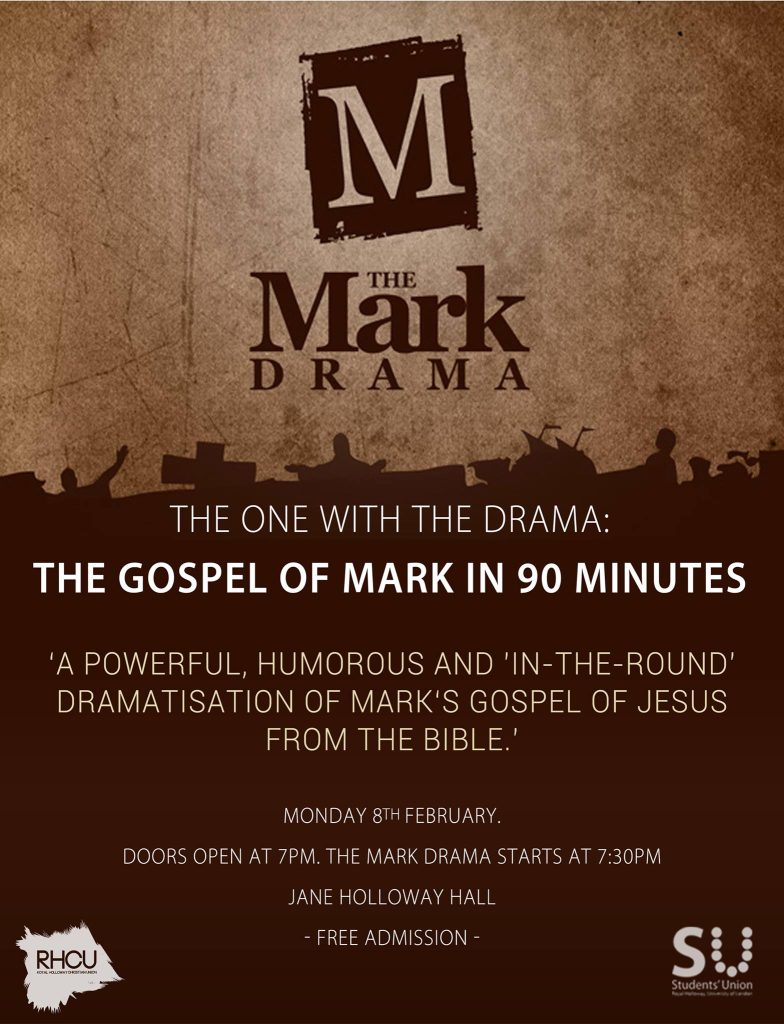 "It's about 80% shouting and 20% crying" was one reaction to the Mark Drama, a 90 minute exploration of the gospel of Mark by the Christian Union. Perhaps this is an exaggeration, but this comment expresses how immersive the experience is.
The show is in-the-round, with three aisles and action going on all around the audience, as well as in the centre of the circle. You are truly part of the performance and it's hard not to join in at points. The cast interact with you and address you, as if you were truly there.
And so it is that you experience what the book of Mark has to say. Being run by the Christian Union it is about Jesus, but not aggressively so. Not every character believes what he has to say, and even those that do show their doubts and changes in opinion.
The acting is one of the great strengths of the production. It is a small cast, with some members playing multiple roles, and those involved come from a range of subjects: Drama, History, Economics and more. There is a degree of improvisation and it is only the character of Jesus with a large amount of written lines – in fact he speaks all the words that are recorded by Mark as having been spoken by Jesus.
The drama is also very simple. There are few props, and costumes are simply jeans and t-shirts. Without distractions the actions and words are the things that speak loudest, and that is what gives this story its impact.
Certain aspects of the play are hard to watch. In the front row I especially could feel the excitement, fear and anguish expressed through the story and many in the room tried to suppress tears in the final scenes. It is not so affecting all the way through though, and there are also opportunities for surprise and laughter as you watch the disciples' reactions to what Jesus is doing.
Gripping, immersive and exciting, you won't leave the Mark Drama the same as when you came in. Come to watch, come to discover, or just come to support fellow students. There's no pressure to respond, although there is opportunity to find out more. Don't miss out on seeing one of the most unique productions on campus, with free entry on Monday 8th February at 7:30pm in Jane Holloway Hall*. It might change your life, or at least provide a great excuse for an essay break!
*Due to adverse weather conditions, please check the CU Facebook page for confirmation of the location (https://www.facebook.com/royalhollowaycu/) and further information on the events they have planned for the rest of their events week.