A collision occurred yesterday, Friday the 15th of January, at around 3:15 PM on the Prezzo roundabout in Egham.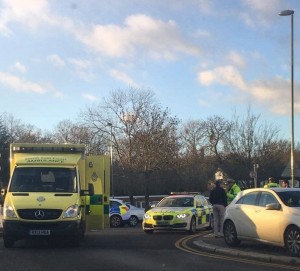 Driving past the scene at 3:35 PM, three cars and one bicycle remained on the roundabout, indicating they were either involved in the collision, or at least, witnesses of the incident.
Three police cars and one ambulance attended the scene. Paramedics appeared to be checking a female for injury at the back of the ambulance.
Traffic continued to flow slowly under the manual control of a police officer. A school bus was forced to change route due to the scene still not being clear as it went to collect students, from school.
However, the emergency services had the situation under control and cleared by the 5 PM rush hour traffic. Police report that 'no Royal Holloway students were involved in the collision'.