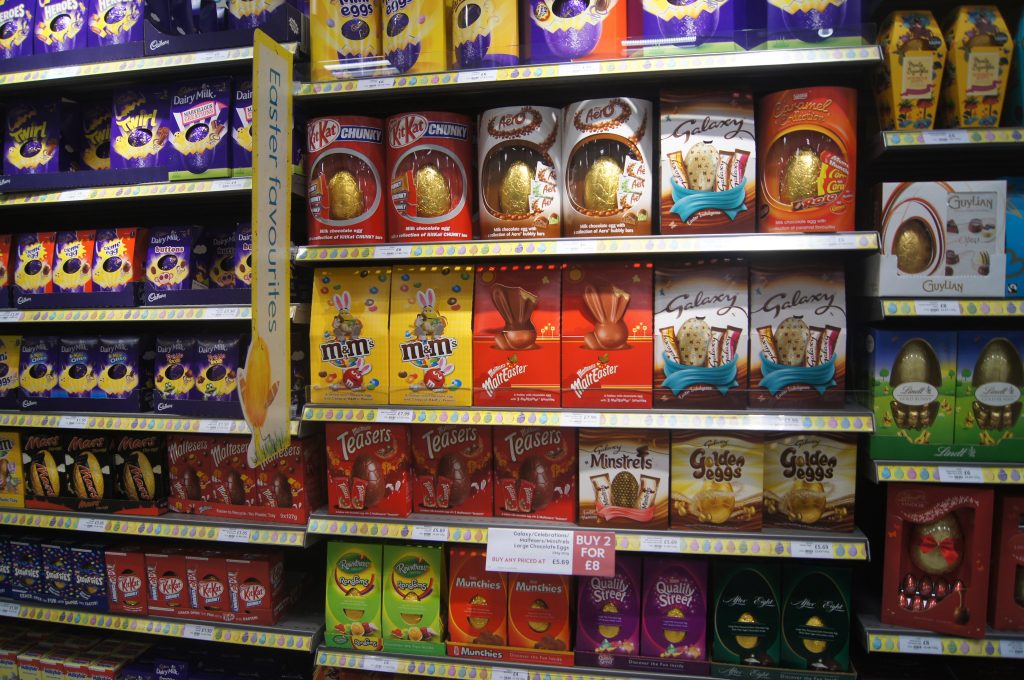 With Easter fast on the approach it's time to take notice of the excessive displays of chocolatey goodness, that have been running since Christmas at your local supermarkets. And if you haven't already taken a moment to drool over the return of the Creme egg, I have taken it upon myself to investigate the egg situation in Egham. I am bringing you the low down on where to find the best Easter eggs in town. Eggciting stuff, I know.

The first stop on my 'egg tour', if you will, was the SU shop. I was not feeling optimistic, knowing that the shop are notorious for charging 'Harrods's prices for Co-operative goods' (YikYak anonymous-2016). The selection was minimal, but modest enough for any student to get that chocolate fix without the pilgrimage that is Egham Hill. Here you can pick up a variety of bite-size creme and caramel eggs for a heart-stopping £0.55 each. With no special offers around you can fork out £1.20 for a kid's egg, the kind that tastes of disappointing chocolatey substitutes that would force any child into questioning the Bunny's kindness, but at least the paper-thin cardboard casing is adorned with the cast of Frozen. Easily the most shocking, if you can really call Easter egg prices shocking, was that the smallest Lindt bunnies I have ever laid my eyes on were being sold off for £2.00 apiece. I think I would rather have a VK.
Budgens was my next stop! It is the enigma of Egham and I was certain that they would be better prepared for the pandemic than the SU shop. I felt betrayed when I found that the very same Frozen Easter egg was being sold for £1.00. £1.00? Where exactly are the SU putting that extra £0.20? If this isn't (egg)breaking news, I don't know what is. Budgens sweeten the deal with an Easter Gift Set – complete with a Frozen bowl, spoon, and mug for only £4.00. Quality. They are also stocked with the classic Cadbury's medium sized eggs for £2.50, and some more eggotic choices including Orange Matchmakers and Milkybar Milk & Cookies at £3.00 each. A popular choice is, Green and Black's, which are being sold for £5.00 each but the best deal is Thornton's eggs at two for £5.00. Not bad Budgens, not bad.
Maybe 'mums go to Iceland', but is it about time students did too? It depends. Do you want to buy a 1.7kg tub of 'Speckled Eggs' for £10.00? Questionable. Do you want to buy a 1kg 'luxury' egg for £9? Obviously. They must know students will be like putty in their icy hands, buying in shelf loads of Pot Noodle themed eggs. For £4.00 you can have the pleasure of a ceramic Pot Noodle mug and 65g of chocolate. Here's hoping it won't be Chicken and Mushroom flavoured.
Next is the place very few go. The place only students funded by the bank of mum and dad can dream of entering. That place is Waitrose. I could feel my debit card trying to escape my pocket as the automatic doors breathed a disapproving sigh in my face. I was greeted by a Dark Chocolate Heston Blumenthal 'Golden Egg' with the glaring price tag of £20. A 'poor students do not enter' sign would have been more effective. Unless this egg has been birthed by Beyoncé and dipped in pure gold, nothing can justify £20 for an Easter egg, nothing.
Let us save the best for last, the Holy Grail. This is the one supermarket that will never let a student down. If you want eggs, Tesco is your number one bae. The Easter Bunny has saved his best Easter treats for this sanctuary. Cadbury's medium eggs are practically being given away at only £1.50 each. Not only that but they are buy two get two free. BUY TWO GET TWO FREE. This is not a drill. Essentially, for £3 you can get yourself four eggs. That is £0.75 each. I'm not even certain how to put into words how eggcellent Tesco did, but the chocolate smears on my face and the fact that I am surrounded by empty egg boxes might just be enough.
You are very welcome.