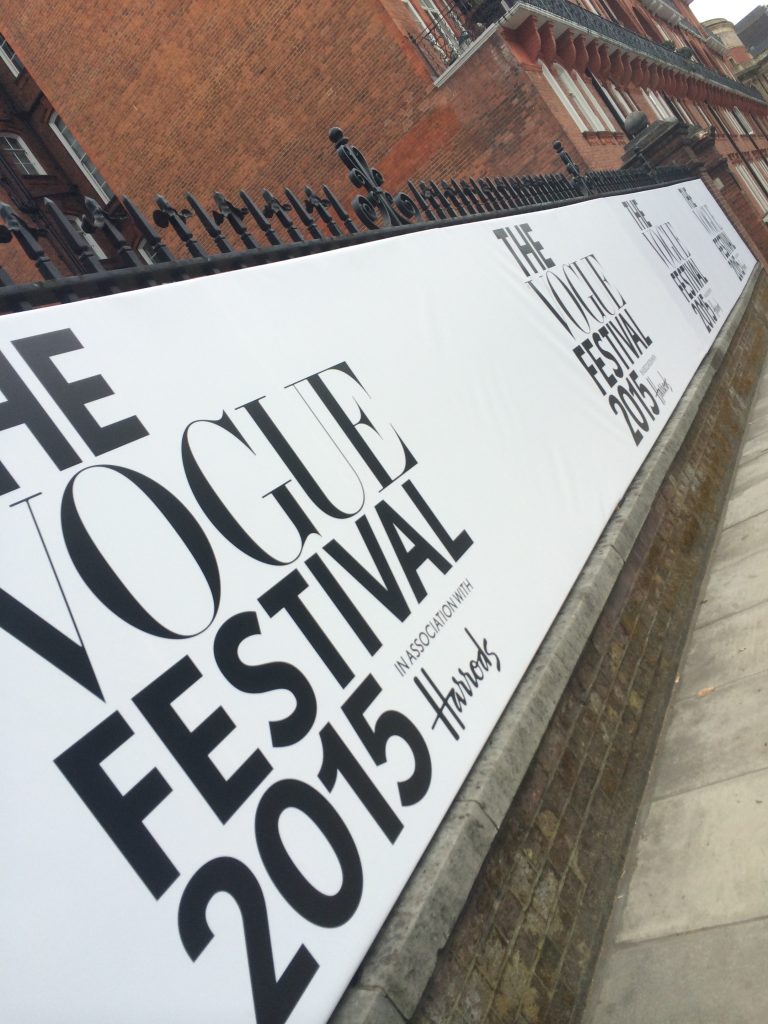 If ever there was an excuse to get all dressed up on the weekend and surround yourself with glamour and fashion fun, it's for the Vogue Festival.
This year's Vogue Fest seemed to stop at no limits as the foyer activities alone was an immense fashion overload. The day featured a Bobbi Brown beauty station, an organic pharmacy giving feel-good-facials, a Topshop nail bar, trend talks with Vogue editors, the chance to have a Vogue cover shoot with Chanel accessories, book signings, Vogue speed styling and a Vogue shop which contained exclusive, limited edition merchandise. There was also a Harrods café and a Harrods green man greeting people, adding that extra classiness. With all of this in mind, the price of the ticket at £25 simply seemed too good to be true, and would have been a fashion offensive if not attended.
If all of that wasn't enough, my friend and I were lucky enough to pass a lady who generously gave us her tickets to a fashion talk; proving that style is a personal optimum that can be shared! The talk, 'How to Make It Big in British Fashion', featured a panel of stylistic stars; Roksanda Ilincic, Charlotte Olympia and Erdem Moralioglu. It was refreshing to see such young, humble designers with diverse style, yet sharing an interchangeable passion in their approach to design.
"I don't think you ever feel like you have the sense of having arrived" Erdem told the audience.
Just to hear this from someone who worked hard, gained scholarships and has indeed 'made it', clarified how there are no boundaries with the fashion industry, there are no final destinations; it evolves. Giving hope to all young people aspiring to make it big in the fashion industry and my advice to those, just by going to this talk, is keep working at it because there is no reason why you shouldn't make it.
The sense of individuality in style was seen through all of the marvellous outfits that people were wearing, and it was just so lovely to see people of all ages branching out and reflecting their unique styles. The great thing about Vogue Fest was the sense of union that bound all of these different styles into one. No one was being judged, but instead glorified for their fashion fearlessness!
Thanks for saving me from revision Vogue Fest, I'll see you next year!