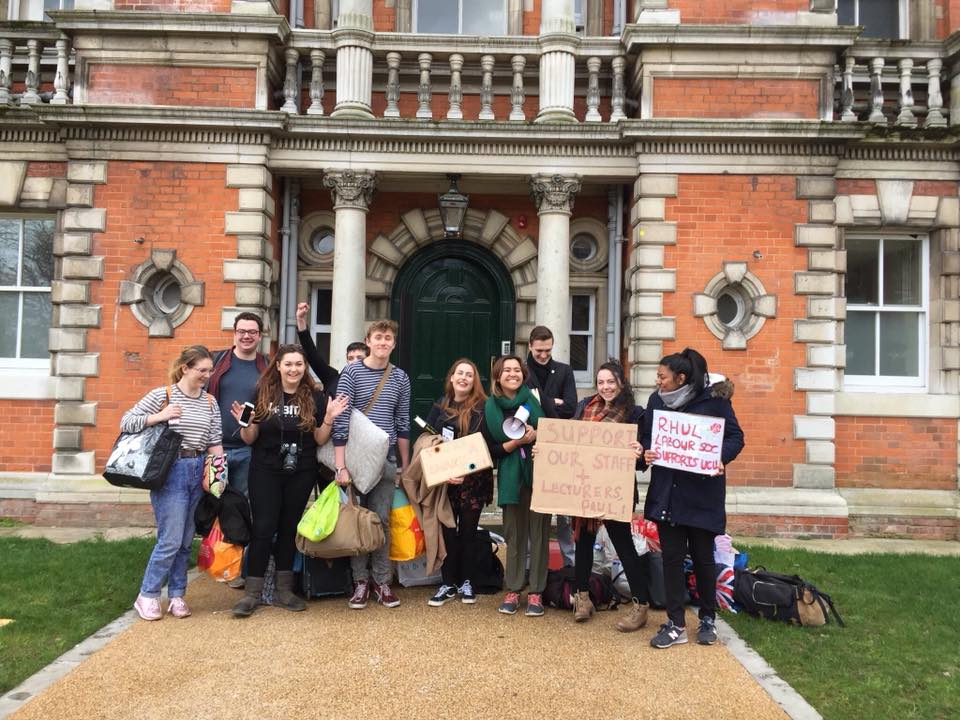 Students known as #RHOccupy have now vacated the Principal's Corridor after 5 days in position there. They made the decision to leave at 12pm today, March 20, after Chief Operating Officer (COO) David Ashton approached them with a copy of Principal Paul Layzell's staff newsletter as well his official letter to to Alastair Jarvis, Chief Executive of Universities UK (UUK), and Sally Hunt, chair of the University and College Union.
The letter to UUK and UCU called for a return to a Defined Benefit Scheme as well as supporting an indepedent evaluation of the Universities Superannuation Scheme (USS). These were two of #RHOccupy's demands, along with an apology for the way staff were treated in regards to strikes and, in particular, pay deductions with action short of a strike (ASOS). All three demands were met, with Principal Layzell apologising to staff in his weekly newsletter, which was sent out this morning.
The students told COO David Ashton that they were happy with what was given to them by him and Principal Layzell. The students subsequently requested that Ashton submit a written notice to them, stating that no punitive measures would be put in place for anyone participating in the occupation.
After this notice was sent to all the occupiers, they took an hour or so to clear out their belongings from the corridor and clean up after themselves, which they told Ashton they would do as a sign of good faith.
They left at 12pm to rousing applause and cheers from some lecturers and students in Founder's Square. The lecturers there expressed their gratitude and pride to the occupiers.
Every student involved was overwhelmingly pleased with the result, with emotions running high during their departure.
Principal Layzell's newletter to the staff as well as his letter to UUK and UCU can be read here: https://www.royalholloway.ac.uk/staff/news-events/news-articles/march-2018/achieving-a-resolution.aspx