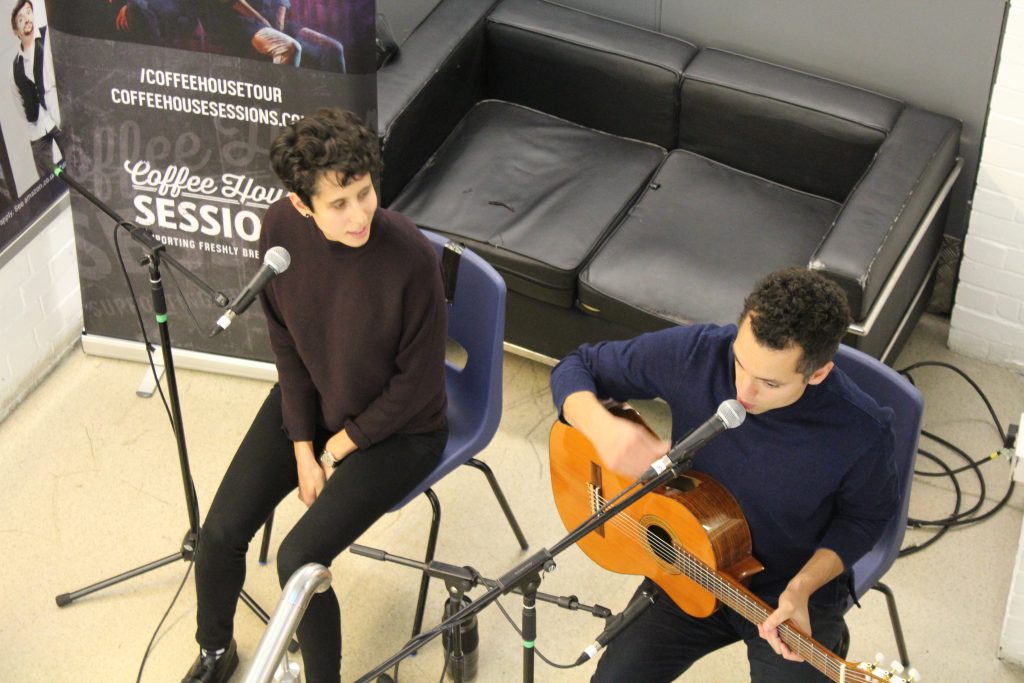 Beth Carr reviews Stranger Stranger's recent set at the Students' Union.
The third Coffee House Session of the year welcomed duo Stranger Stranger to Tommy's Kitchen, an ethereal and mesmerising performance. As with all the artists so far this was the second show in the tour and of the day, but firmly their first (and probably only!) performed on the landing of a staircase. Our quirky setting was a great accompaniment to their quirky set, and its unearthly quality resonated across the SU.
Stranger Stranger's style of music is hard to pinpoint. Full of dissonance and harmonies, it's a concept that doesn't sound like it would work but, in fact, it brings a unique tone to the saturated world of music. It was clear that the duo were incredibly immersed in the music and performance and genuinely loved the set. They were well suited to the acoustic style too, making full use of the guitar's melodic qualities and using it in a more percussive way: I was impressed by the range of sounds produced by both the guitar and their voices.
Their debut single 'Sometimes' was one that flourished in the acoustic setting, as well as being equally good in recorded form, echoing an almost Latin groove that pushes the listener to dance. Their latest song 'Nation', along with the rest of the diverse set, really emphasises the range of styles that the duo can produce and their hauntingly beautiful music is something that leaves the listener intrigued and wanting more.
With playing at a number of festivals already accomplished and interest from Steve Brown, who has previously produced Laura Mvula and Rumer, Stranger Stranger are a band to watch out for – not only for their musical skill but also their mesmerising performance style and simplistic yet confident songwriting skills.
Photo credit: Beth Carr